Monterey 2017
Brad Phillips and I parted ways on Wednesday to immerse ourselves in all that was Monterey. My first stop was in Camel to look at the Bonhams auction, but I was immediately whisked away by friends to check out the Aston Martin gathering in town.
Knowing the likelihood of their target market attending the Monterey car week, all the manufacturers set up temporary showrooms all over the peninsula to woo old, new, and future customers. Despite the food and drink, I did not buy an Aston, but some people in my group may be considering…
From Carmel, I headed into Monterey to check out the RM Sothebys auction. I found David Wheeler, the editor of the GTE Registry, photographing a rare 6 cylinder Ferrari 121 LM Spyder.
RM had a room set aside especially for Ferraris, and they had a nice selection up for sale.
Thursday evening was my party, and I managed to make it just in time. I looked at the Mecum, and the Russo and Steele auctions and picked up the various tickets I would need for the weekend, but heading out to Carmel in the evening for my Party was a challenge. I left just enough time to make it to the Party, but traffic seemed to get harder and harder every year!
This year, Quail Lodge asked for a guest list for my party because security was going to be a lot tighter. Since my party is an open event to people who I know and follow this site, I really couldn't provide an accurate guest list. After some phone calls during my road trip out to Monterey, I manged to work it out with the people at Quail. For once in my life, using my name at the gate would allow you onto the grounds of Quail! It even worked for me as they stopped me at the gate!
The big ticket on the Monterey Peninsula is a ticket to Quail. Since we were originally going to show a car, I scored a ticket when Sam had to cancel his plans. I wasn't going to put this ticket to waste, and would try my best to enjoy the show for the both of us. Thanks Sam!
Arriving early always allows you too see the cars being unveiled from their overnight covers. It's quiet, and the only people there at this time are the people who care for these cars. Owners, detailers, and enthusiasts are not sleeping in!
The Monterey fog collects on everything, and although it wreaks havoc on the guys prepping the cars for the show, it sure looks pretty!
Many of the big time manufacturers are in attendance, and you'll get a chance to see some pretty cool "hyper cars."
There was an interesting Ferrari parked on the show field that might have escaped many people's attention. This 512bbi was from an era just before carbon fiber, let alone kevlar fiber, was used on street production cars, but this owner had many parts remade in carbon fiber. To the casual viewer, because carbon fiber is so prevalent, they might not notice the amount of work and money it took to recreate all these panels!
Even the wheel wells that were originally fiberglass were redone in carbon fiber. The irony was a lot of money was spent making the inner panels look modern, but the engine was still running the primitive Bosch CIS injection system on a stock bbi!
Saturday was for Concorso Italiano at the Blackhorse Golf course in Seaside. There were quite a few people to see and catch up with, but there were some interesting cars to see too! This modified 365GTC/4 may not garner any awards from a Ferrari Concours Judge, but the care and time spend by this car by its owner was probably the same as any Concours winner.
Sunday was Pebble Beach, and there was more of the usual catching up and stopping by to see friends. Every year I meet more and more people in various aspects of the business, and make some lasting friendships in the process. This year, Ed Fallon was showing his Voison, and I made sure to find him and say hi.
Bob Smith Coachworks was showing a Barchetta, and Bob was in the usual position cleaning and doing last minute preparation on a Ferrari his company was showing.
There were some special one-offs showing this year, and even the clothes worn by the spectators should be considered one-off! Is this a tribute to the Dukes of Hazard TV show's Dodge Charger, or is there another connection?
I saw my friend Stephen driving his car to the podium in the afternoon. Congratulations!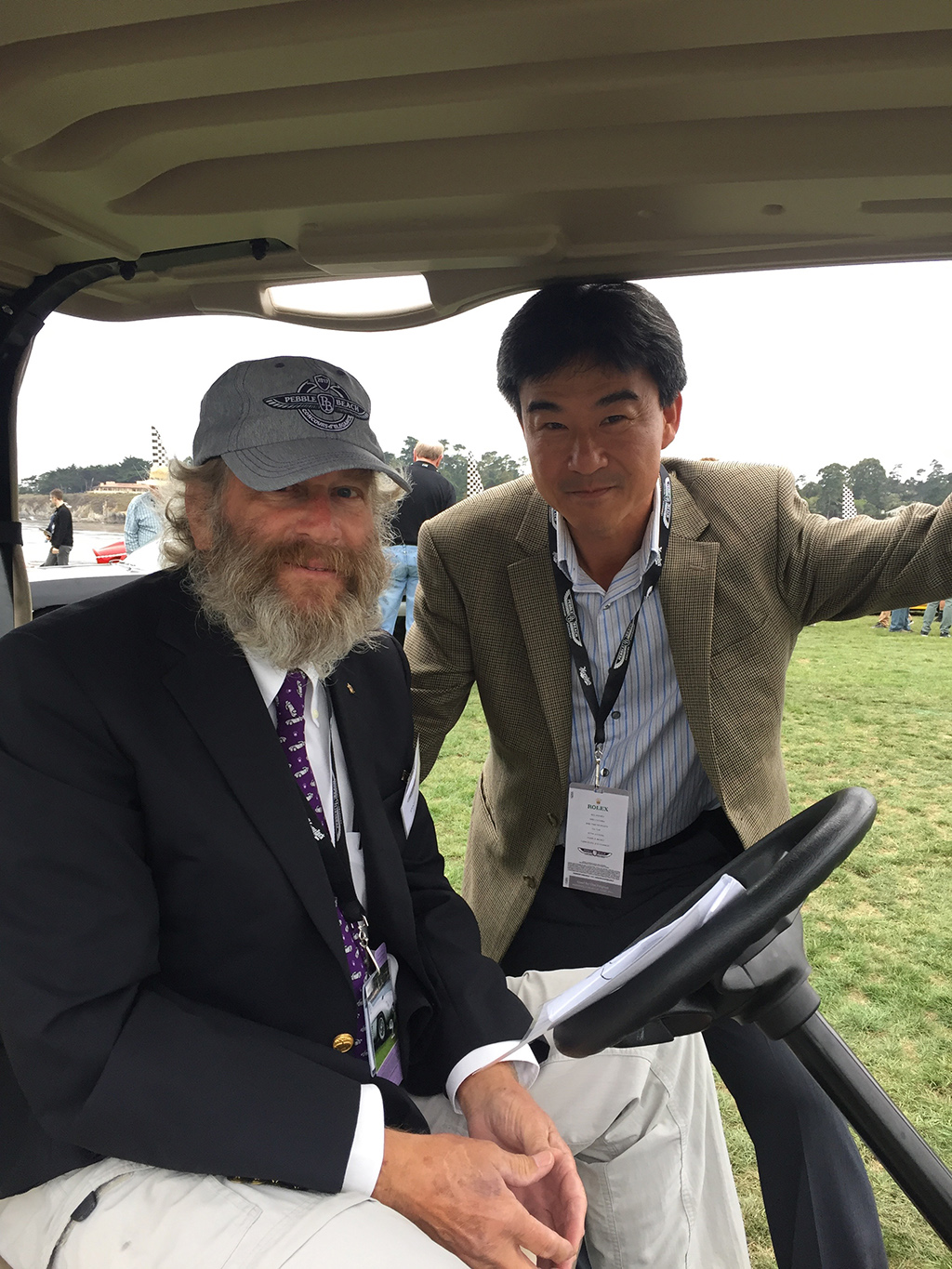 During a quiet moment before all the crowds, I chatted with one of my favorite people I've met in the Vintage Ferrari world. I've known Parker Hall for nearly 20 years and he has always been supportive of what I do. He supplies many of us with stickers and parts that make Vintage Ferraris win at these Concours. Thanks for your dedication, and support Parker!
In a show field of rare cars, GTOs would seem common considering there were 36 of these made, but it's always good to see them on display, and even better when they're running at speed!
The Ferrari Factory was celebrating its 70th year, so there was a very nice display of cars on the upper lawn at Pebble Beach. Almost every production car was represented and it was impressive.
It was nice to see a SII 330 2+2 at the display, but I knew why there were a few gaps…All of the cars on display this Ferrari Factory Display had to have Classique Certification! Hmmmmm.
The week ended a little differently this year as the schedule of events changed slightly. Gooding scheduled their auction a days earlier, so their last day landed on Saturday, and not the Sunday after Pebble Beach. I always looked forward to seeing everyone at Gooding the last night of Pebble Beach to share a drink and a laugh about the wrap up of the week. It was a little different this year, but I still managed to have a dinner with some friends that was a good time, but it seemed so anticlimactic.
The other disappointment of the weekend was I didn't get a chance to go to Laguna Seca and the Monterey Historic Races! This is the first time in about 15 years that I missed the track. With Quail on Friday, Concorso on Saturday, and Pebble Beach on Sunday, it was just too busy to try to squeeze the track into one of those days. I had considered going to the track before or after one of these events, but with traffic being so bad around Monterey, I stood the chance of missing out on both events trying to leave early from one and barely making in time for the other one! There are just too many events to attend, and we're all forced to decide which ones we want to miss. I wanted to go to the Lemons show to be with the Toyota Century we drove across the country. I wanted to see the Porsche show, and a bunch of other events during the week, but there just isn't enough time. Monterey is truly a car lovers dream, but it's starting to turn into a nightmare trying to get to see everything. It's kind of like being stuck in a candy store with too much much candy to eat!