Cranking up the Machine
Getting back to work after being away for a couple of weeks takes some time. It's kind of like getting a big heavy machine up to speed by hand cranking it. I've got a lot of work, but it's sometimes slow to get up to speed!
One job to finish is a 275GTS that we've been working on. The last bits are getting done, and one of them is getting the hood pad braces polished. This required wet sanding the aluminum pieces from a 400 grit all the way up to 1500 or 2000 grit. After sanding, buffing commenced from rough wheels to a fine polish.
I spent the week chasing down some more parts for another car, a 250GTE. This car is at the upholsterer's shop getting a new interior. The center console was not stock and modified beyond repair, so the easiest way was to have a new one fabricated.
After checking the details of the console made Sean, Mark did the final welding of the corners.
The edges were intentionally cut longer so we could cut the side pieces to fit perfectly when the transmission tunnel is installed in the car.
I've been looking at a lot of center consoles, and made notes of the slight differences between SI, SII, and SIII center consoles. exactly when these changes were made, who knows, but I'll try my best to make this one I'm working on as correct as possible.
Since we're on the topic of GTEs, I'm waiting for an engine to come back from the machine shop for a third car, but the engine compartment could use some attention. The fuel hoses on this car were replaced with rubber fuel hoses that were not correct.
Ferrari used a special yellow hose that is sold by the inch. Many cars built on a budget would replace these hoses with simple rubber fuel lines and hose clamps. It would be nice to return this car to its original condition with the correct yellow hose. I'll have take all these fittings off, have them cleaned, and cadmium plated before installing new yellow hose.
The battery hold down bracket was also incorrect, so I'll fabricate a new one.
The coils could also use some love. I'll strip the paint and put some fresh paint on these coils. When the freshly rebuilt engine is installed, I hope these little details will match the rest of the car.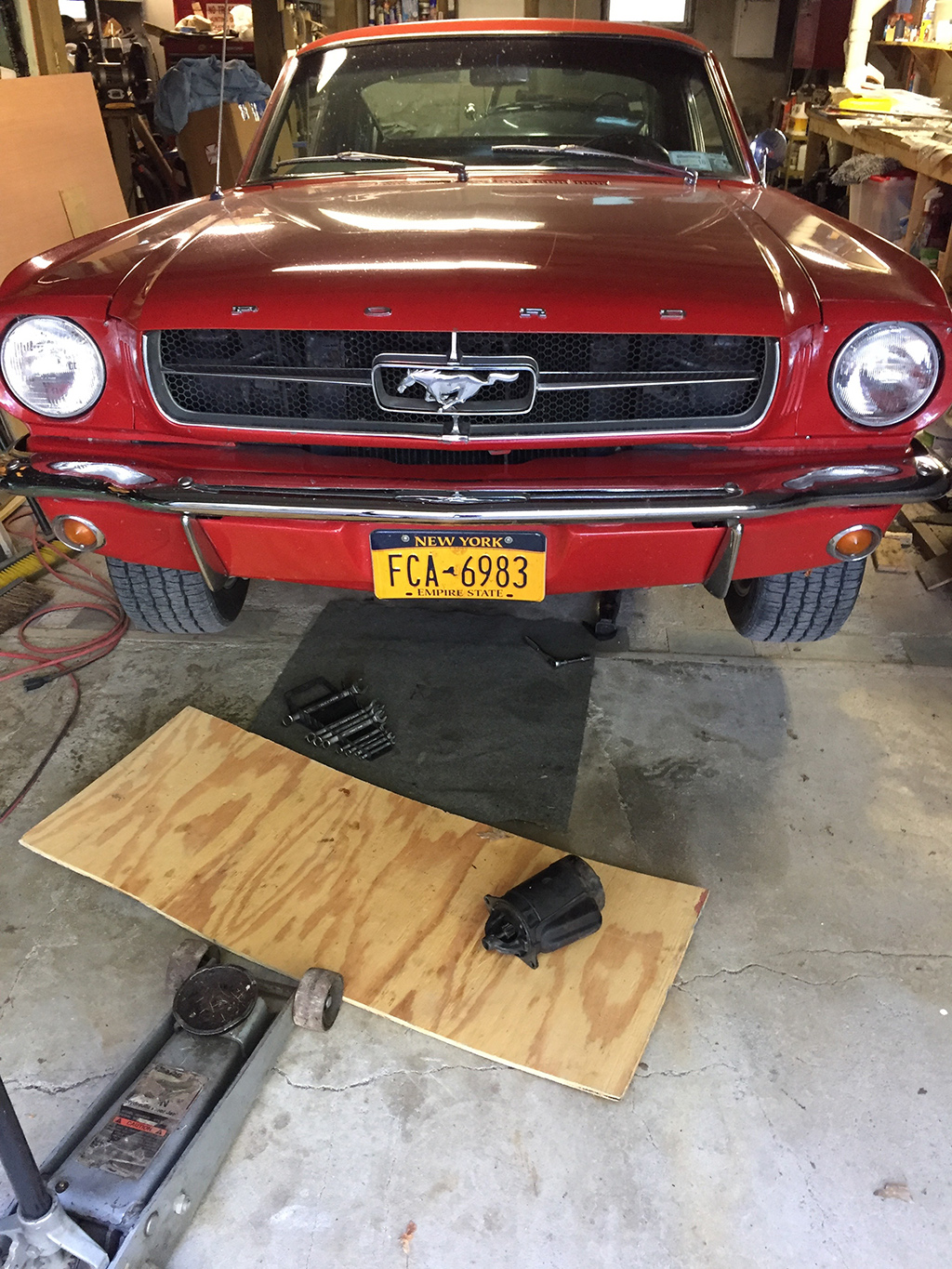 Like a Cobbler's Shoes, I've had very little time to work on my personal cars when I've been so busy with my Customer's cars, but I had to find some time somehow. My Ferrari's transmission has been done for a few weeks, and I have not had time to install it yet, but I did have a little time to work on my '65 Mustang. The Fastback's starter was starting to show signs of failing, so I bought a replacement. Changing out a starter on a Ford is much easier than working on the Ferrari, so I found an hour or so to swap it out.
I've owned Mustangs since I was in High School, so I've been tinkering with these horses for a long time. The last time I changed a starter on one of these cars, I distinctly remember doing it in a driveway without raising the car up on jack stands. I was much younger then, and must have been thinner to squeeze under the car. This time, I did it with the ease of the car up in the air, but it probably didn't take much longer than when I did it 30 years ago!