The Cascading Effect of Correcting the Details
A customer of mine dropped off his 330 GTC for an annual service along with a list of things he wanted to try and correct. This car may be coming up to market, so correcting the little details that are glaringly wrong will help sell this car a little easier, but sometimes correcting issues can bring up new ones!
One detail was this car was missing the trunk latch cover. I'm sure what happened was this car was painted, and the trunk latch cover was misplaced years ago. I can see the trunk carpet was replaced and upholstered without the trunk latch in place.
I've known about my customer's missing latch cover for a while, so when I had another GTC at my disposal, I made a mold of the cover.
When fitting the correct cover to the trunk latch, the carpeting that was cut and sewn without the latch, now didn't fit properly. If I made a correct cover, I would have to cut the carpeting, and have the binding sewn to the new profile.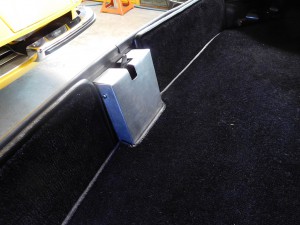 The solution was to make a cover out of aluminum bending the corners closely to the latch assembly so the carpeting would not have to be altered. It's not exactly concours, but to 95% of the world, not including you the reader, will know about this modification! Sometimes compromises have to made because not every car is a show car!
Our upholsterer gave us some correct Ferrari vinyl to cover the piece and I dusted off my upholstery skills.
I felt the end result was pretty nice, and didn't spiral out of control with having the redo the carpeting!
The next issue was the hood latch. GTCs have torsion springs to hold up the hood, and this car was missing them. Again, I bet they were removed from this car when it was painted, and lost in the reassembly. Two L shaped rods are very easily thrown out when people don't recognize what they are, but I have a source for new ones! With the springs on their way to me in mail, I now have to fix the next problem. In order to overcome the missing hood springs, a previous shop installed a spring on the hood to help it pop open when you pulled the release. This spring looks more at home on a Ford than a Ferrari, so we needed to find the original hood that is supposed to live here.
Luckily, we have one in our stash, so this car is getting closer to the way Ferrari built it!