Electrics and Exhaust
As usual, we have a lot of cars at the shop, and all of them are getting their fair share of attention.
The GTC had a cantankerous window switch that needed some work. Ferraris from this era ran all the voltage of the window circuits through the window switches, so the little contact points inside tend to get burned or oxidized. In the best case scenario, the switch would need a cleaning, the worst case, a new switch.
We were lucky on this set, as they only needed a good cleaning to make them work again. Replacements for these switches are getting very hard to find, and I often recommend fitting a relay on the window circuits to lower the current passed through these switches, but for now, we're back in business!
The turn signals were also intermittent, and I warned the owner of the problems. Ferraris from this era used plastic parts for the turn signals and lights stalks that were very fragile. An errant knee or strong flick of the wrist can easily fracture the stalk. An intermittent turn signal can be signs of a cracking stalk. The owner managed to dodge another bullet by have dirty contacts the cause of his problems. After removing the steering wheel and hub, I reached the dirty contacts, and cleaned out the gunk. Problem solved!
The charging system was also a little suspect. This car was missing the original Marelli alternator, but had an American internally regulated alternator that didn't seem to be generating enough current when I tested it. I took the alternator our for testing at the alternator guy and hopefully he'll have a repair or a solution for the charging system.
Since I was on my way to the electrician's shop, I pulled the wiper motor out of the Daytona we have at the shop. The 365GTB/4 still used the English made Lucas wiper motor, and was not moving the wiper blades very well. With the switch on, it wouldn't move a full sweep without the help of physically moving the blades by hand. Although early prewar cars had hand operated wipers, I think we can do better with a Daytona!
The wiring to the wiper motor was still had individual wires plugged into the motor instead of a modern multi-pin plug, so I took a photo, and made a diagram.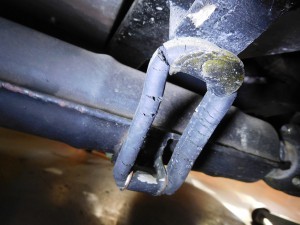 While I was working on the Daytona, I noticed how bad the exhaust hangers were, so I ordered a new front set.
The replacement hangers looked a lot shorter, but that's because the old ones had stretched as they deteriorated.
Popping these off and putting new ones on probably took less time than it took for me to photograph and write about it on this blog!