Annual Pledge Drive
It's December 1st and time for my Annual Pledge Drive. This gives you a chance to show your appreciation for this website that celebrates not only Vintage Ferraris, but all things mechanical. I spend just as much time sharing my experiences with you on the Internet as I do living it, and I hope you enjoy following along.
Maintaining this website since 1999 has seen a lot of growth, and I can safely say I'm probably the longest running Ferrari Enthusiast website in the world, but it doesn't happen without your enthusiasm. I only work harder knowing you're interested in my work, and having you support this site once a year with a donation really helps pay for the time and effort I make for this site.
Since I started blogging about my Ferrari exploits, I've seen bulletin boards change to forums and news feeds change to social media feeds straight to your phone and keeping up with it has been a challenge. I tried tweeting (not a fan), and am trying Instagram along with Facebook, but this blog is here to stay. I'm looking forward to another year of Ferrari content!
My Paypal Account is http://paypal.me/tyang3030
For those who prefer to send a check through the mail, my mailing address is:
Tomyang.net LLC
P.O. Box 36
Hollowville, NY 12530
Here's a look back at 2017.
There were a lot of engine rebuilds this past year, so my engine hoist was busy!
Transmissions were popular too!
When one engine was being disassembled, another one was at the machine shop getting cleaned and machined.
I also had a bunch of stuff going to the chrome plater.
Between the work going on at the shop, I took a trip out to Marquette MI to see a project GTE that was for sale. I tried to find her a good home, but it always seems I find more guys with regret after the car goes to a dealer!
In March, I won a Platinum Preservation Award at the FCA National meet with client's beautiful 330GTC.
May was the Annual Tomyang.net/Radcliffe Motorcars Spring car show in MD. Great turnout.
GTE engine rebuild #2 for this year!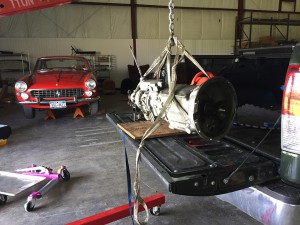 On my personal car, the transmission broke, so when my customers have issues with their Ferraris, I can absolutely feel their pain!
In August, I did an epic cross country trip to Monterey with my friend Brad Phillips in his Toyota Century.
Crunch time when I got back to prepare a Daytona for a customer that wanted to drive his car home to Arkansas!
By the Fall, I managed to rebuild my transmission and reinstall it in my car. I might get a couple of weeks driving before the snow flies!
Speaking of drives, the Daytona left at the end of November and successfully completed over 1200 miles without missing a beat!
Thanks for following along in 2017. Let's see what kind of trouble I get into for 2018!
My Paypal Account is http://paypal.me/tyang3030
For those who prefer to send a check through the mail, my mailing address is:
Tomyang.net LLC
P.O. Box 36
Hollowville, NY 12530