Maranello Classic Parts
One of my first stops in the UK was to see Maranello Classic Parts in Egham. My good friend Andrew Stevens works in the parts department, so I was looking forward to a full tour!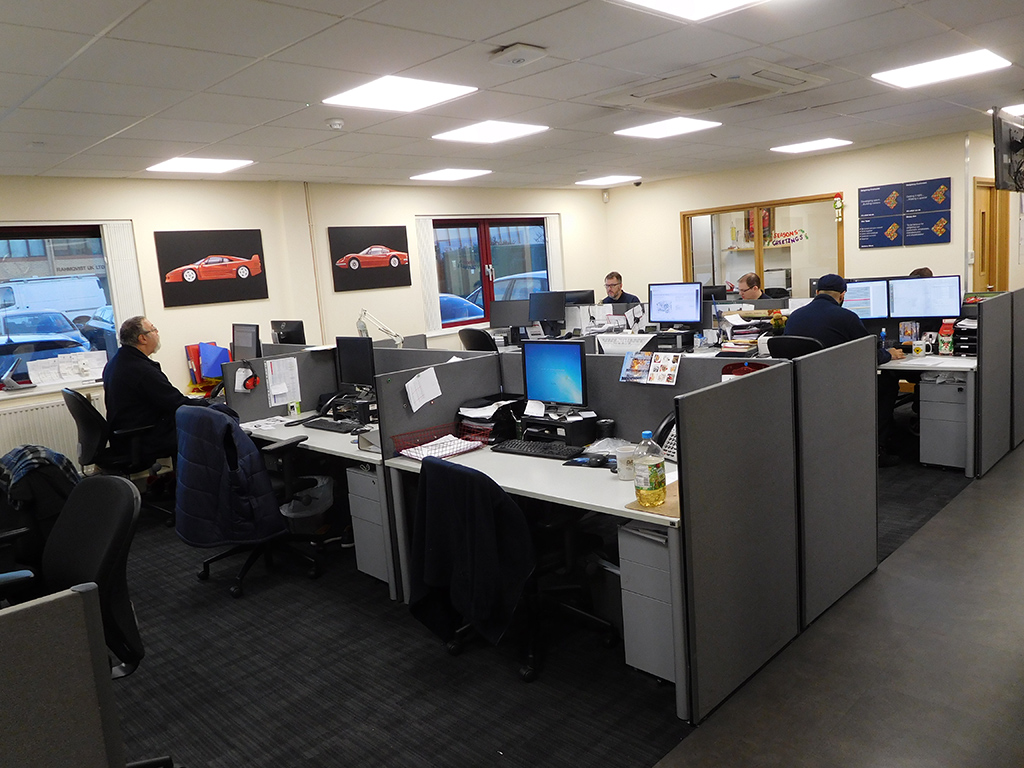 Maranello Parts has a staff of parts and technical associates that can help owners and shops with their orders.
Thousands of little bins housed a multitude of parts for Ferraris of all ages.
Maranello Classic Parts started out as the UK Ferrari dealership many years ago, but has now expanded to be a major supplier of Ferrari parts. They are constantly buying up inventories from dealerships and parts houses all over the world, and I came to take a closer look at their stash!
Here was a rack of original 355 bumpers from the 90s. Although I would consider this a "new" car, these are for 30 year old cars,  still with an option for repair pieces from Maranello Classic.
What was astonishing was the supply of even older parts. In this rack of doors, I spotted 400GT, 365GTC/4, and even maybe a 365GT 2+2! If I were doing a restoration and I needed door, I would check with these guys before a fabricator!
Want to see even older NOS pieces? How about 250GTE front fenders? I think the one on the right might be a Lusso fender!
Maranello Classic Parts is in the middle of expanding, so I was lucky to have David and Andrew taking time out of their busy day to give me the tour. Thanks guys!
Thanks for everyone who has donated money to this website. It always will go towards keeping this website entertaining and up to date!
My Paypal Account is http://paypal.me/tyang3030
For those who prefer to send a check through the mail, my mailing address is:
Tomyang.net LLC
P.O. Box 36
Hollowville, NY 12530