Auto Classic Latvia
I have a client that owns a couple of cars that are in need of restoration. He's based in the UK, and asked if I heard of a company called AutoClassic in Latvia. He told me their cost for a complete restoration seemed very reasonable and wanted to know my thoughts. I told him pictures really don't do a good job at showing the quality of a restoration, and the only way is to look at the work in person. His next question was would I be interested in traveling to Latvia!
Auto Classic Restorations is just outside of Riga, Latvia, and has been doing automotive restoration for about 20 years. It started with Mercedes SLs and has grown from there.
Mark, the owner has assembled a couple dozen craftsmen to do everything from body work, painting, mechanical, and upholstery, all under one roof.
They had several cars being restored at one time so I could see the quality of the welds, and the techniques they were using to fabricate the panels.
From Mercedes, they branched out to Jaguar 120s and onto E-types.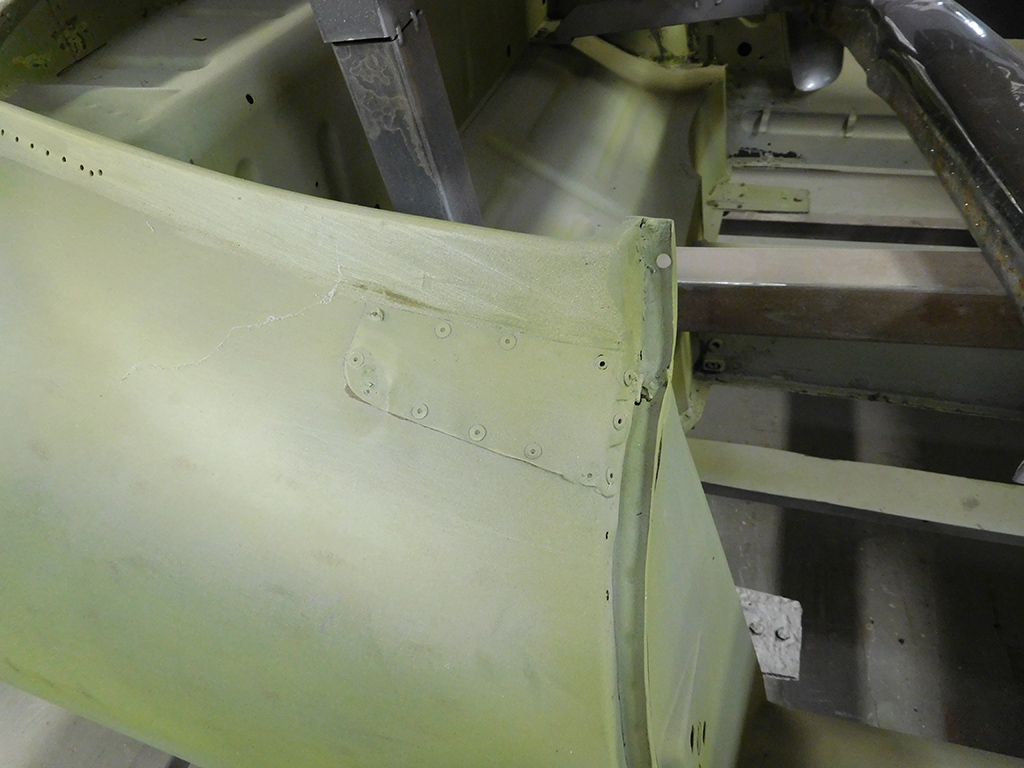 A good example of hidden problems is this E-type that was restored once before by another shop. Once the paint and filler was removed, they found this very primitive repair with pop-rivets. Auto Classic believe in restoring these cars to much higher level.
I wanted to see their body work at different stages of repair. This would give me a feel for how much plastic filler was used for the final finishing. Seeing cars being done in process is much more informative than having a finished car hiding all sorts of sins!
They seem to have moved into the Porsche restoration side of the business as well with at least four "long hood" 911s in various stages of restoration.
The repair panels they're buying for these cars are the same other shops are getting all over the world, but their labor rates are significantly less than any other shop. Even with Porsche parts, no reproduction panel fits without expert panel work so a full restoration can cost significantly less.
The main reason for my trip was to see a Ferrari 250GTE they were almost finished with a restoration.
I wanted to see their attention to the details and the level of quality. I saw a few plating and painting finishes that could use correcting, but overall, I was pleased with what I saw. The craftsmanship was there, but their references for the details on a Vintage Ferrari was harder to come by in Latvia. The Internet was their primary source of information, and we all know just because it's on the Internet, doesn't mean it's right!
I was honored to learn they have been using my website for this and previous Ferrari restorations they've done, and was happy to continue sharing and improving their product.
I was happy to find this shop doing a thorough job in their restorations. Their labor cost certainly makes an enticing proposition, and my client is considering it. My only concerns is how long will this discount labor last? Latvia is part of the EU, and as the world economies become more connected, the cost of living in Latvia will not remain inexpensive. Auto Classic buys their parts from the same suppliers as we do in Europe, so those costs remain the same. Paint and leather is coming from the same people too. I'm happy to report their quality is there, and the discount is real, just for how long?
Don't forget to reserve your space for the Tomyang.net/Radcliffe Motorcar Spring Car Show!
May 5, 2018
Radcliffe Motorcars
12340 Owings Mills Blvd.
Reisterstown MD 21136
Call to register (410) 517-1681