Jack Hole Plugs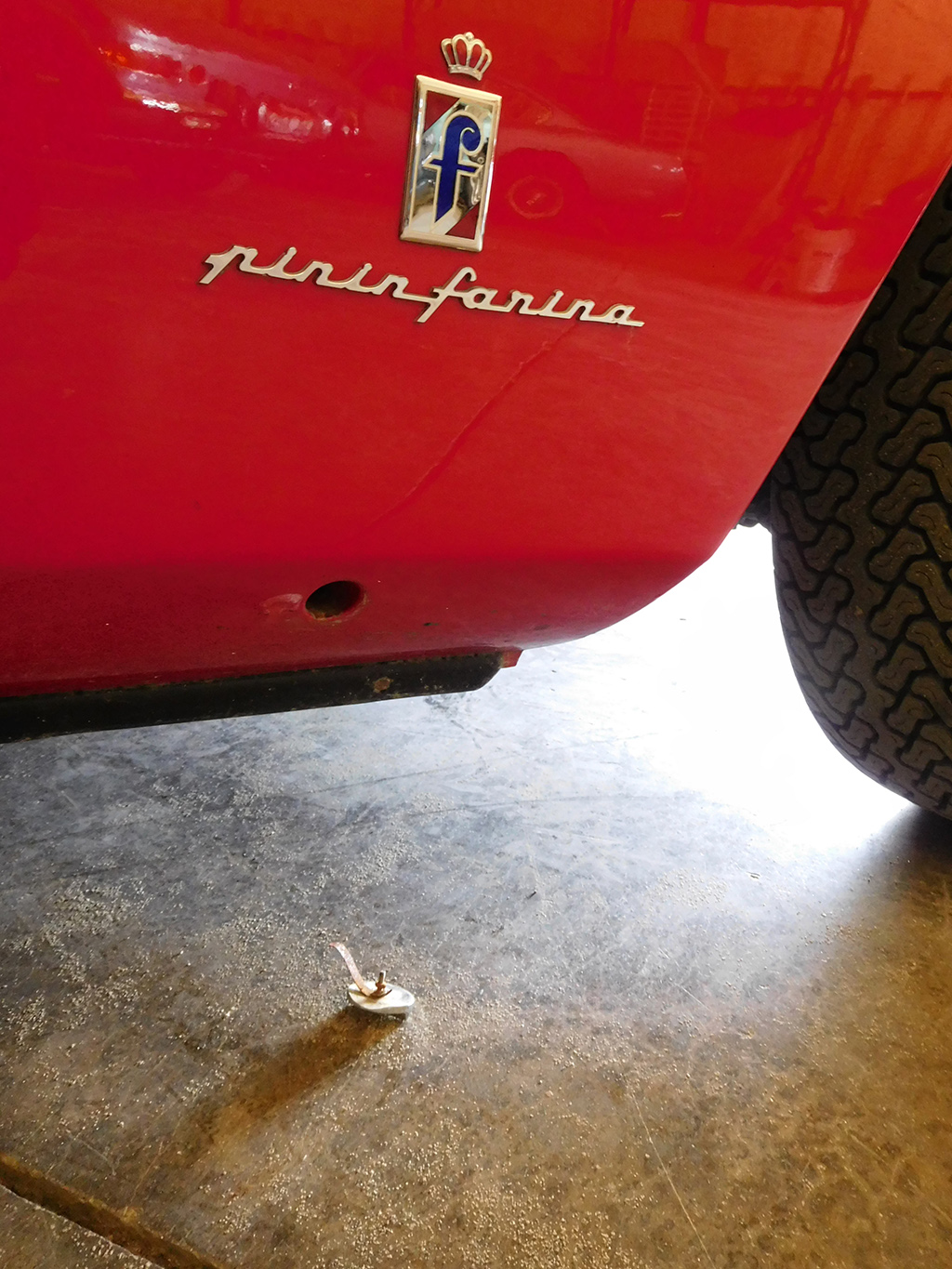 There is a mysterious hole found on 250s and some 330 Ferraris that is a jack receiver hole. Although I don't ever recommend using these holes to insert your jack to support the car up by the rocker panel, they are often missing the chrome cover.
The jack support is basically a tube welded to the rocker, but if you've ever seen the inner support for this tube, you wouldn't use them either! The little jack hole plugs are available, but the clips that hold them in place never seem to work. The clips on the original ones seemed to fail with the same regularity as the reproductions, and I was lucky enough to find one of mine sitting on the floor with a broken clip next to my car instead of lost by the side of the road! I decided it was time to find a better solution!
The other problem is when the jack hole plug is inserted, the plug doesn't sit flush with the rocker because of the angle of the bodywork. Most of the cars I've seen have hollow tubes all the way through the rocker, which gave me an idea for a solution.
I cut a thin piece of sheet metal long enough to reach just past the end of the tube, and wide enough to fit snugly in the jack hole. I drilled a hole in the end, bent the side holding the plug at an angle and used loctite to secure the nut to the chrome jack plug. I slid the assembly into the hole and bent over the extra end of steel to secure the plug in place. Now the plug sat flush with the rocker panel, and hopefully won't fall out. If it rattles, I'll put a daub of silicone on the steel strip. I'll let you know how they work out.
TomYang.net Monterey Cocktail Party
This year's party has moved away from Quail Lodge to a house in Carmel-by-the-Sea generously co-hosted with the Coady Family. It will held on Thursday the 23rd of August starting at 6pm. If you're in Monterey for the car weekend, I would love to have you come. Please contact me privately for details: tom@tomyang.net
My plans this year is to attend the Quail show on Friday, Concorso on Saturday, Pebble Beach on Sunday. Somewhere in that time, I'll head to the track, preview the cars at the auctions, and squeeze in a few meals. Reach out if you want to meet up!