Ferrari Club of America at Watkins Glen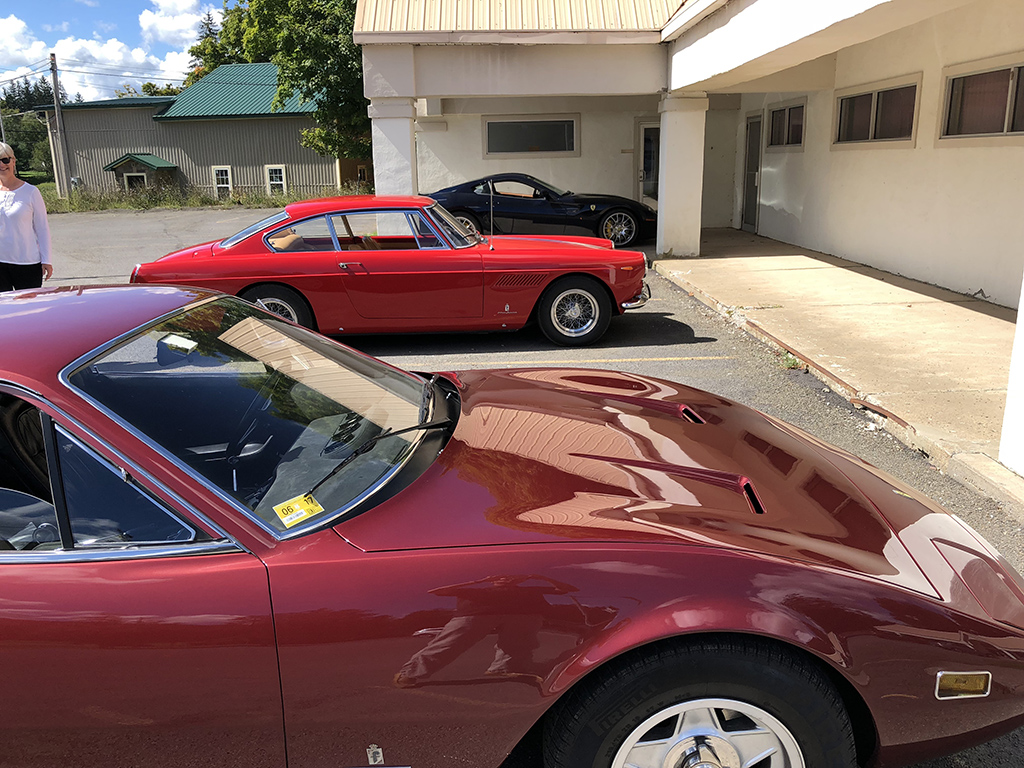 This Year's Ferrari Club of America's International Meet was in Cornng NY, which was about a 4 hour drive from my home. My friend Sam Hallowell drove out from Rhode Island to meet me in his 365GTC/4 and we met Mike Meehan and his wife an hour further west when they joined us in their Ferrari 599.
The weather was perfect, and it was fun to have a span of 40 years of Ferraris driving together.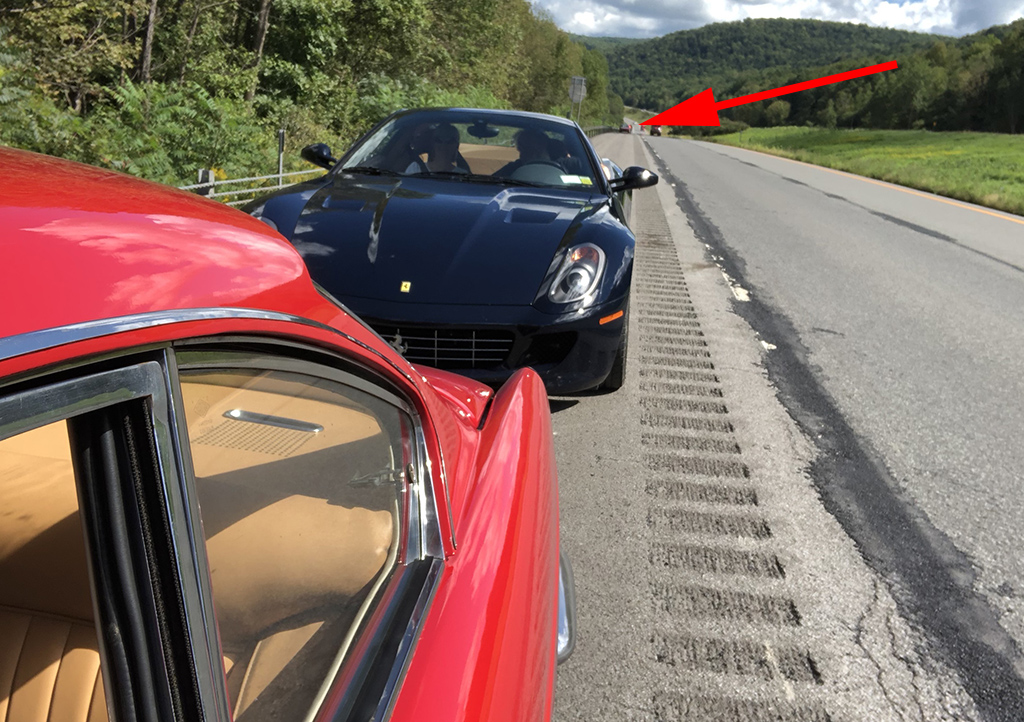 Unfortunately, the fun was brought to a quick halt when Sam was pulled over on the interstate! We were leap frogging along the highway when Sam came up along us from behind doing about 80 miles an hour. A state trooper came flying up behind us soon thereafter and cut me off to pull Sam over in his 365GTC/4. We continued down the highway and pulled over about a quarter mile to wait for Sam acquaint himself with the State Police. (red arrow)
Luckily, NY does not transfer points against driver's licenses in Rhode Island, so Sam will just have to pay the fine. I guess if you're going to play, you're going to have to pay!
The first event was the Concours on Sunday, and there was a good turn out of cars. Daytonas were the featured car, and there was a good representation, but I suspect there were more Daytonas in Daytona Florida at last year's meet!
The show is held on the main street in Corning NY, and it's a great way for the public to see these cars.
I brought my car to the show, but it wasn't getting judged, so I had plenty of time to meet some old friends, and make new ones. I met the Christensens, who I've been in contact via email in the past, but I finally met father and son in person. They entered their 330GTC in preservation class, and won a platinum. Congratulations!
I was really enjoying my 330 America this weekend as my daily driver. It wasn't without little problems, but they were minor issues like blown fuses and loose wires. I've owned my Ferrari for 19 years and 11 years ago I brought it to Watkins Glen for the 2007 FCA Meet. She won a silver award, and it was enough for me to retire her from judging. I've spent the last several years bringing other cars to show condition, but I still love my 330 America!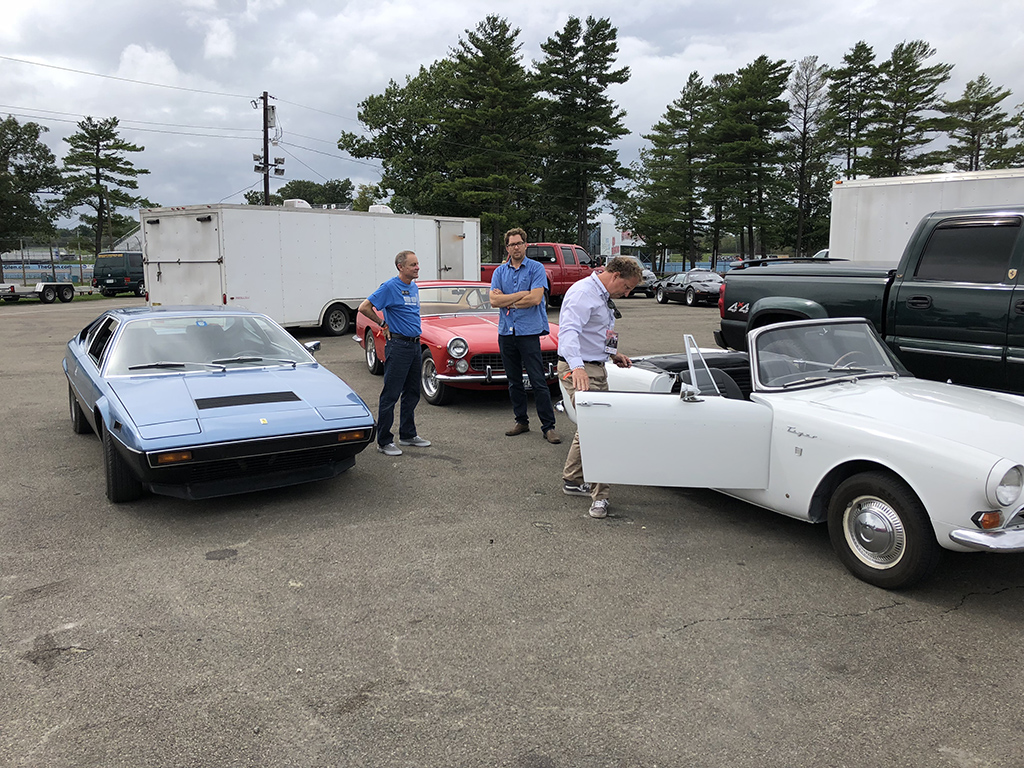 Monday was a day at the track, and although I love Watkins Glen, we had more fun driving the cars on the back roads. Brad Phillips, from Hagerty Insurance, brought his Sunbeam Tiger, Stephen Markowski, from RPM,  brought his 308GT/4, and I had my 330 America, so we took turns giving rides and swapping cars.
It's always fun to share the experience of my Ferrari with other enthusiasts. I've driven many of Brad's cars, so I returned the drive in my car. I offered drives to several other people as well, and burned half a tank of fuel just on drives that day!
Speaking of sharing the sharing the experience, I caught up with an old friend Sam Smith. Sam has been involved with Vintage Ferraris for decades, and I had a nice time swapping stories and spending time with him!

Hagerty invited me to participate in a Seminar they hosted to talk about Ferrari Valuation, and I was honored to share the discussion with the other panelists. Not only were they all very informed, but they were all good friends, so they made it easy to spend an hour to talk about which Ferraris we would buy in today's market. Thanks everyone for making this happen!
I drove the 250 miles to my home without incident, and I had a good time at the FCA Event. There will always be things I would done differently, but I also know it's a monumental task hosting one of the these events, so I won't complain. Instead, I will congratulate the organizers of the Corning NY event, and thank them all for their hard work. Next year, it'll be in Phoenix!