SI 330 Sorting
I started sorting out the SI 330GT 2+2 that arrived at my shop a few weeks ago. I have a ton of other projects going on, but I promised I would put time in whenever I had a chance.
When I took off the air cleaner, I found they were incorrectly secured with bolts instead of the usual studs and nylock fasteners. Using bolts to secure the air cleaner will wear out the threads on the carburetors and make for an even bigger repair. The alloy used on the carbs are very soft, so the threads will pull out without much effort. Installing studs keeps from wearing out the threads.
After removing the bolts, I chased the threads with a tap to make sure everything was clean and straight.
Although there is supposed to be a flat washer under the nylock, we usually eliminate the washer to cut down the amount of pieces that can fall down inside the carburetor.
The next issue was to take a look at the steering box. When I received the car, I noticed a lot of grease oozing out of the input shaft on the steering box.
On closer inspection, I discovered what I suspected, the whole steering box was filled with grease! This is an old mechanic's trick to stop a leaking steering box by replacing the oil inside the gear box with grease to stop the seals from leaking! With enough grease, the internals will get some lubrication, and the grease is too thick to leak out of the bad seals. The problem is a steering box was not designed to be lubricated with grease, and replacing the bad seals would have been the right way to fix the leak.
While inspecting the steering, I noticed a lot of slop in the steering, and I found a tie rod end with a ton of play.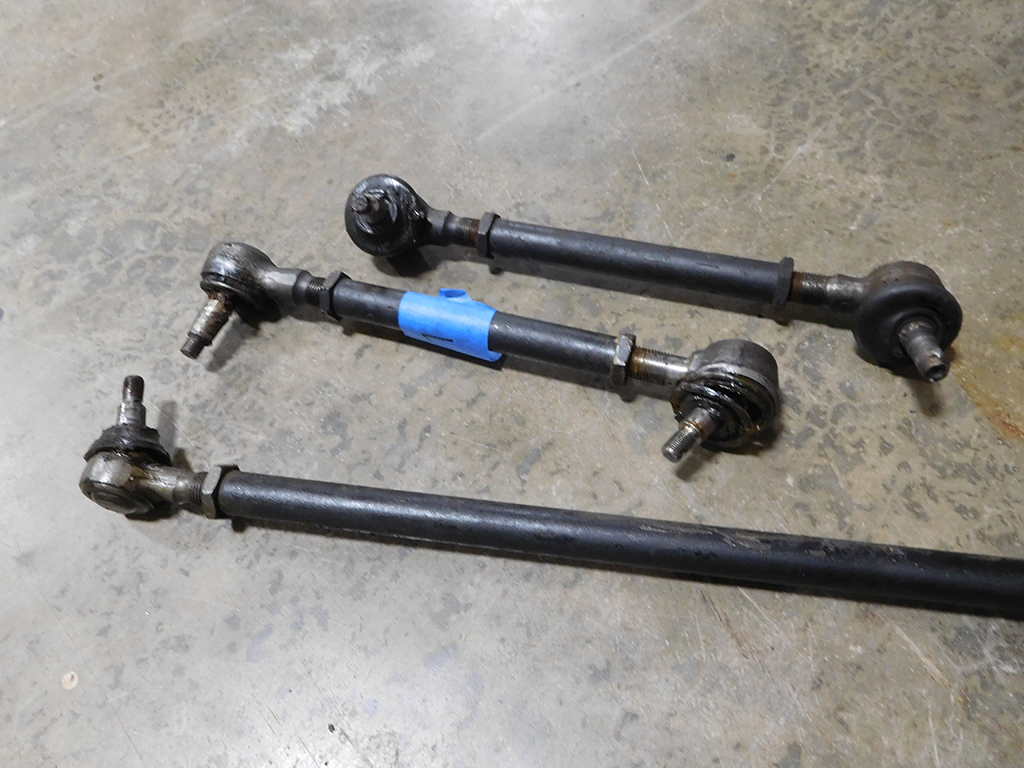 Inspecting the other tie rod ends, there were a couple more that could use replacing, so the owner and I decided the best thing was to replace all 6 tie rod ends on this car, and repair the whole steering system.
With the steering linkages removed, it was easier to remove the steering box and replace the seals on the bench. It would also allow me to take apart the steering box, wash out all the grease, and replace it with the correct gear oil!
The steering shaft was removed for cleaning and painting. The brake fluid reservoirs sit just above the steering shaft and brake fluid often spills on the shaft, removing the paint. Over the years, the shaft gets rusty and looks horrible next to the rest of the engine compartment. Since most of the steering system was coming apart, now was the time to clean this shaft up.