330 Steering Box and Seat Issues
With a steering box filled with grease, I had to open the case to get it all out. Filling it up with grease by a previous shop was a quick way to stop it from leaking from bad oil seals, but installing new seals was the right way to fix this problem.
The ZF tamper seal was still installed on this steering box, so I'm pretty confident this box may not have been apart. They must have injected the grease into the the fill plug at the top of the steering box. I'm going to try and reinstall this tag when everything goes back together to try and keep things looking original.
Digging out all the grease was a big mess. I pulled as much grease out of the box before setting it in my wash tank. The bearings and gears were in pretty good shape with hardly any wear, so with the right gear oil filled back in this steering box, it should perform fine.
Another item we have to address is the interior on this 330GT 2+2. The leather was replaced on this car, but the driver's seat is showing some staining, and the structure underneath is sagging.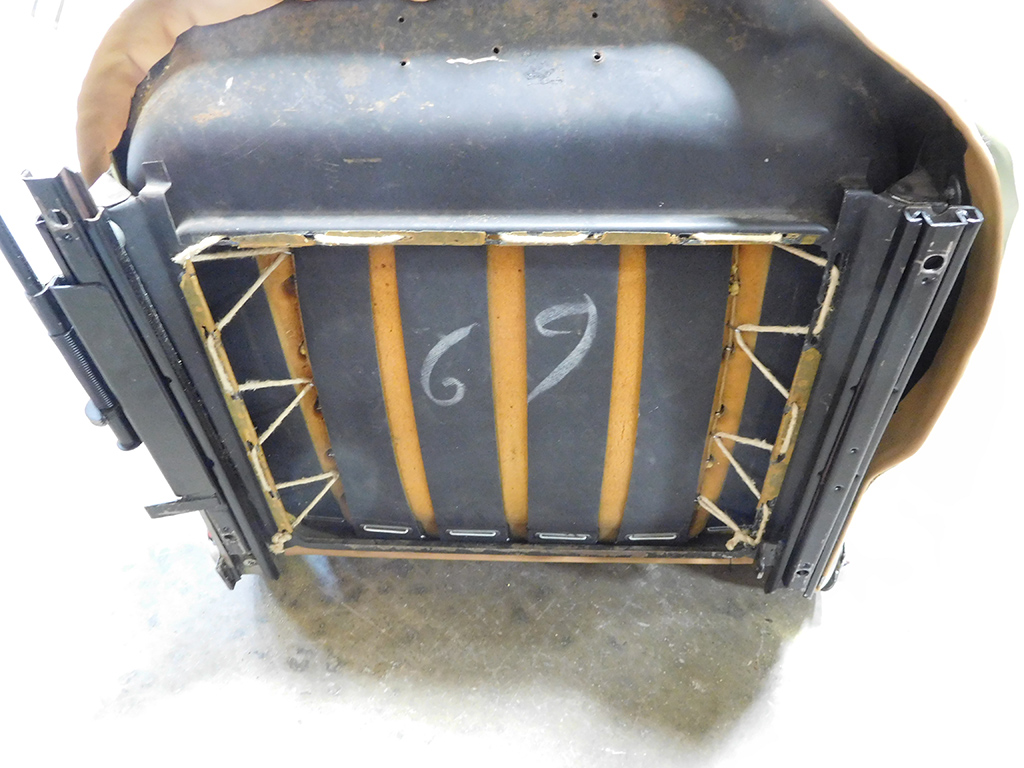 Looking under the seat, I saw the straps were never replaced and much of the old foam was still inside under a layer of newer foam. Just like the steering box, the previous person who did the interior took a short cut when rebuilding this seat. With the old straps, the driver's seat felt like sitting in a hole, and the old foam was crumbling and collapsing. Even though new foam was laid over the old foam, the old stuff is over 50 years old and falling apart. A lot of labor was spent reupholstering this seat several years ago, but all of it seemed wasted when the under structure was falling apart. We're going to try to repair this seat, but saving the leather will be tricky. If we have to replace it, finding a matching leather will be tough. If the driver's side seat fell apart like this, the passenger seat will do the same with any regular use. Dying the rest of the leather to match is also an option. We'll try our best to keep from having to re-do the whole interior to match, but this is why you don't cut corners!
The seat foil replacement on the bottom edge of the seat was also wrong, but I have a supply of this and will install the right stuff.
I took the hood off to prepare to install a new hood pad and have the under side painted in the correct semi-gloss black.
The new jack hole plugs were installed, but the trim strip covering the pinch weld had to come off. This piece too gets painted semi-gloss black.