Ferrari Inspections
I got a call last week from someone in Europe looking to buy a Ferrari 275GTB located in Massachusetts. It was an owner I had inspected another Ferrari in the States before, and was happy with his last purchase to ask me to look at another one for him. The car was at Copley Motors and I had been to the showroom before to inspect another car several years ago. This time, I picked a day between snow storms to drive 2-1/2 hours from my house, but the temperature was 5 degrees F in the morning! The frigid cold may have not allowed the car to warm up completely, but it would help keep the roads frozen and dry for the test drive.
A test drive during my inspection is imperative to get a good feel for a car. Any strange noises, how the transmission shifts, or how solid the car feels can only be experienced in a test drive. No offense to a dealer or a salesman, but I'd rather experience a car for myself than taking the word of someone trying to sell the car. My opinion is neutral because I am paid for my service whether the car gets purchased or not.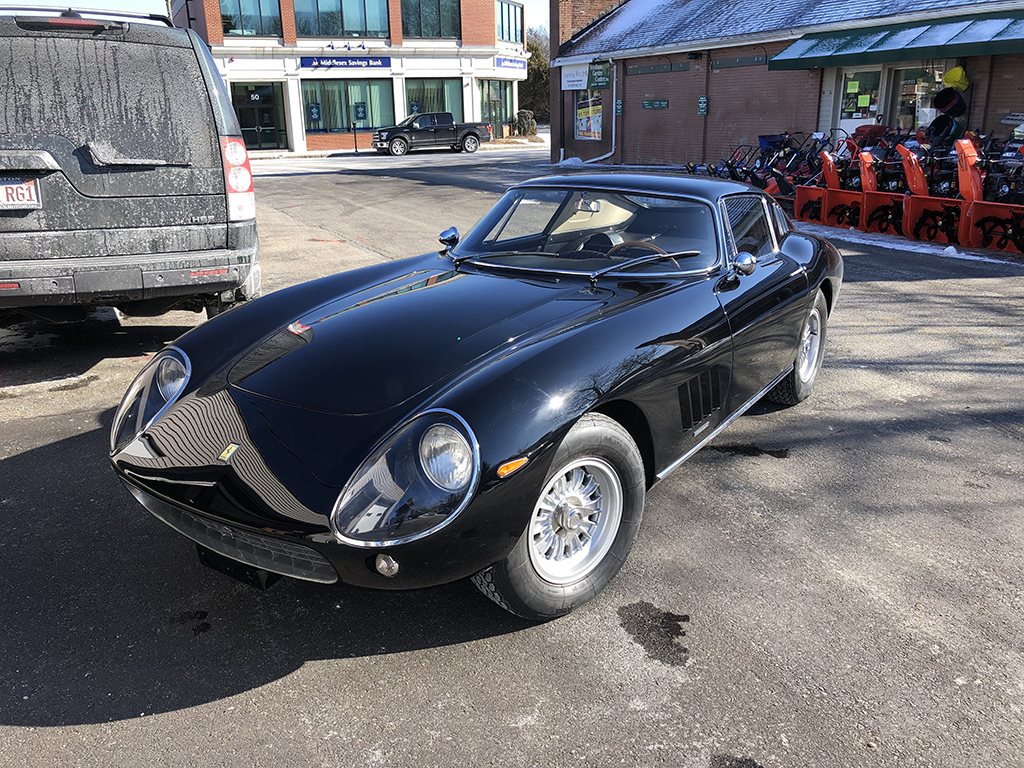 On a short nose 275GTB, the biggest concern is in the driveshaft. These early 275GTBs had the engine and the transaxle mounted independently connected together with a thin shaft supported by a bearing. As all these rotating masses moved, vibrations could occur at different RPMs and speeds. Some cars have no vibrations, while others can drive you crazy! There are methods to fix these problems, but these solutions can get expensive if the easy fixes don't work. My job was to see if this car drove smoothly, and didn't have any of these potential problems.
Adam at Copley Motors helped me put the car on the lift to finish my inspection of the underside of the car. The car performed well on the road, and the compression test of the engine came back strong and consistent. I even managed not to dirty up the black paint on this car too badly during my test drive!
The undercariage of this car was pretty clean and orderly. Here's a picture of the little drive shaft coming out of the back of the bell housing that has the potential for vibrations. Later GTBs and all GTCs encased this driveshaft inside a torque tube which rigidly connected the engine and transmission in one unit, solving the potential problems with the earlier versions. That being said, this does NOT mean early 275GTBs and GTSs are bad cars, in fact I personally like the look of the early  "Short Nose" 275GTBs over the later "Long Nose" cars, but it's good to know the potential foibles before purchasing a particular car!
After a four hour inspection, I headed back to NY to write up my report. Because of the time difference, I scheduled a phone call the next day to discuss my findings. I liked the car, but what the owner does, we'll see! I want to thank Copley for making the car available to me for my inspection, and trusting me to avoid the puddles when taking this 7 figure car out for a winter test drive!
Four days later, I got a call from another customer of mine looking at a 330GTC in Houston! We were looking atva few cars for sale around the country, and this one looked like a good candidate for his purposes. The car was for sale in DriverSource in Texas, and I met Jose from this shop out at Monterey, but had never been to Houston. Both the buyer and I booked flights to Texas to go car shopping!
DriverSource has been around for over a dozen years, but has grown its web presence over the last several years. My customers are always sending pictures and questions about cars for sale around the world, and DriverSource is often on that list. Here was my opportunity to see for myself what was down on the Gulf Coast of Texas!
Seeing a showroom and repair shop in person really helped give me perspective of the DriverSource facility. They sell a lot of cars, but also have a service shop and multi-level storage facility.
What about the car? I spent most of my time inspecting, driving, and discussing the 330GTC with my client, so I didn't take pictures of the car! Jose's mechanic Aaron helped me preform a compression test and I looked for potential problems and repairs. I made my list of small issues and took the car out for a test drive with my client. I drove first and looked for issues like weak synchronizers, bad brakes, or a loose suspension.  After I was finished, I swapped places with my client, and had him drive the car. I am always happier when I can inspect a car with a potential buyer instead on my own. Ultimately, the potential owner is the one that has to live with a car regardless what my report says. There's a certain attraction or bond one can get with a car, and if that isn't there, it becomes very hard to keep a car and spend money on it. There's a clinical and emotional perspective when it comes to buying a car, and finding a right balance of both makes for good purchase. We both liked the car, so I left the negotiations on price and delivery up to my client!