330 GTC Interior Assembly
I had to fabricate a couple of panels to trim out the door panels on the GTC. They cover some holes in the door when the leather door card is installed. I'll send these out for painting along with some other pieces with this car.
I reinstalled the original carpet on this car because it's in pretty good shape. It's a little sun faded, but will look fine when it goes back together.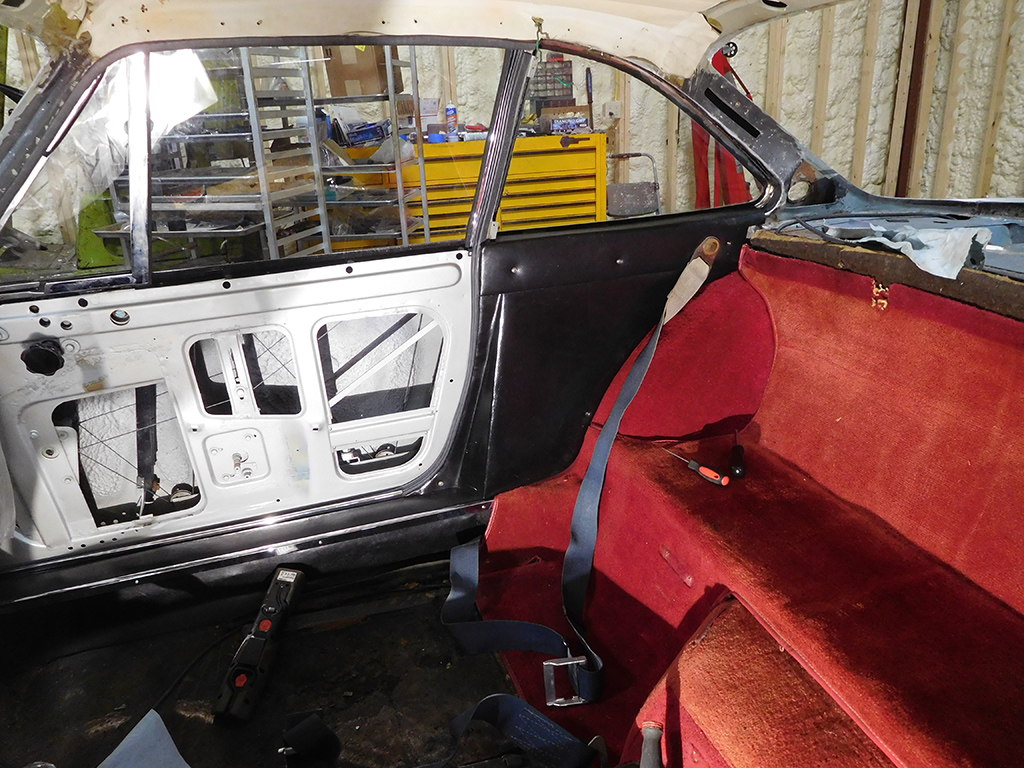 The seat belts went back in, and the door sill pieces.
To keep things consistent on this car, the side pieces that trim out the headliner were saved and cleaned. They're not in bad shape, but were dirty from years of exposure to the elements. The bottom piece was cleaned and although not returned to it's original color, it was a vast improvement over the dirty piece.
I carefully cleaned the headliner material with some mild cleaner and a toothbrush. The original headliner material Pininfarina used had a stippled finish that traps dirt in the tiny pores, but with some time and patience, it cleaned up nicely.
The harder part to clean was the headliner that was still installed on the car, but I laid down on my back and got to work. I could tell a previous owner of this car was a smoker because the headliner area on the driver's side was more stained with tar and nicotine than the rest of the ceiling!
Although some pieces were recycled on this car, some parts were restored and rechromed. Any part that was installed next to fresh paint was restored so it would look as nice as the paint, but there are a ton of little parts. Just the windshield squirter assembly has 9 parts each. I made new rubber gaskets for these assemblies before installing them.
There are always parts that need to be chased down on this car, and one of them was the fuel filler hose. The one I found on the car was pretty deformed and when I removed it from the fuel tank I found out why: it was a radiator hose! Coolant hose is made from a different rubber than fuel hose, and although it's cheaper by the inch than fuel hose, it will soften and degrade when exposed to fuel. The hose that was installed on this GTC had the inner hose separating from the outer casing and was coming apart. I special ordered a piece of fuel safe hose in the right diameter to replace this hose. It may not be seen when this car does back on the road, but it will be safe from fuel leaks!