Hagerty Amelia Island or Bust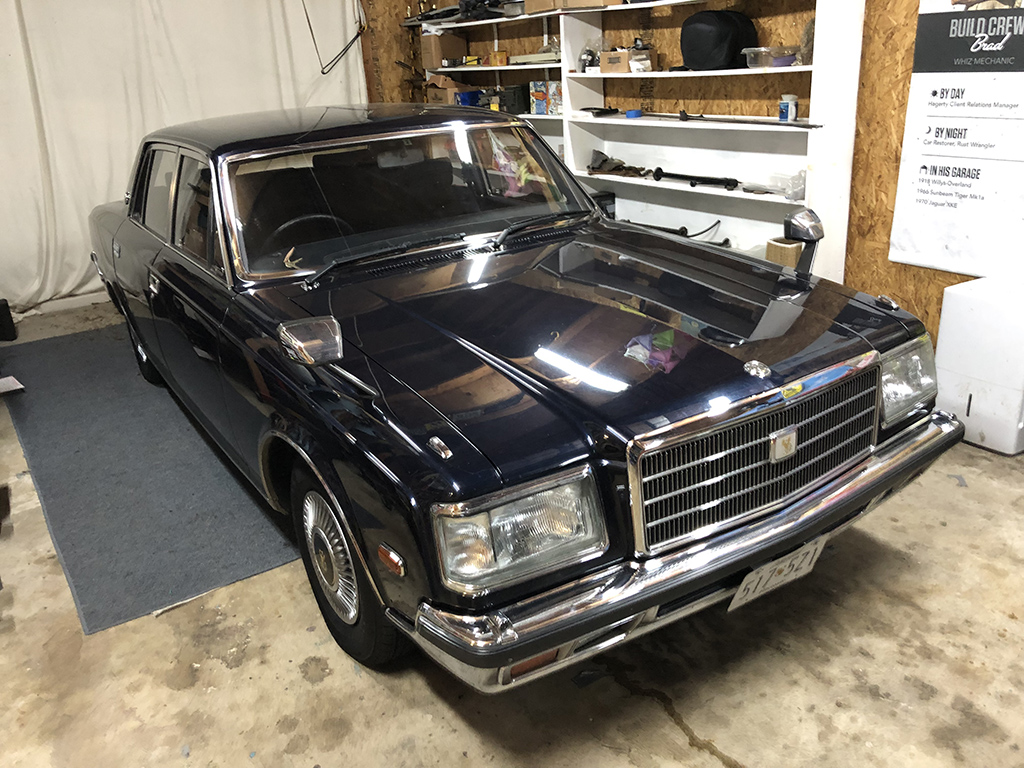 I flew down to Salisbury Maryland to meet Brad Phillips and the Hagerty gang to begin the 2019 Amelia Island or Bust rally sponsored by Hagerty. Brad had his Toyota Century parked in his garage, and she brought back good memories of our first road trip together when we drove to Monterey together from this same town a couple summers ago. The Century would be sitting this one out, but we certainly had plenty of cars to take on this year's trip.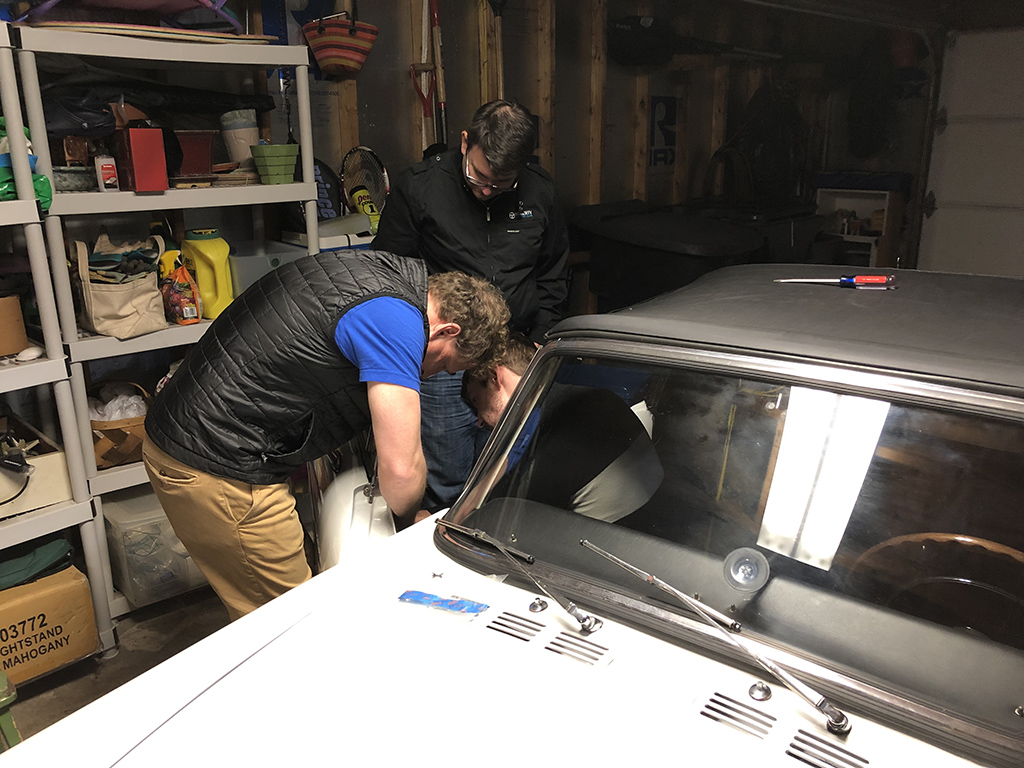 Brad had the Hagerty guys working hard to get his 1966 Sunbeam Tiger ready for the trip. I arrived on Friday night, so the lion's share of the work was done by Kyle and Matt the previous few days.
Some of the guys were joining us in MD, but the official start of the rally was in Allentown PA, a few hundred miles north. It seemed odd to be going north first before heading south to Florida, but we soon found out the trip north was well worth it!
Brad's Sunbeam Tiger was running well with it's new carburetor and V-8 engine. Even though it was a stock engine with a 2bbl carb, it easily had enough torque to break the rear wheels loose.
We arrived in Allentown PA to be hosted by The NB Center for American Automotive Heritage. Nicola Bulgari has a passion for a certain period of American spanning from the 30s to the 50s, and his collection celebrates this period in time. From the great hall we first stepped into, we had a feeling we were going to see something spectacular.
The first warehouse blew me away, not to mention the view from the office built high above.
Keith, the manager, friend, and restorer to Bulgari, gave us the tour and I quickly understood why Bulgari put all this trust in one man. Keith's passion and enthusiasm ran deep.
Bulgari does something even further than most collectors, and that is to look to the future by taking care of the past. He spends hundreds of thousands of dollars collecting parts and pieces to keep a supply of parts for everyone's cars, not just his own.
Several buildings house workshops that restore, preserve, and replicate these old cars and parts. Bulgari pays to replicate long lost textiles and materials when they are no longer available. He's a true Patron of the Arts!
After a wonderful hosted dinner, we were shown a movie on the big screen outside. It was a little chilly to take in the whole show, but the original drive-in theater screen on the property was restored and upgraded with an outdoor sound system. No hanging boxes were needed on our cars (for those that remember going to a drive-in!).
We met at 7:30 am Sunday morning to head for Amelia Island. I did not bring a car because the plan was for me to ride along with co-pilotless drivers, drive support vehicles, and generally be around to do whatever was needed. The first person to offer me a ride was Lewis in his MGT-GT.
Lewis drove up from Baltimore and we spent a nice day winding our way south on the back roads of Pennsylvania and Maryland. The heat worked, the car performed well, and I only made a couple mistakes on the road book, but we arrived happy and satisfied at the end of the day.
On day two, I wanted to take a ride in this Rolls Royce Silver Cloud II. Michael and Molly live in PA, and were bringing this old girl all the way to Florida.
The best seat in the house was in the back of a Rolls, and someone had to take advantage of it! It was quite a contrast between yesterday's proletariat ride in an MBG-GT into this day's lap of luxury ride in the Rolls.
I worked all day on my royal wave. It's not as easy as it looks.
The Hagerty Tour has quadrupled in size and I was happy to see many new faces, and some newer cars participating. Cars like a BMW Z3, or this Subaru WRX were perfect for carving the back roads in Virginia and North Carolina with working heat, defrost, and no leaks!
There was also a good mix of vintage too. I don't think you can much more of a vintage feel than that of a Marcos, but even some of the Porsches were over 40 years old!
Old machinery needed care, but everyone was just ticking along.
Our first major problem was flat tire on Porsche 911. Peter managed to find replacement tire and set his GPS to meet up with us on the route by the evening. Here's the group discussing why we couldn't inflate the compact spare because we would have too much trouble collapsing it back down to fit in the trunk again!
On day three I jumped in Larry Webster's Porsche 924 Turbo. I've been reading Larry's writing for years, as his career spanned the pages of books and automotive magazines. Before coming to Hagerty as a VP of Media (I think that's his title?) he was the Editor in Chief at Car and Driver. With a resume like that, one would think it could be intimidating to be stuck in a small car with him for day, but luckily we had the love of automobiles in common.
Our conversation became quieter as we heard more noises coming out from the exhaust of the Porsche. Larry had just rebuilt this engine, and completed it the day before driving it down to this rally. We found a curb to raise half the car to see what had rattled loose.
The 924 Turbo had a tight squeeze when they added the plumbing for the turbo, so we felt and heard something rumbling and getting louder with each mile.
Larry eventually found four nuts working their way off the turbo's exhaust flange that needed tightening. As the rest of the tour stopped to make sure we were OK and to post our predicament on Social Media, they soon drove off when they realized we could fix our problem without more help!
The nuts holding the flange were tightened, but we knew they would probably loosen again with the heating and cooling of the exhaust. We got back on the road, and made plans to make a more permanent repair with the correct nuts.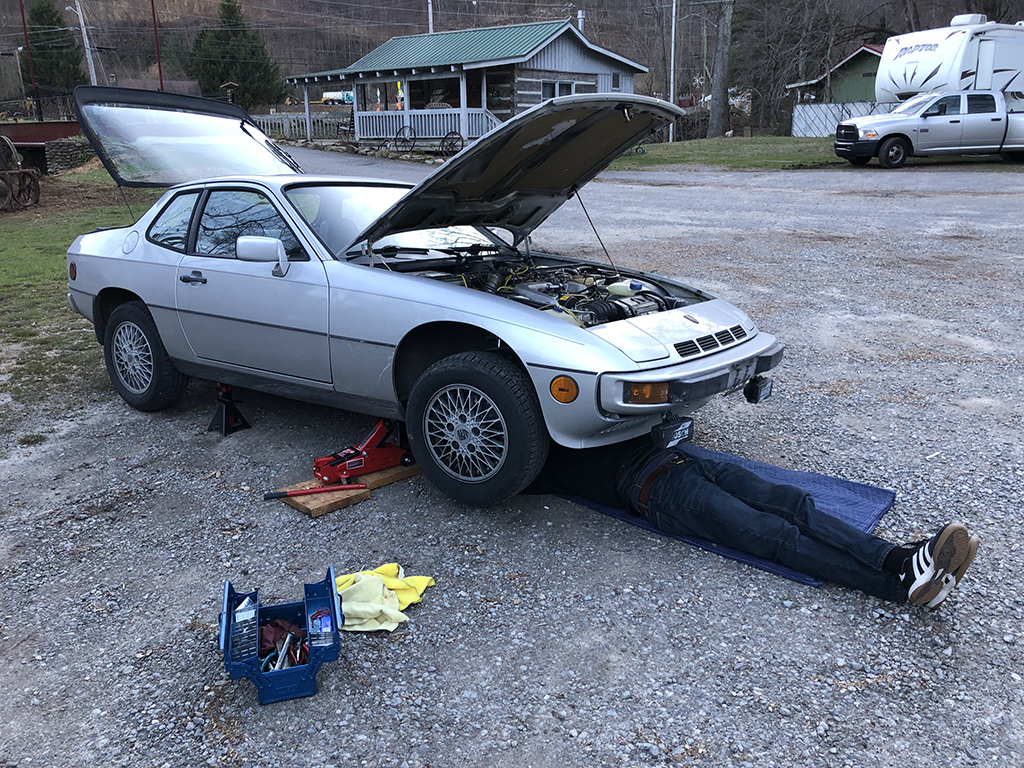 We missed out on the evening's museum tour, but bought some new nuts to tighten the exhaust for good.
Day Four was my turn to drive the company Explorer. We were weaving our way between South Carolina and Georgia, and I tried my best to keep up without scrambling all the boxes, detritus, and suitcases being hauled by the SUV. I plugged in my phone, listened to an audio book, and made some phone calls!
The scenery was spectacular and we stopped by to take in the views. Here's Keith in his Porsche 964.
I was bringing up the rear of the rally with the Explorer, but I was hearing Brad was having problems with his Tiger. As we communicated between cars via texts and phone calls, we all had our own diagnoses of his problem. We got a fuel pump from a Napa Auto Parts and Kyle installed it in the car, and it seemed to only fix the problem temporarily. By the evening, Brad had the car towed to the hotel, hoping to regroup and figure it out together.
The temperature that night was dropping well below freezing and I was not looking forward to fixing the car in the cold and the dark, so I hoped we could solve it with something easy. I wanted to see if the car would run better with full tank of gas since the description pointed to a flow problem. I knew there was a deeper problem, but I honestly wanted to get this car a little further south!
After filling the tank the night before, the Tiger seemed to be running fine, so Brad asked me to join him for the last leg to Amelia Island. Insisting on crossing the Georgia/Florida state line with the top down, we left the hotel in Georgia at about 15 degrees.
Brad had plenty of warm clothes because he had been driving his drafty Tiger the whole way down from PA, but I was in a little bit of trouble.
I put on as many layers as I could and hoped for the best. Just as we were pulling out of the hotel, a fellow rally member offered me his hat. I took him up on his offer, and realized later he saved me from hypothermia. I can't thank David enough!
We thought we were home free after driving 100 miles that morning without incident, but I think the Tiger sensed our confidence and intervened. Soon the car was sputtering and bucking on the highway. Since I didn't install the fuel pump the day before, I took a closer look at the problem. The flow from the tank to the fuel pump was minimal, and I suspected that was the problem. When I took a hose and tried to blow air back to the tank, I couldn't get any pressure back. There was definitely a clog in the small pipe from the bottom of the tank to the fuel pump. We had 50 more miles to make it to the lunch stop, so I proposed a band-aid fix. We could send a car up the road to buy enough fuel line to run it from the filler cap to the fuel pump and suck fuel directly out of the tank bypassing the clog. Brad was up for the "Road Kill-esque" repair, but I told him "Roadkill" temporary repairs usually use ratchet straps, and become permanent!
The good news was we made it to lunch, and even Amelia Island on this roadside repair, but the debris inside the tank eventually started clogging the new pick up hose. We did, however all make it to Amelia Island together without loosing one car! Most of us drove 1800 miles on this rally, made some new friends, saw some old ones, and had a ton of fun. I can't wait to do it again, as long as I can get some rest first!