Amelia Island 2019
The events at Amelia Island is not just the Concours on Sunday, but car shows all weekend, along with auctions too. Friday's big event was the Werks Reunion, a big Porsche show. Since I bought a 996 last fall, I'm back in the fold of Porsche and doing Porsche shows again!
I was walking through the show field when I saw a very nice 1979 Porsche 930 Turbo and spotted a familiar face. I may have said it a little too loud among the Porsche fans, but I blurted out "Alan Boe, what are you doing slumming with all these Porsches!"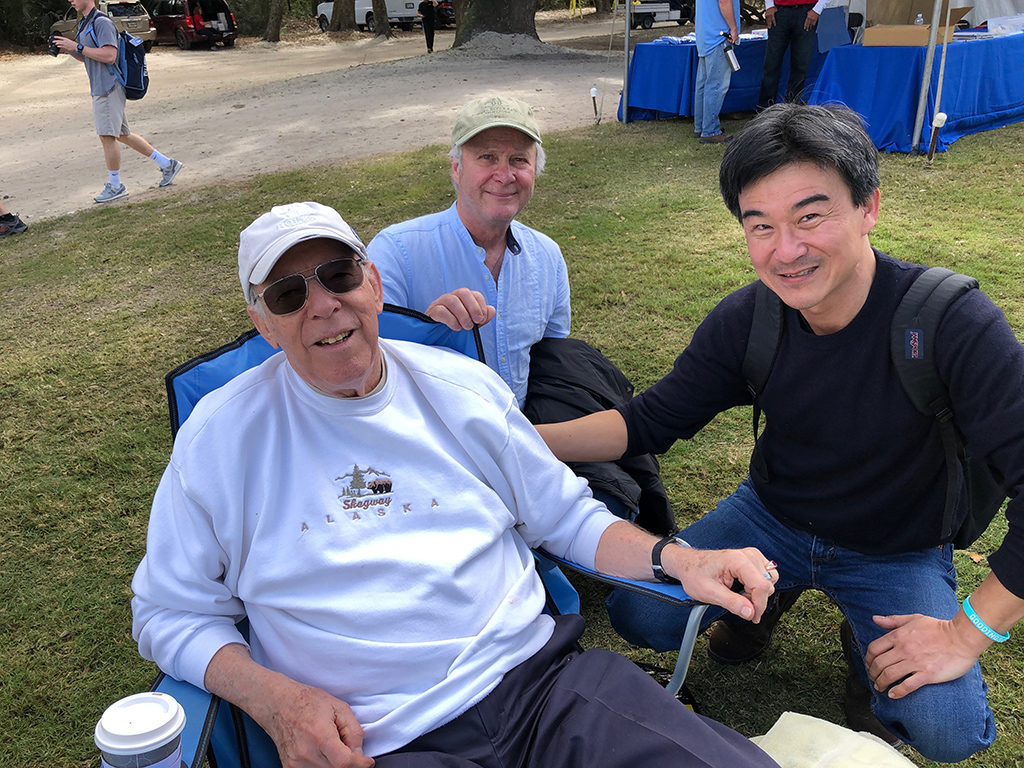 Alan was the Ferrari Chief Class Judge at Pebble Beach, a fellow vintage Ferrari owner, and long time friend. I actually knew he owned a 930 and even saw it when I visited Alan in Atlanta several years ago. Porsches and Ferraris actually do go hand in hand, and I was happy to part of our little secret!
I was invited to join David Geisinger for dinner with 30 of his friends Friday night. His friends became my friends that week, and it was a wonderful evening.
Friday and Saturday was also filled with attending auction previews and watching cars go across the block. I had clients that wanted me to look at cars and give them a feel for cars that they wanted to bid on by phone. These were frenetic days, looking at cars, watching cars, and talking to others in the industry to see where the prices were going. The irony was I had spent five days previously with a bunch of car guys driving their cars over 1500 miles, and I don't think I had one conversation about valuation! I kind of liked the reprieve!
Sunday was another early morning to watch the cars line up to get on the lawn. Although I have a ticket to the Concours, I usually hitch a ride onto the show field when I find a Ferrari heading in with an empty seat. I walked down the lane looking into every Ferrari for an open seat when I heard my name being called out.
I spotted Sean Coady , a Ferrari collector, driving a L29 Cord so I asked him for a ride in!
I have to admit arriving in the Cord was much more elegant than any Ferrari.
Sean showed me pictures of how he found this car. We see a lot of cars being sold as "barn finds" and it's become an overused term, but there was no mistake on this car and Sean has the picture to prove it!
What a transformation on this car, and the factory details that were all restored and preserved was a testament to Sean's dedication to restoring these old cars. The Coady family is always restoring something, so I look forward to seeing what they bring next!
One of the fun things participating on the Hagerty Rallies is meeting interesting people on the trip. I met Terri who manages the Stahl collection in Detroit and was showing this Delage.
Here's a neat car, but it's probably a little drafty!
Another car I was looking forward to seeing was this Ferrari "Interim 250 SWB" owned by Luigi Chinetti Jr. This car sat for many years derelict and disassembled and in storage at Francois' shop. I remember seeing it for the first time many years ago wondering if it would ever get resurrected, and now here she sits. Pretty cool.
Speaking of Luigi Chinetti, I caught up with him for lunch at the Ritz.
While I'm on the topic of "who's who, in the Ferrari world, here are some notables. Parker Hall, Greg Jones, and Chuck Queener. Parker is a well known Ferrari judge and makes a lot of stickers and parts for the final detailing for Vintage Ferraris. Greg Jones is a long time restorer/judge, carrying on the tradition from his father. Chuck Queener, also a judge but more notably an automotive artist that has been published and printed in all the major shows and publications. I'm honored to know them as friends and colleagues!
I even found time to take off my shoes and go for a walk with Cathy Roush of the Ferrari Market Letter!
I didn't do a good job on this selfie, but here's me, Eric Wykle, and John Saccameno. All three of us work on cars for a living, and have some great stories to tell. Eric works on a very significant Ferrari collection in the midwest, and John runs a shop near Chicago. We may be just a bunch of mechanics, but no matter how exclusive these cars get, they still rely on us to keep them running!
Save the Date!
Tomyang.net/Radcliffe Motorcars Spring Car Show
May 4th 2019
8am-?
"A car show by cars guys for car guys!"
European Sports cars, British cars, Anglo/American, Italiamerican, and maybe even a few 'merican cars.
Tech sessions, vendors, show cars, and food.
Radcliffe Motorcar Company
12340 Owings Mills Blvd.
Reisterstown MD 21136
‭Call to register your car for the show. Space is limited.
(410) 517-1681