Jump Into the Fire
Whenever I have a bunch of things to do in the same day, I have a scene from the 1990 movie "Goodfellas" playing in my head. The music is "Jump into the Fire," by Harry Nilsson, and the scene is a coked out Ray Liotta trying to get a list of things done in the course of day. I may not be coked out, or doing anything illegal, but the list of Ferrari things I need to get done seems just as long!
My first stop was Porchester Radiator in NY. They're one of the last radiator shops I know that of that can pressure test, repair, and resolder a radiator in the NY City area. Everyone seems to be going to aluminum radiators or plastic tanks, so the old radiator shops that repair the conventional radiators seem to have all but disappeared. This tank is what they use to submerge a radiator or gas tank to check for leaks.
When restoring old cars, having this service is crucial to keeping things original, and looking stock. If we don't support businesses like these, where will we go to get our radiators fixed when they're all gone?
I had an oil cooler for a 365GT 2+2 recored, and a nipple for a heater core reattached to the original core on a 330 GTC. The pieces have to be refurbished because no one will have a replacement that will fit in the same place these came from.
I also had a radiator for a 365GT 2+2 tested. Even though an incorrect core was substituted for the right one, it tested out fine, so I plan to leave well enough alone. The customer is not making a show queen, but a regular driver, so I won't nit pick the details on this one!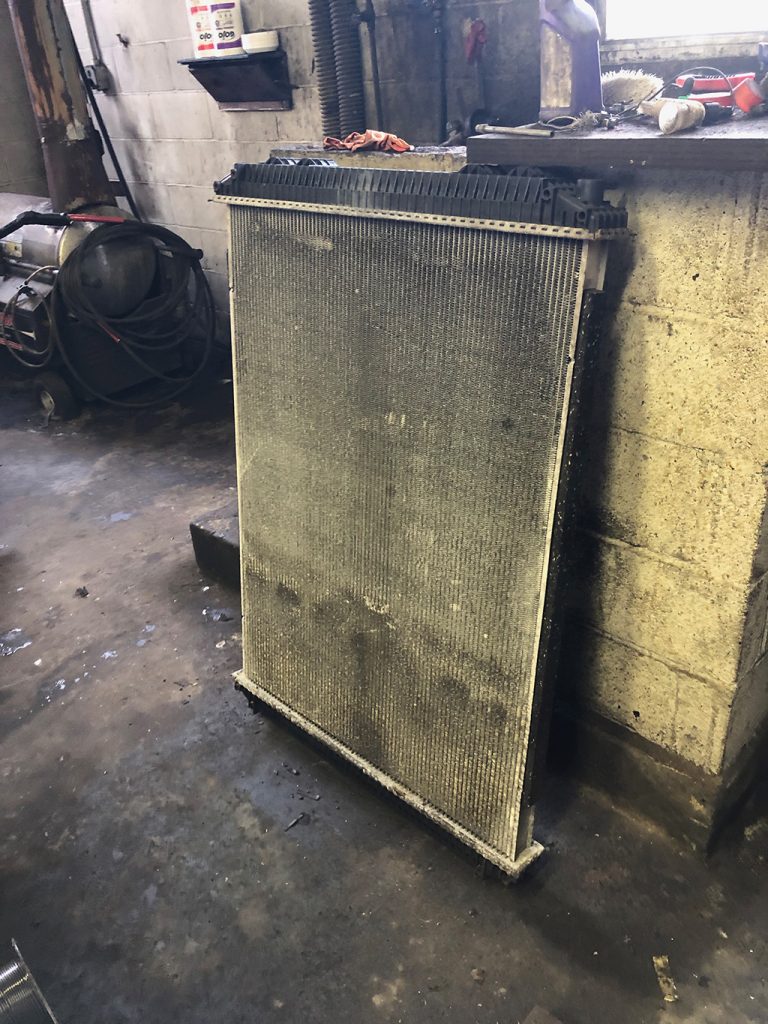 It's always neat to see what else they have going on at Portchester Radiator, and this truck radiator would solve all my Ferrari cooling issues, if only it would fit behind that egg crate grille!
The next stop was a Italian Bakery (remember, the Goodfellas soundtrack is still playing!), to pick up a couple pounds of cookies. I also made sure I got something extra for myself.
Taking care of my vendors so they know I appreciate their efforts goes a long way. I'm sure everyone does it other places, but growing up in NY, it's just the way it is!
The cookies were going to Collector Car Garage for letting me do some work for my client on a car they're storing for us. CCG is in Bedford NY and houses a lot of cars for car collectors all over the NY area. It's a pretty impressive collection of cars that would impress anyone who loves cars. No pictures, however, but trust me, it's a cool place!
One of my clients has a Ferrari 250PF Cabriolet that I've been trying to get Classique Certification completed. It's been a long convoluted process, but I feel we are finally in the home stretch. One of the last requests from Classique in Italy was they wanted the correct tires mounted on the car, so I decided to take matters in my own hands. CCG agreed to let me take the wheels off the PF Cab and set the car on jack stands while I had the correct tires mounted.
With all the rushing, I forgot to bring a knock off hammer to the shop, but luckily this Ferrari had a complete tool kit with a knock off hammer!
With the radiators and wheels loaded on the back of my pick up truck, I headed back to my shop.
While I was driving, I got texts from my upholsterer of pictures of a dye job he was doing for me.
The same 365GT 2+2 with the oil cooler and radiator was getting its interior dyed black. The red leather was clashing with the red color exterior that previous owner painted. Instead of a new interior, a dyed black interior will work for now.
Between texts, I was emailing an old customer thinking about selling his 365GT/4 2+2. Francois and I rebuilt the engine on this car about 10 years ago, and we shipped it to the owner while he was restoring the car. The pictures of the restored car looked great, and the price seemed reasonable. I knew the perfect buyer for this car, and called the seller to confirm a price to cut a deal. While I was driving home, I reached my buyer and gave him the details of the car and forwarded the pictures.
At the same time, I was waiting for Continental Autosports in Chicago to get back to me on an offer I made on this Daytona for a client of mine. He had sent me pictures of this car before I left for Amelia Island. While I was at Amelia Island, I spoke to a mechanic that knew this car pretty intimately, and he gave me the confidence to report back to my client to buy the car. The call came just as I finished talking about the silver car, and I received word our offer was accepted. I called my client and told him to set the payment in motion!
When I got back to my home shop, I stopped by the Jeep dealership to find out how to get on the list for a new Jeep Gladiator. My brother-in-law wanted to get one, and asked if it was better for me to order one.  I knew nearly nothing about the car until my local dealer told me it was the rebooted Comanche. I put my name on the list, and hopefully will get some professional courtesy when they start taking orders!
My day continued well into the evening when I finalized the sale of the 365GT/4 2+2! Not bad when you consider I only heard about the car 12 hours earlier, and money would be wired first thing the next morning. I went to sleep that night pretty tired after doing a lot of different jobs, but after last week bumming around on the Hagerty Rally, I jumped right back into the fire!
Save the Date!
Tomyang.net/Radcliffe Motorcars Spring Car Show
May 4th 2019
8am-?
"A car show by cars guys for car guys!"
European Sports cars, British cars, Anglo/American, Italiamerican, and maybe even a few 'merican cars.
Tech sessions, vendors, show cars, and food.
Radcliffe Motorcar Company
12340 Owings Mills Blvd.
Reisterstown MD 21136
‭Call to register your car for the show. Space is limited.
(410) 517-1681