Detroit to Europe
I flew out to Detroit Michigan to ship a car to Europe. It was a Ferrari 250 Pininfariana Coupe a customer of mine bought as a full restoration project, and my job was to sort, pack, load, and ship the whole project overseas to a restoration shop in Europe.
The former owner, Peter, had slowly disassembled this car over the course of thirty years, and stored everything at his wood shop. Each part was cataloged and labelled, but there were hundreds of boxes with the large pieces sitting on shelves.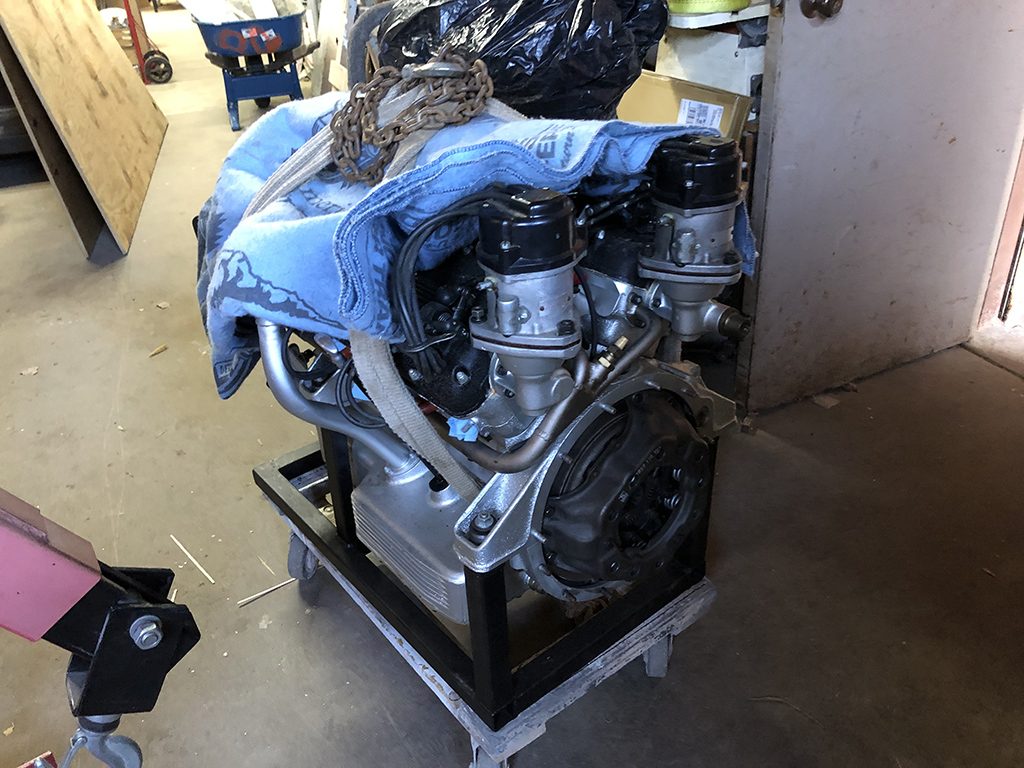 The engine was rebuilt about 20 years ago, but was still sitting idle waiting to go back in the car.
There was a long list of "to-dos" for me to tick off, and the first thing was to get some packing material. I took the rental car and bought bins from Home Depot, ratchet straps from a trucking company, packing blankets from another store, and bubble wrap from a fourth!
I tried to keep things in order, and wrap, pack and secure what was necessary so they could be put on pallets.
While I was inside packing, the shipping container arrived on the second day. I ordered a 40 foot container, as the car would take about half the space. Speaking from experience, a 20 foot container would have been too small, and although 40 feet was overkill, I would rather pay a little more for space than to have run out!
Did I mention all the parts were stored in a wood shop? EVERYTHING was covered in sawdust, and many pieces had to be vacuumed before I moved them or wrapped them. By the second day, I developed a raspy cough, so I started wearing a dust mask.
I staged the loaded pallets near the door and had a neighbor bring his forklift over to start loading the container.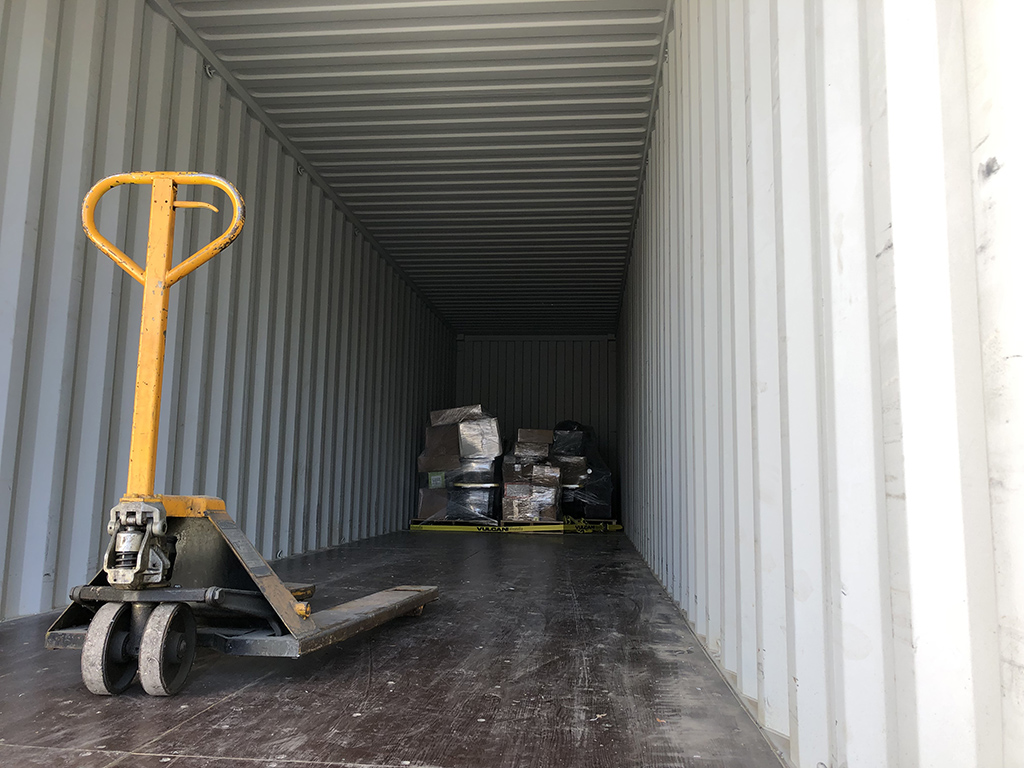 I was also lucky to have a pallet jack at our disposal as it made positioning the pallets easier than with a furniture dolly and a johnson bar!
On the third day, the next problem to solve was how to get the car up to the level of the container that was still on the back of the trailer 4-1/2 feet off the ground. I called a local flatbed towing company to come over, load the car onto the back of his truck.
Then we met the back of the flatbed to the back of the container.  (I made sure we parked the container with the truck so there was room to maneuver and park a flatbed before the driver disconnected the trailer and drove off.) With a couple of inches difference in height, and three guys to lift, we got the car into the trailer.
We had a few feet of length to spare, but I was happy to have the extra room to move around and make sure things were strapped down properly.
With the trailer closed up, and the tractor loaded and pulling away, I was happy to see it all go down the road. During the days of sorting, packing, loading, I was also faced with wire transfers, lien releases, shipping deadlines, and fed-ex packages. Crazy.
As I waited for my flight home that night, I asked myself why I did things like this? I have plenty of Ferrari work at home and could probably make nearly the same amount of money without all the stress and heartache, but I think it's the challenge at completing a task I know I am good at. I knew I could solve the problems and complete the job that needed to be done, and without my presence, it may not have gone as smoothly as it did. Whatever the reason, it was done, and I could go home and…get back to work!
Save the Date!
Tomyang.net/Radcliffe Motorcars Spring Car Show
May 4th 2019
8am-?
"A car show by cars guys for car guys!"
European Sports cars, British cars, Anglo/American, Italiamerican, and maybe even a few 'merican cars.
Tech sessions, vendors, show cars, and food.
Radcliffe Motorcar Company
12340 Owings Mills Blvd.
Reisterstown MD 21136
‭Call to register your car for the show. Space is limited.
(410) 517-1681