Daytona Rally Preparation
The owner of this Daytona bought a Becker Radio that is period correct, but had been modified to accept a blue tooth adapter. To get to the radio and wiring under the center console, I had to pull the seats and a couple of panels.
I tested everything up before permanently wiring things up. The speakers in the doors sounded fine, so I was able use what was there, but I still checked for phase. Having wired rock shows for TV in a former life, I shouldn't have had any problems here.
The new owner of this car wants to take this car on a rally in Europe, and asked to do some electrical upgrades. Although the Marelli alternator in this car seemed pretty newly rebuilt, I decided to replace it with a single wire alternator for the duration of this rally. It's a smaller unit with a total output of 50 amps, so it shouldn't overwhelm the Ferrari's wiring unless the owner runs the battery completely dead. Once I wire and test the new alternator, I may buy a second one and throw it in the trunk. Having a spare modern alternator will be a lot cheaper and easier to get than a Magnetti Marelli unit.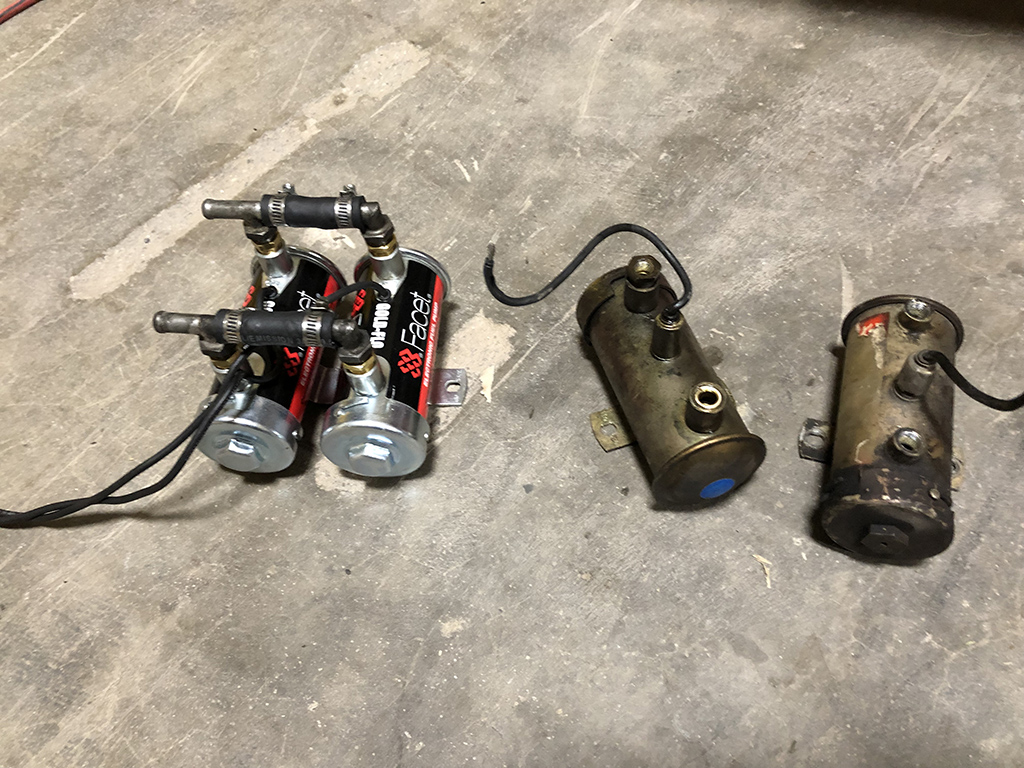 I changed out the old fuel pumps with new units to play it safe. I put the old ones as spares but hopefully won't need them.
While I was under the car, I noticed the fuel filter canister was damp from a fuel leak. It was the dark brown color that comes from fuel slowly weeping out and evaporating. Something wasn't sealed up completely, and I had to take a closer look.
The Ferrari fuel filters are secured from the top of the housing with a bolt and an aluminum or copper washer. The problem is the canister and filter are easily replaced, but the washer doesn't come out unless the whole assembly is unbolted from the car. From the staining, I could see the filter canister was leaking from an old washer. With the whole assembly out of the car, I changed all the washers and seals.
I also found a slight deformation on the seal where the canister sealed to the housing. These little bumps can sometimes cause heartache, but I changed the gasket so hopefully it'll seal better!
Save the Date!
Tomyang.net/Radcliffe Motorcars Spring Car Show
May 4th 2019
8am-?
"A car show by cars guys for car guys!"
European Sports cars, British cars, Anglo/American, Italiamerican, and maybe even a few 'merican cars.
Tech sessions, vendors, show cars, and food.
Radcliffe Motorcar Company
12340 Owings Mills Blvd.
Reisterstown MD 21136
‭Call to register your car for the show. Space is limited.
(410) 517-1681