Airbus Simulator
I am a closeted Aviation Buff, and although I never learned how to fly, I am fascinated with anything related to aviation. A friend of mine works as an simulator instructor for Airbus, and has been offering for years a ride in one of their simulators.
The Airbus facility is in Miami, and I've been trying my best to take him up on his offer, but the scheduling has been difficult. These multi-million million dollar simulators train pilots from all over the world 21 hours a day, so scheduling a novice like me for a joy ride is no easy feat. The spare slot for a ride is in the middle of the night, and even then, the reservation can be usurped by a pilot that needs training. I told my friend I would be in Miami last week, and he said he would schedule us in, but no promises. I told him I would be standing by ready to come down when the opportunity arose to fly!
I got a call at 10:30 pm to come on over to the airport by midnight and we would get a chance to fly an A320! Stepping to the room that housed the sims was like another world. Other sims were in operation, floating on hydraulics and moving with every movement from the pilot's controls.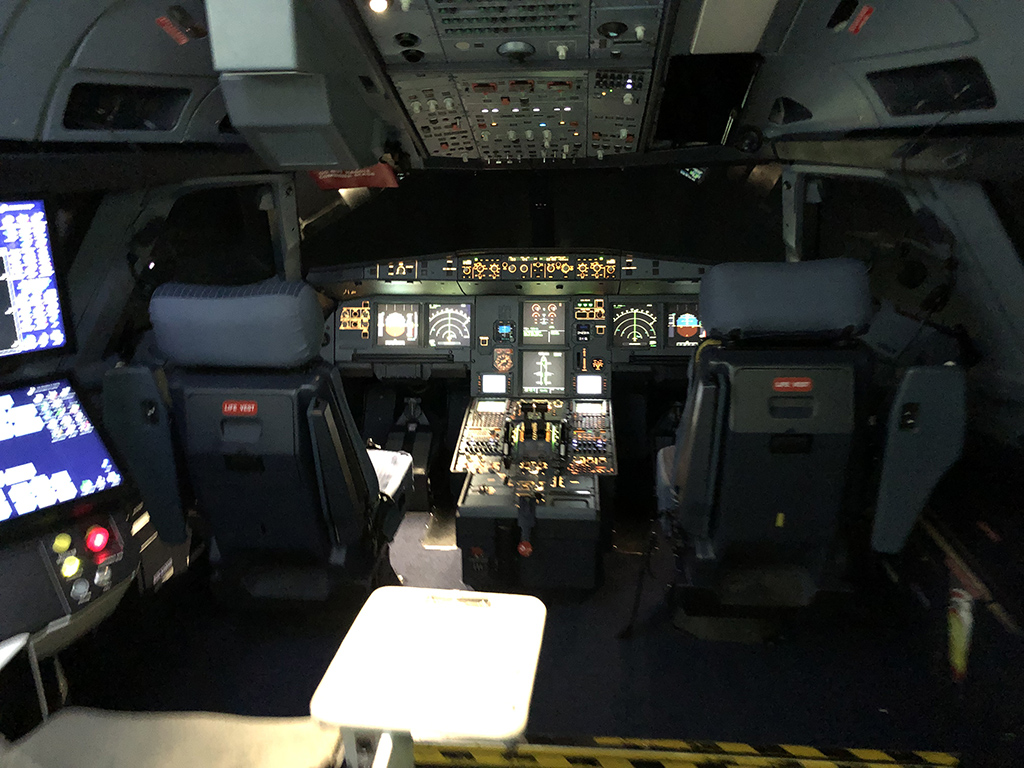 Inside the simulator was a full sized cockpit with the three seats for captain, co-pilot, and navigator. There was another control panel to operate the computer panel that controlled the sim. This panel could change the airport, weather, time of day, and all sorts of other variables to give a flight crew the same experience when they flew a real airplane.
The simulated outside world was projected onto screens on the other side of the cockpit windows so my focus really felt I was looking into the distance, than looking at a couple of screens mounted on the plane of the windows.
We started the program parked at the gate in NY at JFK airport. We went through the pre-flight checklist and pushed back from the gate. I was amazed at the realism. I could feel the tug pushing on the nose gear, and even the concrete expansion joints as we rolled over them.
I was coached through a take off and turned around over New Jersey to make a landing back at JFK. Our flight path took us over NYC so I took in the views as we lined up for our approach. My landings were not stellar, but I managed not to crash the 60 ton airplane!
We then changed things up a little bit and programed Kathmandu Airport in Nepal. The view of the Himalayas was spectacular if you didn't worry about clearing the peaks for a safe landing. The flight pattern threaded the jet liner between the mountains to bring us right in line with the runway. Pretty cool for someone who never gets this view out of a cockpit.
My flight in this Airbus simulator will be something I'll remember for a long time. I may never get a chance to learn how to fly, but this was an experience that couldn't come any closer! Thanks to my friend that made it all happen!
Save the Date!
Tomyang.net/Radcliffe Motorcars Spring Car Show
May 4th 2019
8am-?
"A car show by cars guys for car guys!"
European Sports cars, British cars, Anglo/American, Italiamerican, and maybe even a few 'merican cars.
Tech sessions, vendors, show cars, and food.
Radcliffe Motorcar Company
12340 Owings Mills Blvd.
Reisterstown MD 21136
‭Call to register your car for the show. Space is limited.
(410) 517-1681