Ferrari Restoration in Latvia
I flew back to Riga Latvia in Eastern Europe to inspect some work being done on a few Ferraris for a customer of mine. I first visited Autoclassic last year in April to see their workshop and my customer decided to send his cars there for restoration.
I had some parts I needed to bring with me to Latvia on the plane, but the US authorities wanted a little closer look inside my package. I don't know if they recognized a ZF steering box for a Ferrari when they opened it, but they allowed it to accompany my luggage for the trip!
Auto Classic is a 10 minute ride outside of Riga, Latvia, and they started many years ago restoring Mercedes cars, moving onto many other makes and models.
My customer saw they restored a Ferrari 250 GTE last year, and sent me to inspect their work. I found the work to be of high quality, and at a price that really couldn't be beat with labor rates in the States. There were some details that were missing, but could be easily corrected with the right guidance. My customer asked if I would be interested in being involved with restoring a few cars by consulting for Auto Classic during the process of the restoration, and I agreed.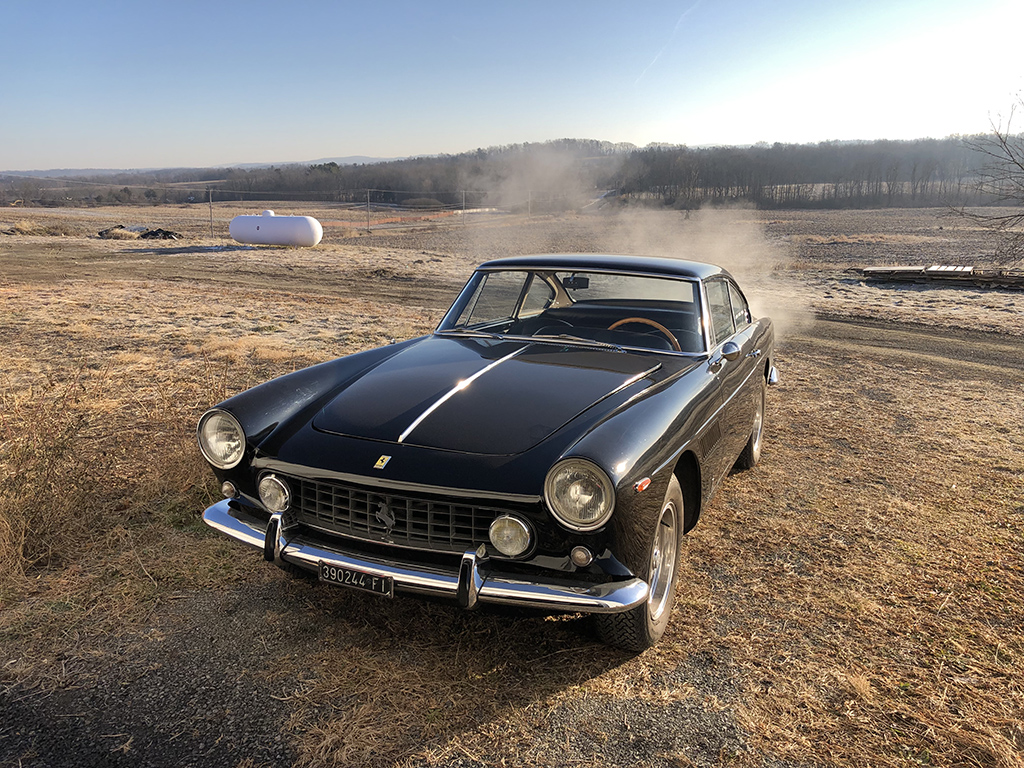 One of the first cars to arrive was a black GTE we had rebuilt the engine for in the States. We shipped the car out in the winter and they have since completely disassembled it and stripped the body of paint.
I helped the owner buy this car from Gullwing Motors a few years ago, and was happy to see there was very little rust. Even though I could see during my inspection, this was an honest solid car, it was nice to be validated when the car was stripped down to bare metal.
There was still some body damage from a previous minor accident, but nothing a little sheet metal repair couldn't make right.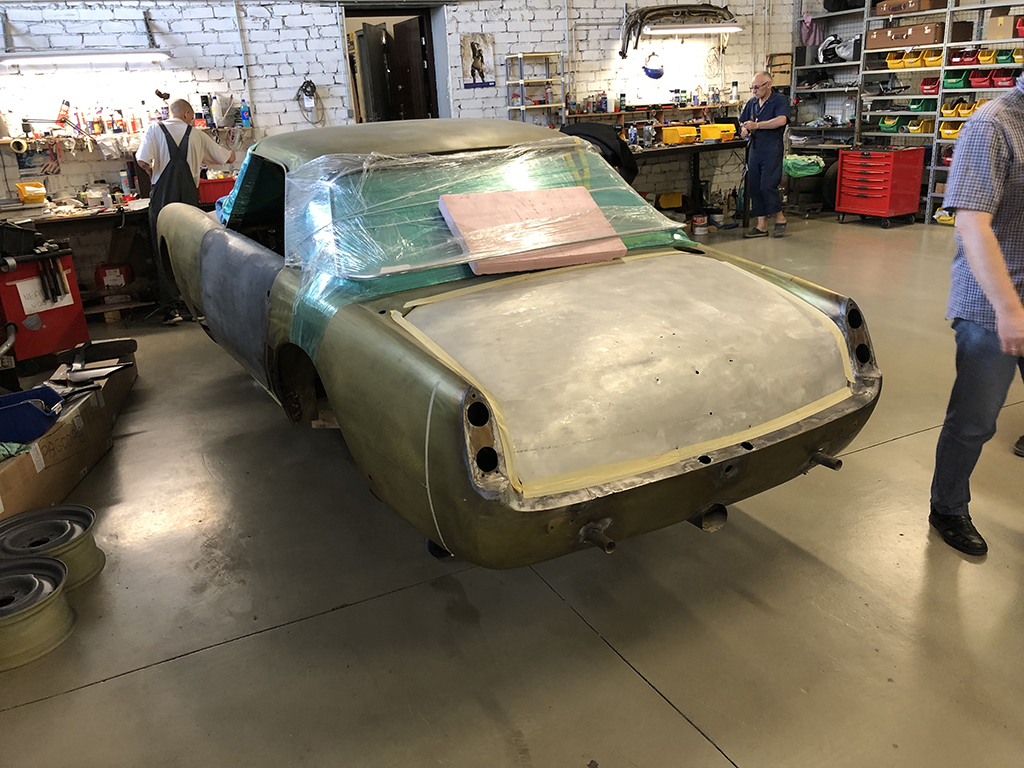 Another car part of the same collection was a PF Coupe I also sent to Europe for the same customer. I shipped this car from Detroit a few months ago and I was happy to see everything arrived safely. There is always doubt when packing  a shipping container filled with irreplaceable parts on a journey on the high seas, but nothing was broken, even all the glass arrived unscathed. Whew!
Autoclassic also restores cars to sell, and sometimes takes chances on cars they buy. This Jaguar E-type was one of those cars that they may have regretted when they stripped off the paint and body filler and revealed very poor repairs underneath. This was probably one of the worst cars they've had to restore, but they plan to replace these panels with new skins and restore this car correctly.
The trunk floor of this Jaguar was in no better shape with sheetmetal so corroded, it looked like a lace tablecloth!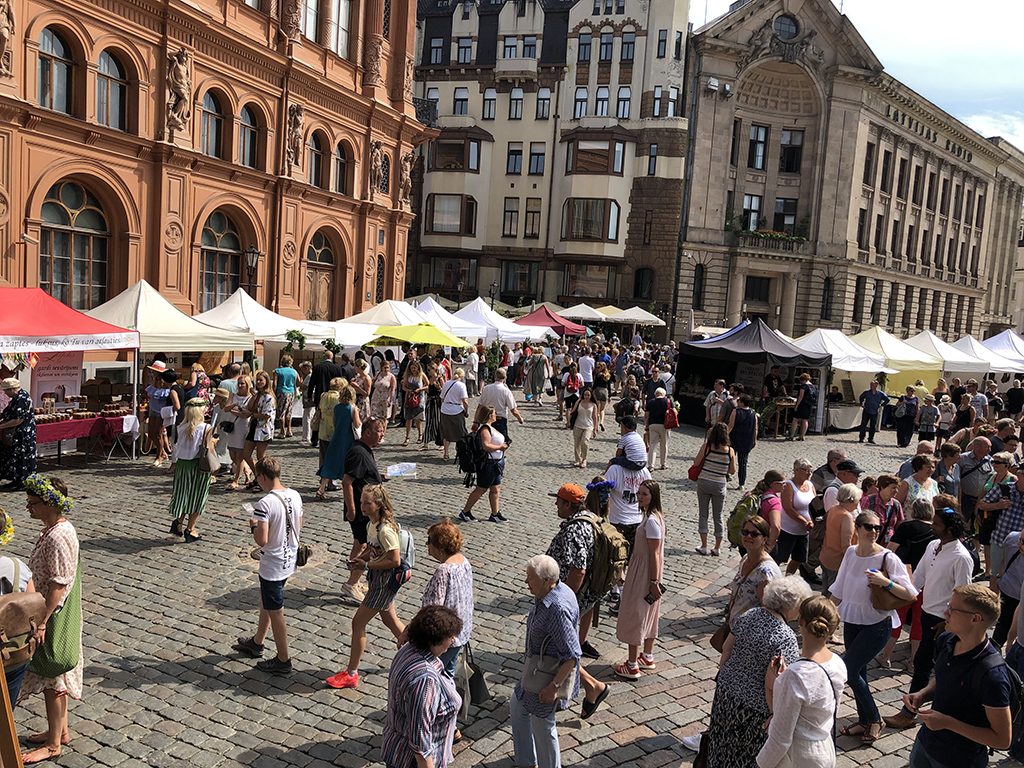 After a day of inspection and sharing information on suppliers and vendors, I went back to Riga to enjoy the rest of my visit. The city was celebrating the summer solstice, and with such a high latitude, the Latvians had a good reason to celebrate the wealth of sun!
I was here in April on my last visit, and although they were coming out of winter, I could still sense this place is very dark and grey during the colder months. I will probably be back next year when these cars are nearer completion, and I will make sure it's about the same time of the year to celebrate summer with the Latvians!
TomYang.net Monterey Cocktail Party
This year's Vintage Ferrari Party is being generously co-hosted with Larry and Kristy Hernandez in Pacific Grove, CA on August 15th at 6pm. Contact Tom for location details.
See you all in Monterey!