Brake Challenges
When a car gets washed at my shop, it usually means she's getting ready to go home, but this 330 fought me on the prospects. Several weeks ago, this car came in with intermittent brake seizing, and at first it didn't show up when I drove the car. It took two days of driving before the problem reared it's head, and I traced it back to the master cylinder.
I disassembled the M/C and replaced the seals thinking the problem would be easily solved and the car could go home. WRONG! After the car warmed up, the brakes started seizing again even with the new seals. I disassembled the M/C again and found nothing amiss. I could tell this cylinder had been resleeved before with a brass sleeve, but still couldn't see if anything was hanging up.
I resorted to sending the M/C to a friend of mine in CA to take a closer look. Sometimes with fresh eyes, another person can spot a problem better than I when the problem is not as obvious. The M/C returned with a couple of changes, but it didn't take long for the problem to rear it's head again! I started calling my suppliers to see if there was a chance they could find a replacement M/C. Several years ago, I tried to find a replacement for another car, and was told this particular cylinder was NLA (No Longer Available), but I needed to find a solution. One call to T Rutlands, and they told me they had just found a supplier in Italy that is now making this exact M/C again. I had them send me a new one post haste.
The new master cylinder was an exact replacement. Same thread pitch on the fittings, and all in the correct angles. For once, a Ferrari part was "plug and play!" After installation, I went on an extended drive and everything worked as it should. What a relief!
With a solution in hand, I turned my attention to another car we've been having problems with. The brakes were also locking up on a 275GTS Francois and I have been working on, and I was trying to find a solution to the master cylinder as well.
When I disassembled the one on the car, I found the previous rebuilder did not drill the return port correctly, so pressure wasn't being released back to the reservoir. Having the port drilled out by a machine shop was one option, but after wasting so much time on the last brake system with more frustration, I decided to order a second new M/C and install it on this car as well. Another new master cylinder was expensive, but paying for my time to repair bad rebuilds, only to find other problems was also a waste of my time and my customer's money.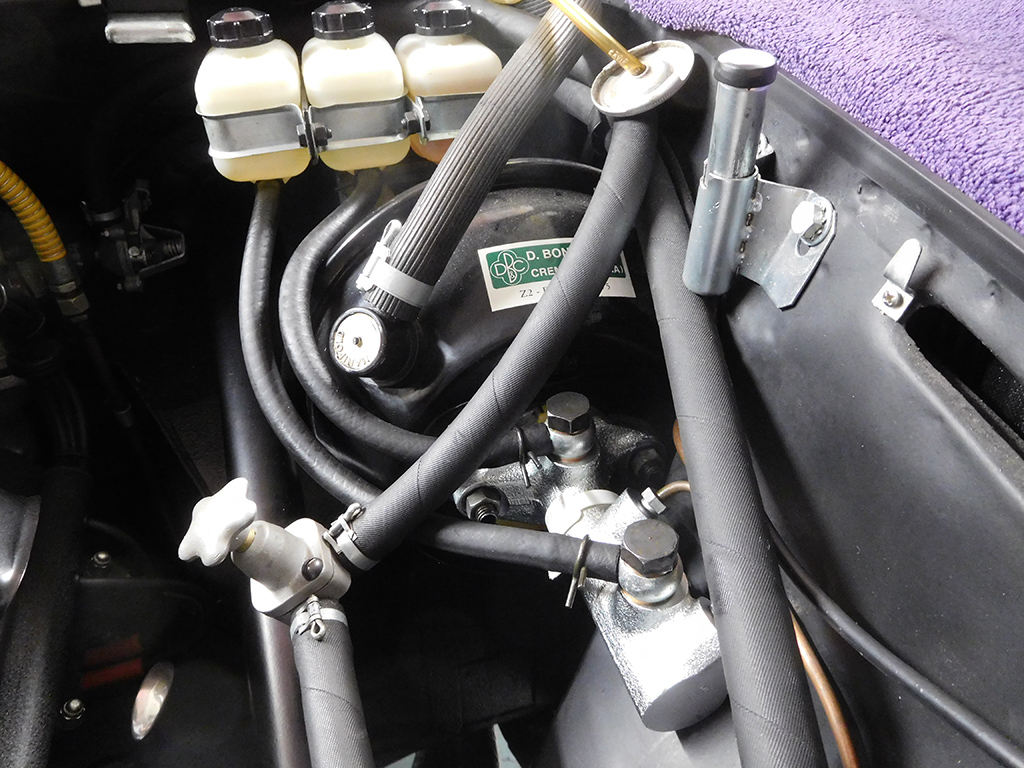 I carefully installed the new master cylinder making sure not to get any brake fluid on any of the freshly painted surfaces. Now it's time for a test drive and hopes we have these brake problems licked!