Ferrari Club of America Meet in Phoenix 2019
The Ferrari Club of America Meet was in Phoenix this year, and I was showing a Ferrari 275GTS for the first time. This car has fought us all the way to this point, but it was finally delivered to Arizona to show the world the work Francois and I had done over the past few years. Steve Mraovic of Exclusive Motorcars of Arizona was gracious enough to receive the car from my transporter at his shop. Steve was the Concours Chairperson, so he and his crew were busy enough running the Ferrari show, so having them make room for the couple cars I was managing was a favor well beyond expectations. Thanks guys!
After checking in and making sure we all had the right credentials, it was time to catch up with some old friends. My first meal was shared with some pretty knowledgeable people in the Ferrari world, all involved longer than the scant 20 years since I bought my car! Jim Riff, Clem Simmons, and Brian Crall, were sharing the stories about Ferraris I love to hear!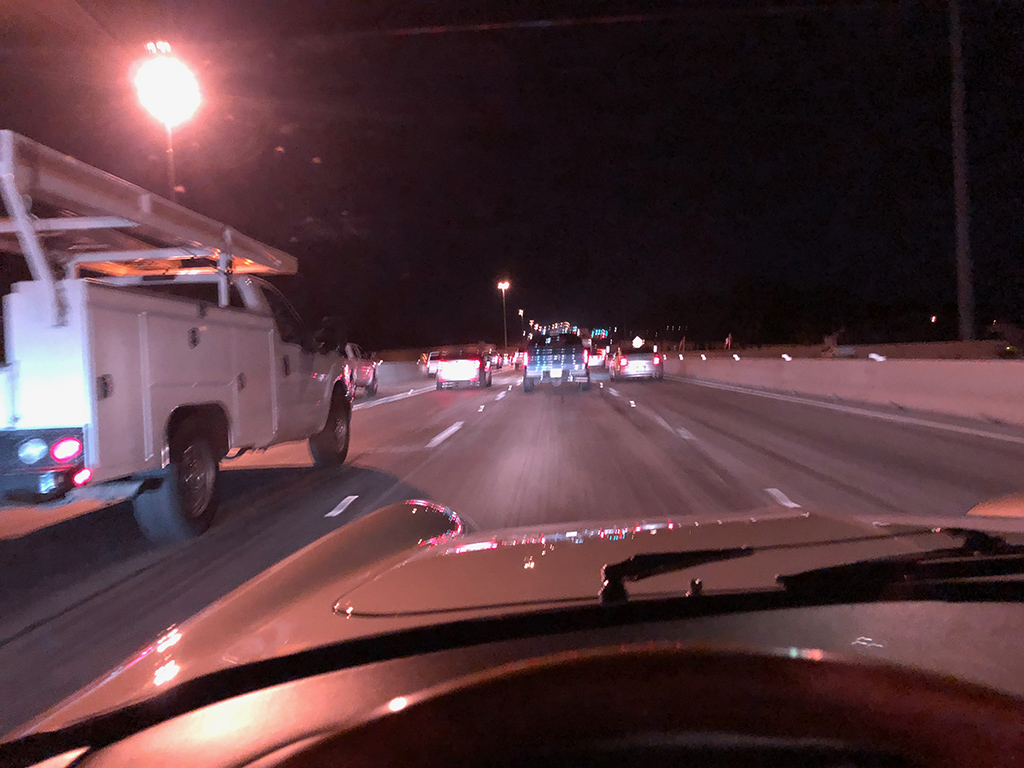 The morning of the Concours had me driving the 275GTS from Steve's shop to the show field. It's always a little stressful driving a 7 figure car on public roads, let alone in unfamiliar traffic in the dark. Things got from bad to worse as the brakes that I've been working on started to give me problems. I pulled off the highway and examined the problem. I was determined to get the car to the show no matter what, so I pulled out the tool roll, and released the front brakes that were starting to seize. A new master cylinder was installed just a couple of weeks ago, and yet it was not releasing. Having no time to figure it out now, I managed to limp the car to the show with a combination of light braking and a lot of hand brake application. I don't even want to share the harrowing experience, but I made it to the show field, and I asked what else could possibly happen!?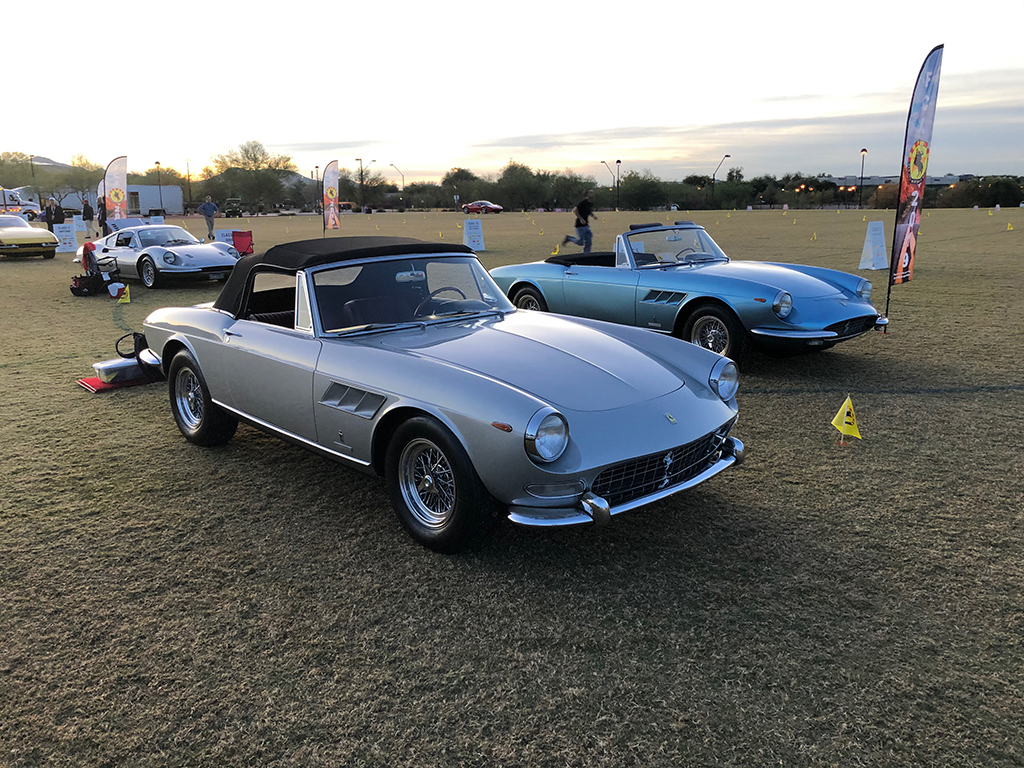 Despite the brake issue, I was ready to show the car. I knew there had been a couple points brought up that the judges were questioning, but overall, I was proud of the work Francois and I did. I wanted this car to do well in judging for a number of reasons. Not only to make the owner of the car proud, but Francois as well. Turning 80 last year, Francois told me this car will probably be the last car he will completely restore, so I wanted to showcase his career with a good result. I've worked along side my mentor throughout this project, and felt pretty good.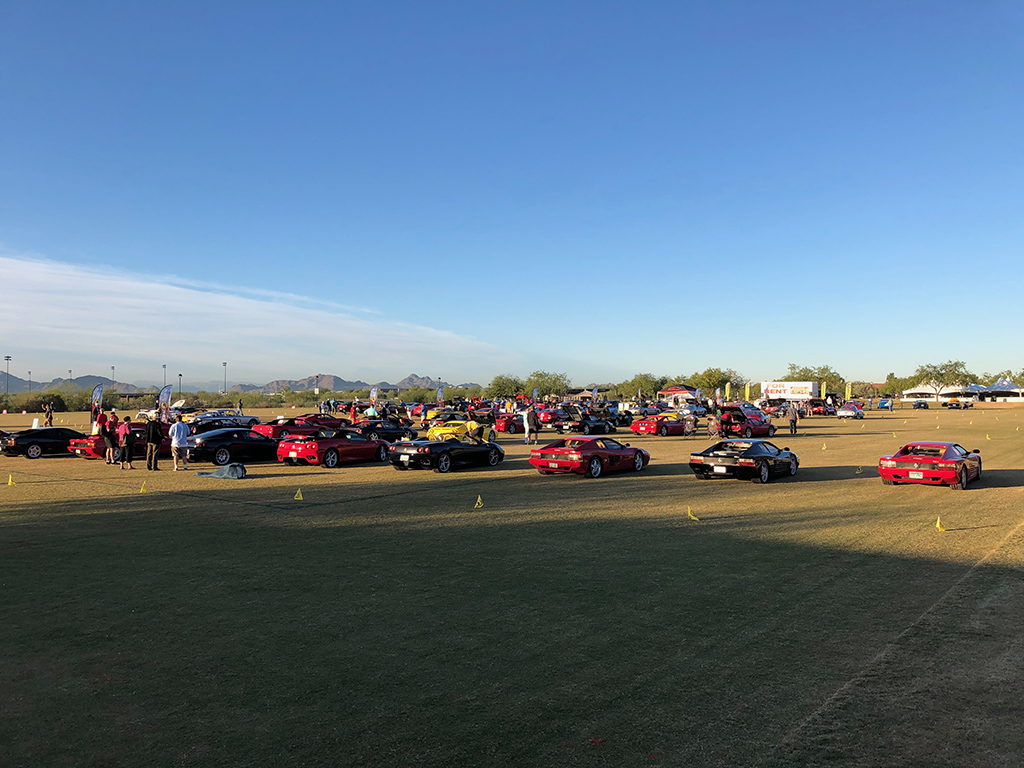 The Arizona show had a good turnout exceeding initial expectations on attendance.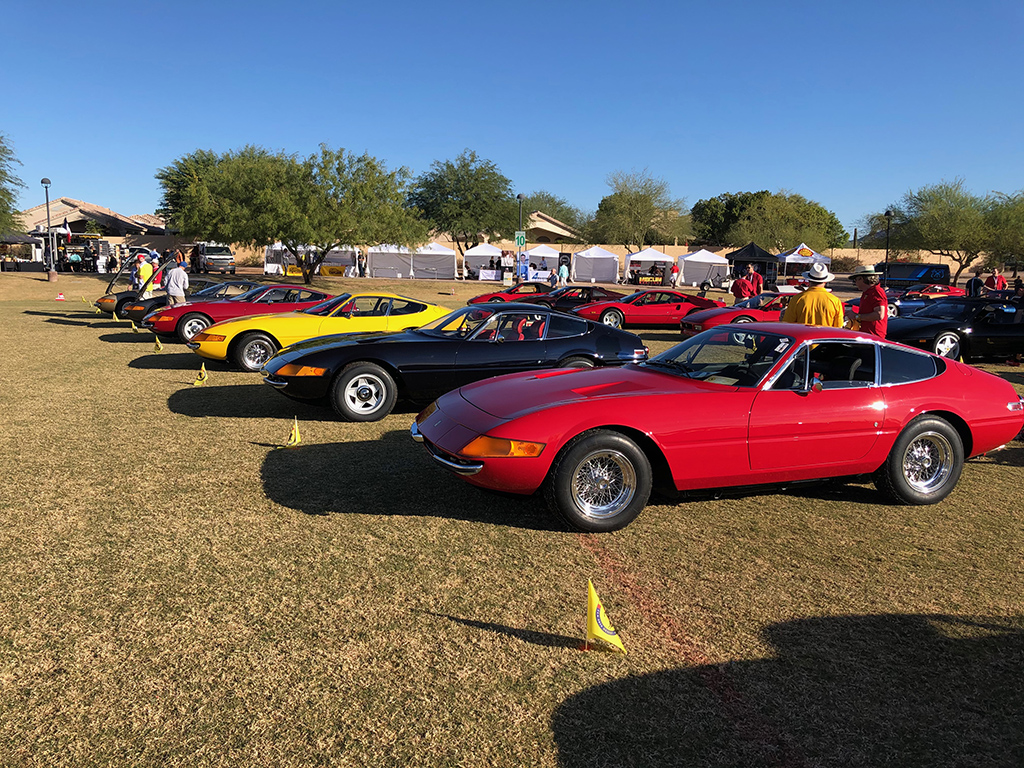 The Daytona class was well represented, and although one of my customers shipped his car out to the show, he was more interested in taking his car to the track!
At the end of the day, the organizers would put cards on the cars that won an award so they could drive across the reviewing stand. Many of the cars in my class found cards on their windshields, but our 275GTS did not receive a card. Trying my best not to show my disappointment on the outside, I was in great turmoil on the inside. I knew there were a few points deductions that may have brought us out of Platinum contention, but was baffled how this car could be off the podium all together. I've heard this complaint for years from many owners that were in the same situation and decided to keep my mouth shut, and take what the judges decided.
After a sleepless night and horrible call to the owner of the 275GTS to give him the news that his car that I restored over the past several years would be coming home empty handed, I decided to go for long drive to clear my mind. I couldn't stop reviewing the events of the day before trying to make sense of what happened.
My drive took me to the outskirts of Phoenix over looking the city, and I stopped by the track to look in on my customer doing hot laps in his Daytona. While I was in the paddock, my phone exploded with text and emails to contact Chris Current, the Chief Judge of the Ferrari Club. The messages informed there was a mistake and I should speak to Mr. Current.
Chris explained that during the awards presentation a 2nd place gold award that was for my 275GTS had not been given out! All the stress, angst, and self doubt drained away from me almost immediately. Chris apologized and offered to make an announcement at the closing banquet of the error, but I told him it wouldn't be necessary. Receiving the award was all that I needed to prove I had the judge's recognition of a good car!
The FCA Southwest Region organized a "Western Night" at a place in the desert. They did a great job and was a fun to get a feel of the local color. I had a good time, especially after the burden of "losing" was alleviated!
I spent some time talking to Charles Betz at the party. He and his partner (not pardner) Fred Peters are legendary restorers that have been collecting and restoring for over 40 years. I visited their shop nine years ago and it's always good to catch up!
Chris Current slipped me the award I was supposed to get right before the Banquet the next night, better late than never!
I can see why this Ferrari Club Meet was so popular. There was such a variety of things to do so there was something for everyone. I drove up to Prescott and Sedona twice during my stay. The first time, I joined Donovan Leydon when he told me he was going for a drive though Prescott. I've made some great friends through the FCA, and it's made better when we can spend more time with one another than just on the show field. Although we chatted cars most of the time, I learned a whole other side to Donovan I would have never known if we hadn't done this drive together. Thanks for letting me tag along Donovan.
I took the drive north of Phoenix again with my friend and fellow Ferrari collector Stuart Field to do some hiking. The sandstone buttes surrounding Sedona were spectacular, and after eating an drinking for the last couple of days, it felt good to get out and scramble up some of the trails.
This area is known for some good 4 wheel drive trails too, and maybe one day I'll come back to see the country side from the inside of a Jeep!
Always trying to squeeze one more activity into a day away from home, Stuart and I headed to the Phoenix Art Museum to see the "Art of Speed" exhibition.
There was a very nice collection of significant race cars at this exhibit and I'm glad I found time to see it.
The bonus was I met my friend Bill Pack who photographed the companion book to this exhibit. It was great to catch up and hear some of the behind-the-scenes stories about his cross country trip photographing all these cars in their collections before they were all shipped to Phoenix for this show.