Phoenix Wrap Up
The Ferrari Club of America meet came to an end, the cars were getting loaded, but we'll do it again next year. I can't thank the guys enough at Exclusive Motor Cars of Arizona, and  Steve and Klarissa Mraovic, for helping me with the two cars I brought to AZ. The logistics of moving, cleaning, receiving, loading, fixing, tracking, and showing cars for an event like this usually takes a team of people, and I couldn't have done it without the guys at EMC. Thanks Guys!
I also have to thank these guys. Ed Montini and Tom Mischke. They were a big help moving my 275GTS from the show to EMC. Thanks!
Tom owns Classic Performance Restoration in Gilbert AZ, and they have been making a mark on the Ferrari Concours Field with a 330GTC at Cavallino and now the FCA. I've known Ed for years back when he was working on his personal 330GT 2+2, and now he and Tom are restoring Ferraris together. They won a Platinum and a major award at this FCA meet, and look for Ed's Ellena at Cavallino this January.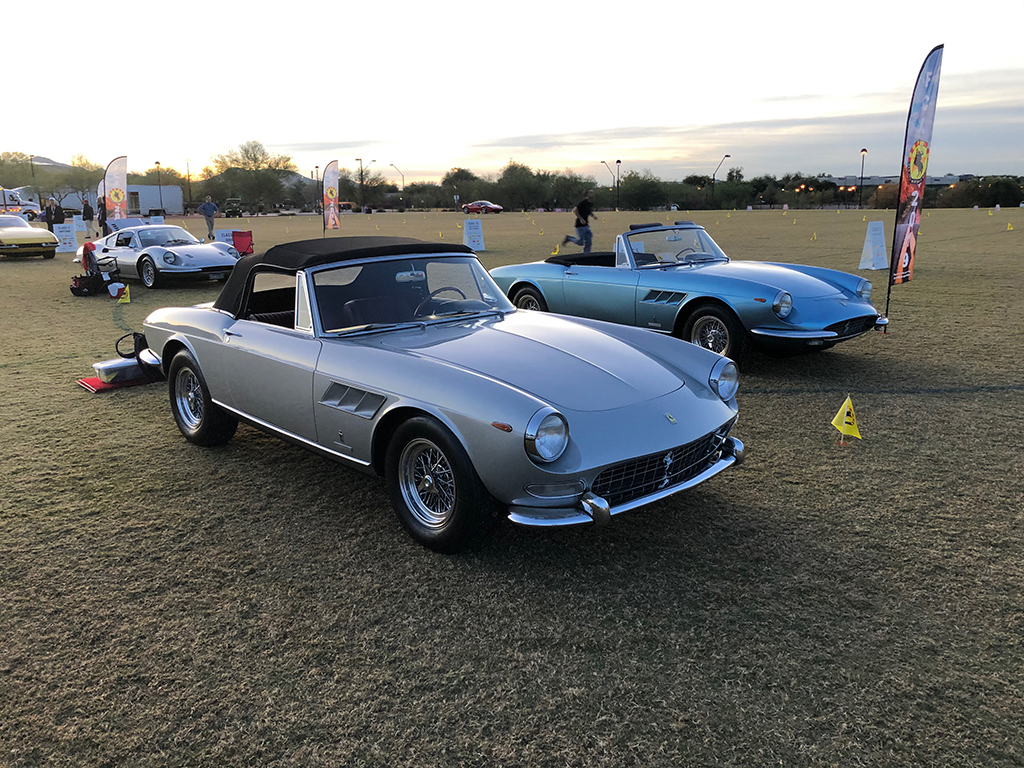 The Ferrari 275GTS I brought to the FCA was very close to a Platinum, but after last week's fiasco with the tabulation of the scores, I guess a Gold award was still something to be proud of. The process of judging, despite the owner's and restorer's chagrin, is a little fluid. Rumor has it, I was 1/2 a point from Platinum on this car! Since receiving my Gold award, I've been going over the deductions, and strategizing how to get those points back. The process involves reaching out to the Chief Concours Judges and asking for a copy of the Score sheet. Depending on how busy people are, the score sheet can be obtained in a few days or weeks. The score sheet will let you know how many points you car scored out of 100 points along with notes on where the deductions were made and why. On scores in the mid 90s, you have a very good car, and corrections can bring this car very close to platinum, but on cars scoring in the 80s, judges often stop deducting. The score sheet offers a good road map to improvement, but I have heard plenty of stories where an owner corrected all the things deducted on the score sheet only to have it judged again with practically the same score! This can get pretty frustrating, but if the car has a bunch of things wrong with it, a new set of judges can easily find more that is wrong.
Once I get the score sheet, I'll report what we're going to do next!