330GTC Interior Repairs
I pulled out the rear panel below the GTC I have at my shop. It was previously upholstered in leather, but shrunk and warped the leather.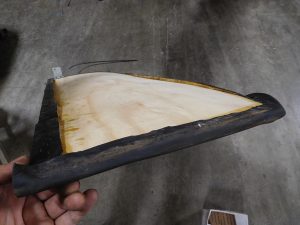 Ferrari originally covered this rear panel in vinyl to minimize this kind of warpage, and I think we'll return this panel back to the original vinyl.
I made a new template of the rear deck and took the panel down to the upholsterer to make a new panel covered in vinyl.
Since I had the rear deck out, I had an opportunity to work on a displaced C-pillar vent. Ferrari 330GTCs have this distinctive round vent on their c-pillars. Behind this vent is a plastic cup that helps drain rainwater while allowing air to vent out of the interior of the car. The vent pieces on this car were dislodged and showing through the holes, so I had to put them back in place.
After removing the interior trim pieces, I found the plastic pieces were missing a special spring clip that held them in place. Trying to figure out where these clips went, I decided to remove some more panels to try and find these clips.
After removing another panel, I found one clip sitting precariously behind the panel! After finding both spring clips, I was able to reinstall the vent pieces.
Since this GTC was going to be at my shop for a few weeks, I removed the steering column to send out the light switch stalks out for rebuilding. The plastic bases were cracked and reglued before, but it was time to send these out and repaired properly.
I'll send out one of the window switches along with the steering column for repair.