Chicago Trip
I found myself in Chicago last week and went out to Sport and Specialties in Durand Illinois to see my friend John Saccameno. I've met John a couple of times at various car shows, and found this opportunity to see his shop.
There was good mix of English, Italian, and American vintage cars at the shop in various stages of restoration.
It's always nice to see this level of work being carried on, and I had a nice time talking to John about his business and sharing some insights. Thanks John!
I was only staying Chicago for about 36 hours and I put the word out on Facebook to see who was around to meet up. Tod Routi of Continental Autosports (pictured center) told me he was heading up to Skip McCabe's (pictured left) shop in Mundelein, Il. My friend Rick (pictured right) came up from Chicago to tag along.
I briefly met Skip a few years ago when I was in Illinois, but it was nice to spend some more time visiting his his shop and getting the tour. This was a car I had never seen before, so it was a bit of an education. This Davis was built in California after WWII, only a handful of these three wheeler automobiles survive.
Skip gave me the impression that he liked working on rare cars like these. This car was headed to Pebble Beach, so you can imagine the level of work McCabe's shop was attaining.
Although Skip had restored dozens of Vintage Ferraris, his shop was filled with European/American Hybrids. Panteras, Iso Griffos, Italias, and Facel Vegas.
Next door was a customer's private collection with a couple of interesting cars. This '33 Coupe was built by the legendary Boyd Coddington many years ago. Many of the big names in Hot Rodding started in Boyd's shop, and this car represents the vector from where a lot of the modern Hot Rodding began.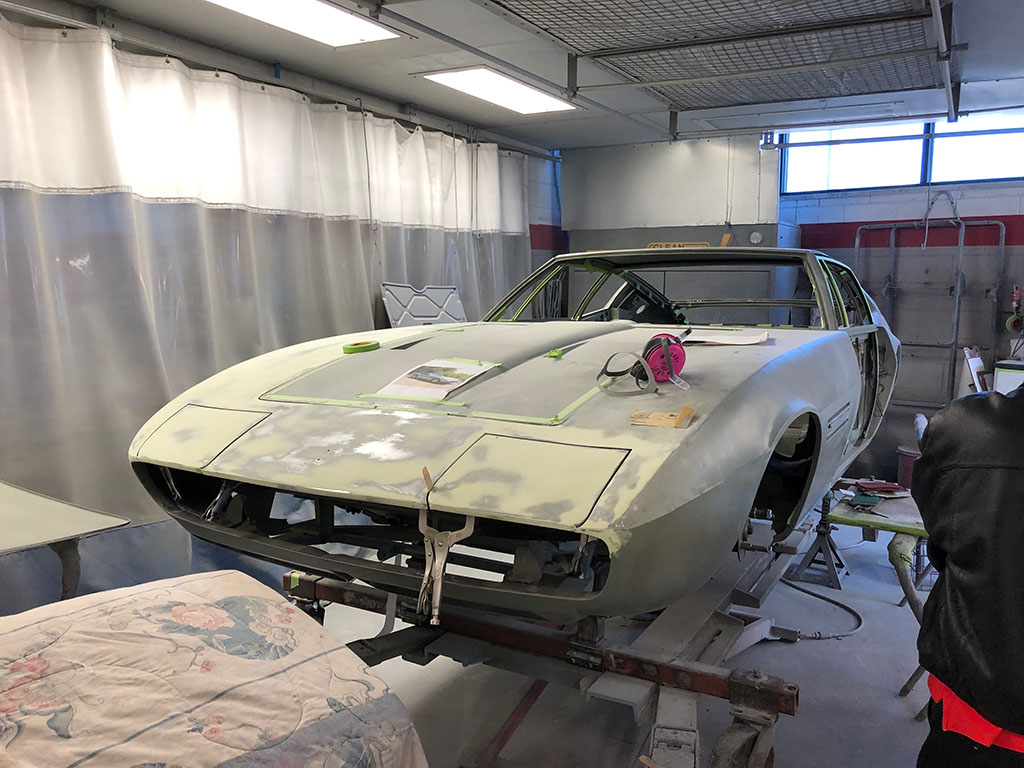 After Skip McCabe's shop, Tod took us over to Custom Cars Unlimited in LaGrange IL. Pete Sanchez does a lot of body and paint work on Ferraris for Continental Autosports, and Tod wanted me to see some of the work at Custom Cars.
Besides the usual collision damage and bare metal resprays, Pete can do some very high level metal fabrication. This particular Maserati Ghibli came to Custom Cars "paint ready," but it didn't take long for this shop to spot some issues.
The previous shop didn't have the skills to fabricate a fender or the lip that goes around the wheel opening, so they grafted a fender from a Chevy Chevelle and covered their substandard work with several pounds of plastic filler. When the primer and filler was removed, all the horrors were revealed. Luckily, Custom Cars has the skills to make this the right way!
In another part of the shop was at first glance a Kirkham Cobra, the Polish made aluminum Shelby clone, but on closer inspection, a lot things were being changed.
The most striking difference was instead of the usual 427 Ford big block in the engine compartment, there was a 4.4 liter Ferrari engine mounted in its place with a custom air cleaner.
Pete explained that the owner had a salvaged 1967 Ferrari V-12 drive train that he wanted to install in a roadster body reminiscent of the European sports racers of the late 50s. Taking the chassis of the Kirkham was a good platform to start, and they are slowly transforming the English curves by AC to the Italian lines of Scaglietti!
Working for pictures of a Ferrari 375MM, Peter will make their interpretation of the iconic sports racer. I can't wait to see the final product!
From LaGrange we headed to Continental Auto Sports in Hinsdale IL, the Ferrari Dealership in Illinois.
There was plenty of inventory to choose from in their showroom.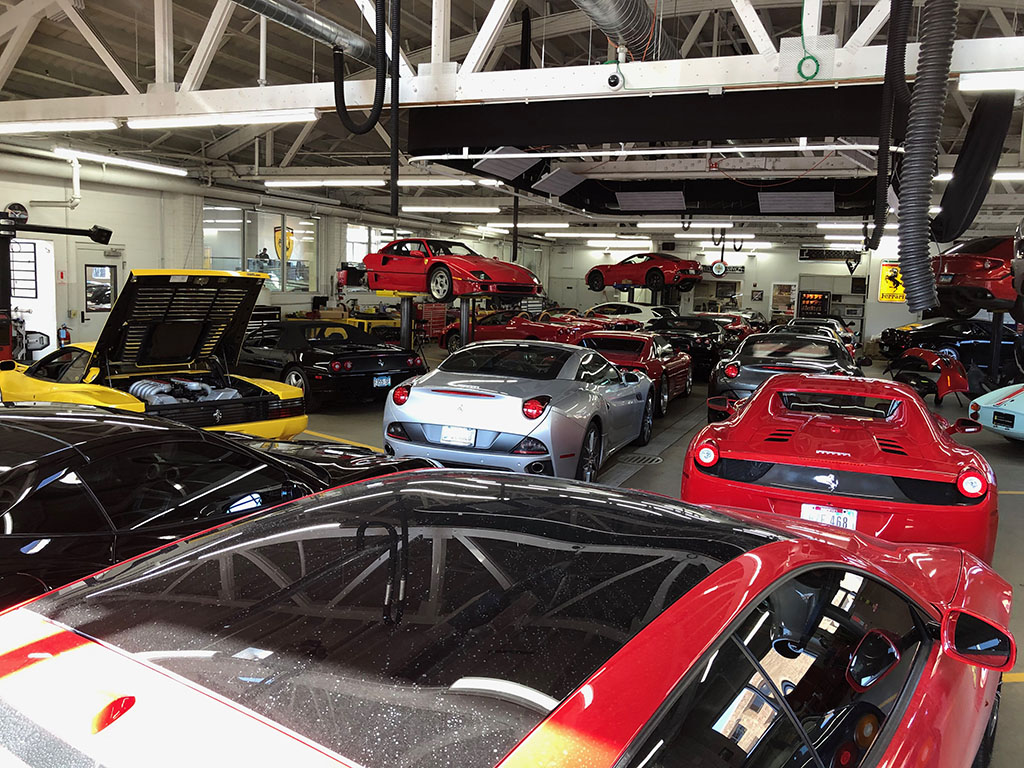 Tod brought us back to the shop to show us his domain.
Rick and I said goodbye to Tod and thanked him for taking us around, but we needed to head south to Beecher IL to meet Chris LaPort working on his Ferrari SII 330GT 2+2.
Chris has owned many Ferrari through the years and does a lot of the mechanical work himself. He told us our timing was perfect because he was planning on installing the transmission on his Ferrari and could use some help.
Luckily, we arrived after he and his buddy Ralph wrestled this monster into place!
Chris lives out in horse country and it was fitting to have converted a horse barn into his personal man-cave to house a little more horse power!
Speaking of horses, Chris gave me a parting gift after our visit! He combined his years shoeing race horses, and his love for Ferrari in these pieces of wall art. Pretty cool. Thanks Chris!