Hidden Bad Bodywork
I sent a 330TC out for media blasting to see what kind of damage laid beneath an old paint job. We knew there was some body filler in the nose and rear section of this car, but only after media blasting would we truly know the extent.
The result after media blasting was not good. The nose showed some accident repair where most of the damage was roughly hammered out and the rest was covered in filler, but the rear was worse!
The rear accident damage was repaired with even less finesse and they used pounds of filler to make up for lack of skill.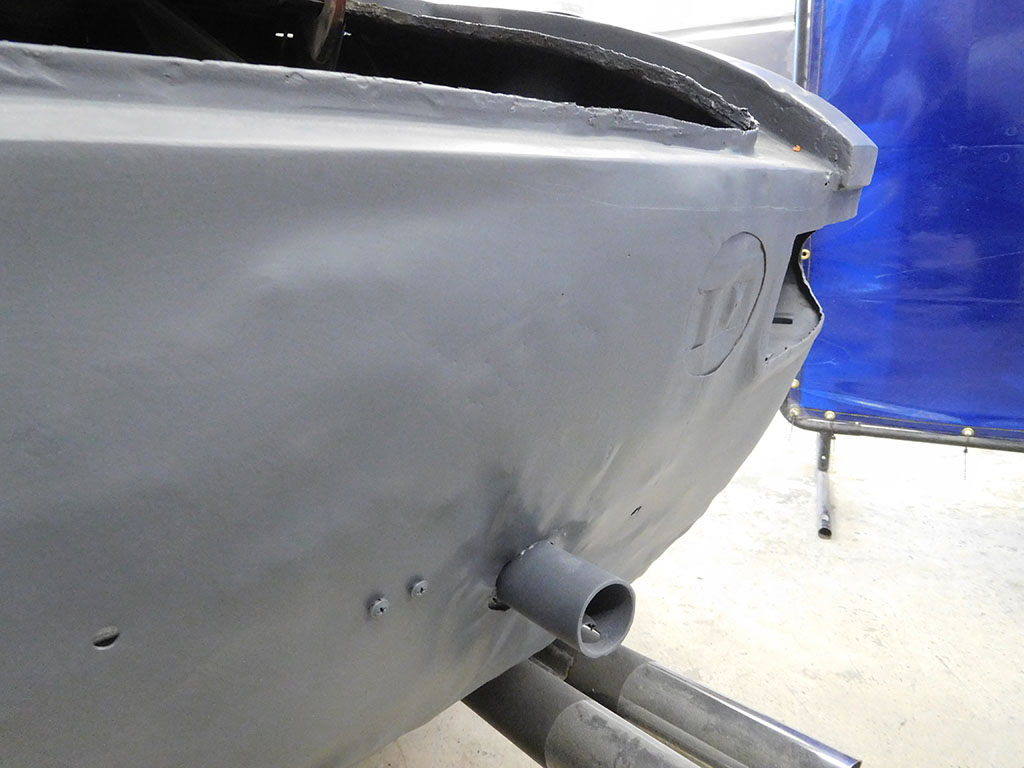 The driver's side was worse than the passenger side, but all the rear sheet metal was affected. A lot of body work was done this way years ago, especially when these cars were just regular used cars. Not only was the skill to make new panels not readily available, the craftspeople just weren't there. Unfortunately this type of work continues to this day evidenced by the work I saw in Chicago back in February.
This car was at was at Classic Cars Unlimited and this was the kind of body work they found after they removed the filler!
After I saw the extent of the damage when the 330GTC was at the media blasters, I immediately sent the car to The Panel Shop in Stratford CT for an assessment. Different levels of repairs warrant different specialists with different levels of skill, and The Panel Shop was needed for this level of work. They had a Daytona at their shop that suffered a similar fate with accident damage that was also covered up in plastic filler.
Mark Barton basically reconstructed the whole nose of this Ferrari 365GTB/4 with a lot of new sheet metal repairing some sections with old style metal bumping.
Hundreds of hours of work was needed to fabricate new panels stitching together some of the original pieces like the headlight doors and nose sections.
Ferrari used a lot of lead filler to make up low spots, but Mark fixed a lot of these areas with steel and metal forming. Daytonas are notorious for cracking at the corners of the hood, so he also added extra steel reinforcement to eliminate future cracks. None of these areas will be seen once paint is applied, but the craftsmanship will last well into the future.
When they stripped the paint off the rear of the car, the same issues were revealed. Poor bodywork covered in layers of plastic filler.
New panels were fabricated and welded in place.
Mark also showed me a rear quarter panel we was working on from a Dino GT. The leading edge of the left rear fender had some rust damage that was repaired with these crude patches. The joining welds were barely ground smooth before gobs of filler covered up the work.
The Panel Shop fabricated a new fender section in steel with the correct wheel arch.
This section will be added to the lower section and slowly this car will be repaired properly.
To find people who can do this kind of work is rare. Many shops will claim they can do this level of work, but their shortcomings will often be made up in plastic filler, unbeknownst to the owner. Getting steel or aluminum to move a 1/4 inch in three dimensional space is a lot harder than it seems, especially with a Ferrari where the panels have compound curves and complex shapes. Most body shops can get close, but how close? Is a 1/4 inch of plastic filler acceptable? How about a 1/8th or 1/16th? Each increment translates to the level of time and skill which is a lot easier to literally cover with filler!