Test Drives During Covid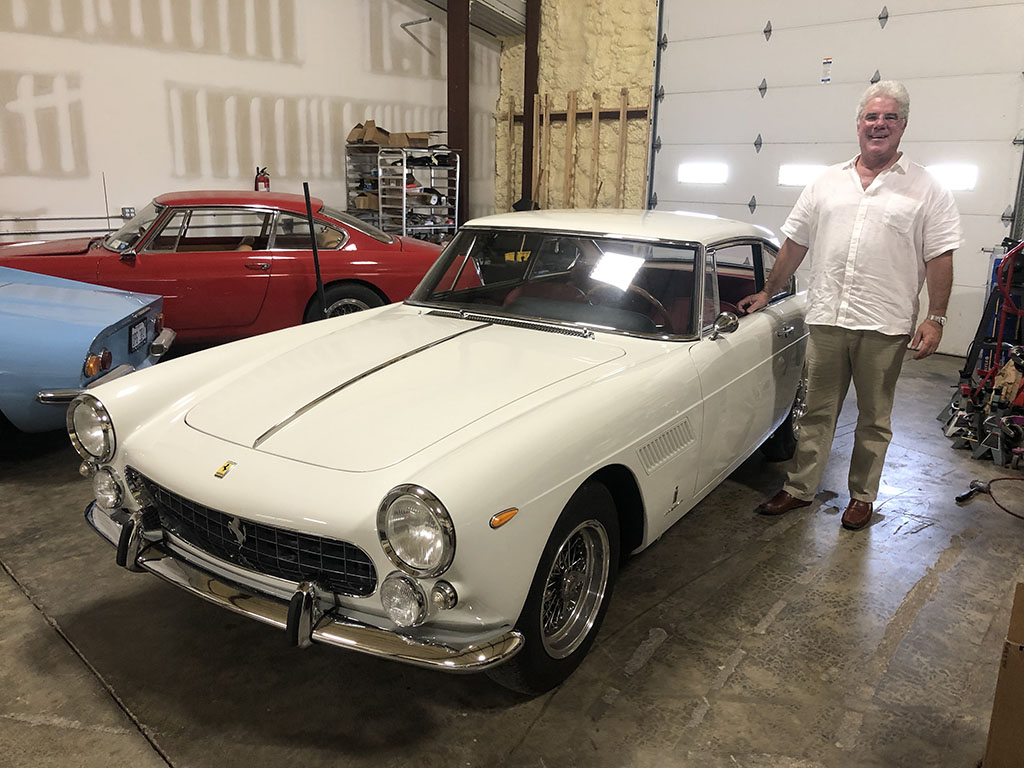 I've been sorting out a white Ferrari 250GTE for Tom Wilson, and we decided it was time for him to come out for a test drive. I had a laundry list of things we wanted to get done on this car and I've been making good progress. The car arrived at my shop just as the Covid 19 pandemic initially swept NY, but since I worked by myself, I was able to make good headway. There is always something to do or fix on an old car even if it had just been completely restored. Some of them are personal changes and others make the the car more reliable. Since this car was headed to California once I was done, Tom Wilson and I decided it was best for him to see the car in person and go over the results. He would also have a chance to decide which things he would like to address himself, or pay to have me do it. As you can imagine, there are a lot of hours to sort out a car, and the last 10% of work can often be the most time consuming.
Tom's car has made appearances at a two shows through its journey to completion while under the care of Zac Dugger in Southern California. The first time was at Concorso Italiano with a borrowed engine because Tom's engine was still being sorted. The second time was this year, at Cavallino in Florida, with a monumental push by Zac to get a new engine block installed and operating to drive up on the lawn.
After the show, I was asked to sort the little details and take the hand off from Zac. Now that the car is sorted, we all realized Tom Wilson hadn't driven more than a few miles, and may have never gotten out of 2nd gear in his car! Tom's visit was not only a chance to see his car, but also go over the basic operation of this car so he'll be more confident when it rolls off the truck in Los Angeles.
The only problem was this pesky Corona Virus that seemed to be making a comeback across the country. Tom Wilson felt it was worth the risk by getting tested and quarantined on the East Coast before visiting my shop. Talk about dedication! We wore masks during the test drive, and found it was well worth the effort while staying safe.
Tom reminded me on his visit that 18 years ago when he first purchased his 250GTE out of a neighbor's garage that his first search on the Internet turned up this website, so it was an honor to be with Tom Wilson on his first extended drive in his car where it really felt like a fully functioning car. The brakes worked, the lights worked, the gauges worked, the horn worked, the cooling fan worked, even the dome light worked, but most importantly, Tom got to DRIVE his car!
We spent the afternoon driving the back roads of my county in Upstate NY introducing Tom to his car. It's his first "old car" so not only did we go over the start up procedure, and functions of the knobs and switches, but I also showed him how to recognize vapor lock and what to do when it happened. I showed him where the needles should read on the temp gauges and how the ammeter should behave as the cooling fans turned on.
As we rolled through the miles, we talked about the transmission and how this one had a slight notch in 3rd gear, which would probably go away as the transmission broke in. We also talked about vehicle dynamics, and how the GTE likes to understeer, but will settle down with a slight push of throttle. A lot of these things, I take for granted because I drive old cars all the time, but driving with Tom made me remember and share this knowledge on this fun day of driving!