Front Suspension Disassembly
I disassembled the front suspension on the blue GTE I have at the shop. It was painted by a previous owner in black paint, but there is a combination of paint, plating and black oxide that would be correct for this car. I sent all these pieces out for paint stripping so I could have the parts properly plated and restored.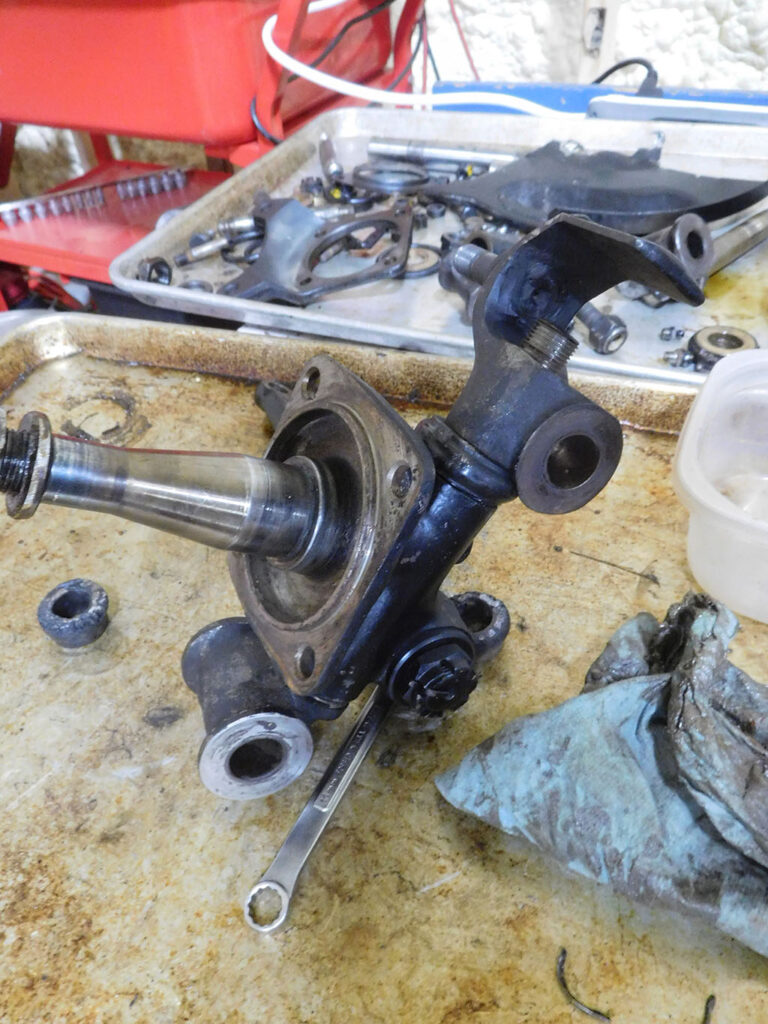 The Vintage Ferrari suspension is a king pin type suspension with pivot bushings and needle bearings to allow the parts to move. The factory used a soft fiber type bushing for the pivots, but these pieces deteriorate pretty quickly, especially when they aren't greased regularly. The replacement bushings are made in bronze and are far more durable.
There are a bunch tapered fittings that need to be pressed apart, and released.
There's black paint on everything, but these pieces will look much better when they're returned to their original nickel plated finishes.
I managed to take the suspension out without releasing the big c-clip retainer at the bottom of the spring, but getting these pieces apart was going to take more work.
Even after sitting in a hot tank for a couple of days, the aluminum spacer and steel spring perch assembly was still fused together.
The aluminum retainer was so badly corroded, I eventually had to beat it to death with a cold chisel to get it to come out.
The second one came out a little better, but both of them were corroded pretty badly that I'll be looking for replacements. Now I'll have to get the c-clip to come out!
Having the right tools for the job makes taking these cars apart easier, and this spanner wrench was needed to remove the front hub bearing retainer.
These retainers are tricky because one side has left handed threads, and is secured with a slotted grub screw. Someone previously disassembled this hub and managed to beat the retainer holes to death with a punch instead of using the proper tool. The part was so badly distorted, that my correct tool wouldn't work any more, so I had no choice but to beat it some more with a punch! Bad mechanics often force us to follow down their path kicking and screaming. I'll have to find a way to fix this retainer, or find a replacement.