Lime Rock Car Show
I've had this blue Dino at my shop for several months, but it's been ready to go home to its owner in Montreal for at least a month. The original plan was to drive it across the border and meet the owner for the hand off, but with COVID 19 restrictions, the US/Canada border has been closed. With the uncertainty of the border crossings, and the short driving season in Canada, we decided to have the car stay with me this winter. We'll complete some more projects and take the car closer to perfection.
I felt badly that the owner wasn't going to get a chance to experience all the improvements I made to this car since it's been in my care, but decided to take it to the Lime Rock Fall Festival event in Connecticut during the Sunday car show. The owner generously agreed to let me take his car to the show, so my daughter and I set off early to get a good spot on the track.
This was the first car show I've been to since the shut down. I was lucky enough to have attended the Amelia Island event in Florida in March, but the nation was locked down days after my return.
The attendance was a little less than in years past, but with social distancing in effect, it was fine by me. The organizers did a good job at checking all attendees for elevated temperatures, and most attendees wore masks.
We were pleasantly surprised to win the Ferrari class award for "The Gathering of the Marques." and felt the owner would be pleased.
This Dino was not painted in a standard color, but the owner chose the color he liked, and the public seemed to agree.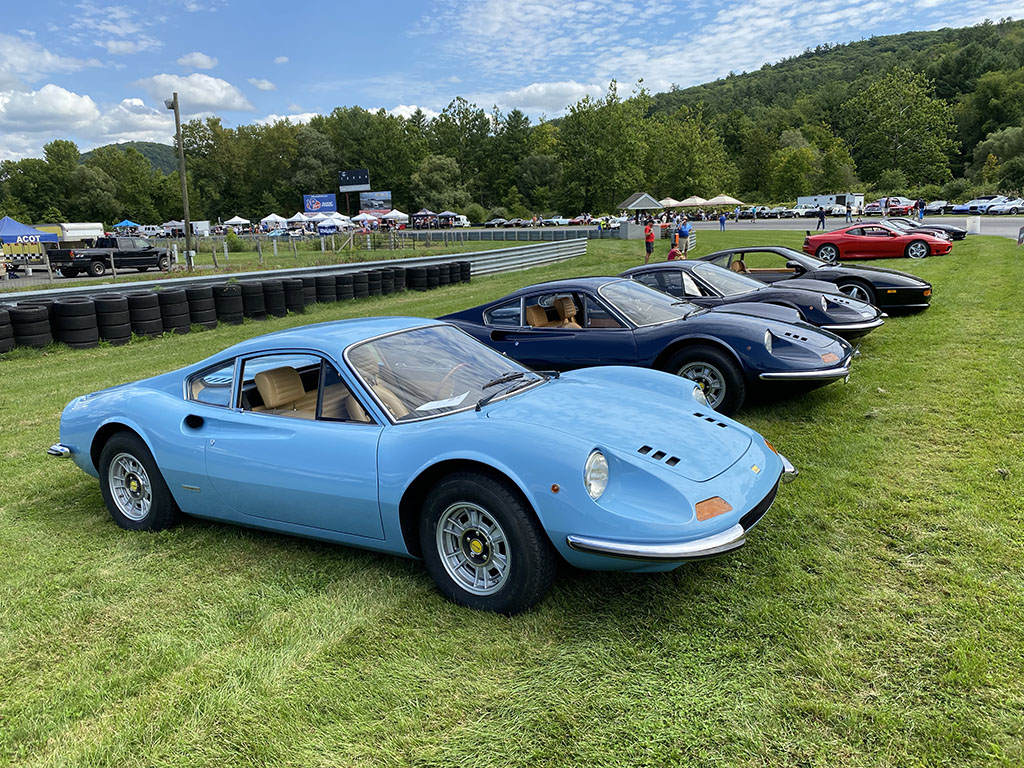 Later in the morning, two more 246GT Dinos arrived, and to the ill informed, they would have thought seeing three Euro Spec Dino GTs meant these cars were common! It's always fun to compare and contrast these cars and spot the subtle differences. We were very lucky to have this opportunity to do it at this car show.
What was revealing to me was how much a color can change an impression of a particular car. The dark blue Dinos had an aura of purpose and aggression, while the light blue car had a playfulness and approach-ability. It was a fun day of being out with a car.