Ferrari 365BB
A Ferrari 365 Berlinetta Boxer arrived at my shop last week looking to have some details sorted. The car was restored by another shop, and has been certified by the Ferrari Factory as a matching numbers car with correct paint and interior as it left the factory. Classique Certification may mean the car is correct as it left the factory, but that doesn't necessarily mean it would pass the scrutiny of a Ferrari Club Judge in a Concours. My job was to look over the car and correct some of these details.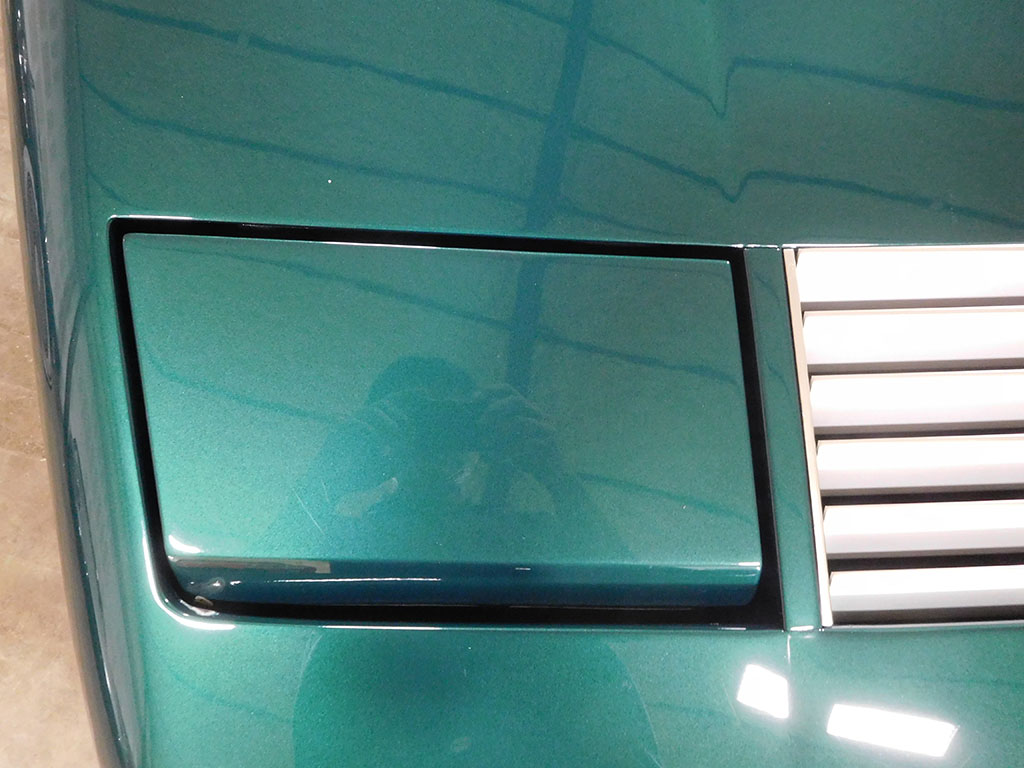 Another issue with this car was the pop up headlights were hitting the bodywork, and chipping the paint.
It was a shame the headlight doors were not properly aligned, and ruining a very nice paint job.
The worst one was the right headlight where the corner had chipped pretty badly. After I get the headlights aligned, the next challenge will be to paint the damage so the repair will match the rest of the green metallic paint.
Lining up the headlights on a Boxer is a real pain in the butt! The whole front section of the car lifts off and swings forward leaving the headlights behind. Not only getting them to line up with the openings is tricky, but also getting them to pivot open without hitting the bodywork is just as hard. There is a manual override on the headlight motors to raise and lower the headlights, but this can only be done when the hood is open! The whole process is to close the hood, make notes on where the headlight needs to go, open the hood, loosen the mounting bolts, adjust the headlight assembly, close the hood, repeat. To make things more difficult, the way the headlight assembly is mounted to the frame, adjustments are magnified because the headlight door is so far out on the end of the assembly, not to mention the headlight door is not really square but trapezoidal! I spent hours opening and closing the hood, latching it to check for fit, walking around to release the hood only to try it again time and time again. I finally got them to open and close without hitting, now, it will be off to paint to fix the paint chips!