Ferrari 250 Engine Assembly
I continued assembling the Ferrari 250GTE Engine we have at Francois' shop last week, and a lot of the time is spent making sure the parts fit. Gaskets, o-rings, and seals have to be checked for fit before final assembly to avoid having leaks later on. Ferraris are notorious for leaking oil, and there are a lot of places for oil to find its way out of the engine. Getting the seals and gaskets to fit right give the engine a fighting chance in staying relatively leak free!
I installed the o-rings on the heads to install the intakes.
As the rear intake was installed, I noticed the intake wasn't seating all the way down. When an engine is rebuilt, a small amount of head material is removed to make a flat sealing surface, but this will change the way the heads fit with the rest of the engine.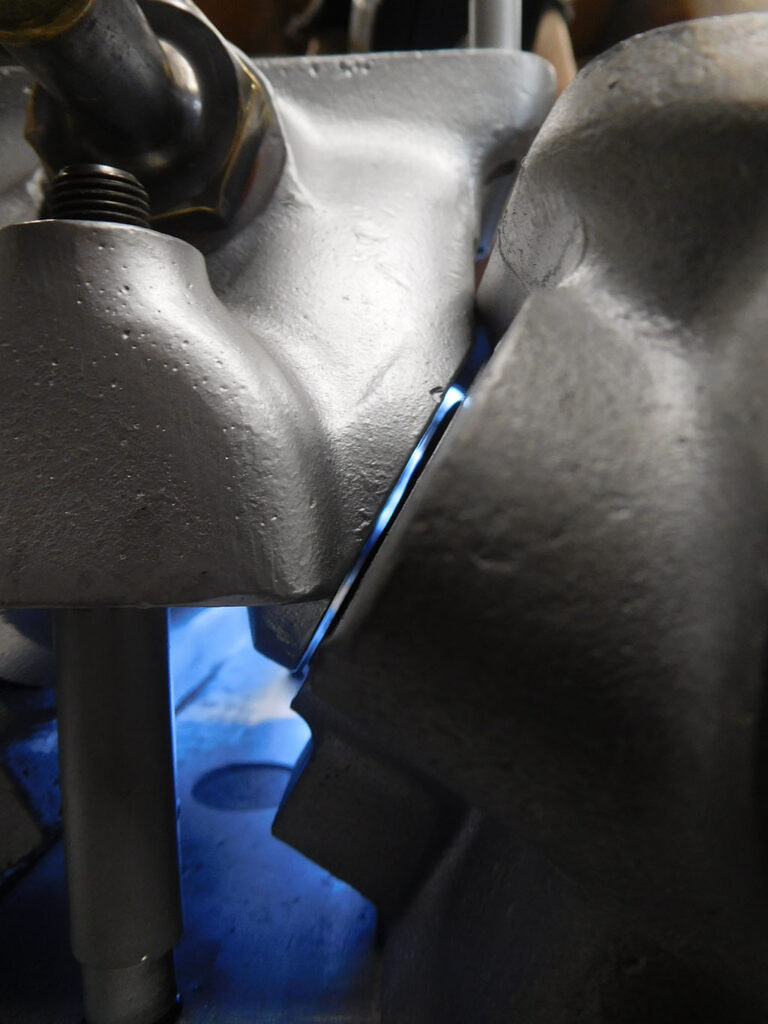 You can see an air gap between the intake and the head that would not have been sealed even with the o-ring. If you look higher up, you can see the intake is actually contacting the head.
I have found the early 250 engines have a very tight clearance in the valley between the cylinder heads, and many of them have been filed or ground down to help clear the intake manifolds from the factory.
Even though the intakes showed signs of previous filing, the machine work we had done to the heads required some more filing. You can just see the mark made in the intake manifold by the head in the fresh paint.
Through a series of test fits, filing, test fitting, and more filing, I got the intakes to fit perfectly. I guess that's why Ferraris are hand made cars!
December is the one time a year I ask for contributions to this website. Your support helps me maintain this website and the resource it offers throughout the year. I've been trying my best to post new information every few days, and not only has it been good for me during this global pandemic, but I hope in its little way, helped you keep your mind off of the problems of the real world. My thoughts are with everyone who is suffering through 2020, and let's hope for a better one next year! Thanks everyone.
For those that want to send a traditional check, my snail mail address is:
Tomyang.net LLC
PO Box 36
Hollowville, NY 12530