Sun Visors
I've been looking at a lot of Vintage Ferrari sun visors lately, especially the ones found on 330s.
Ferrari, or Pininfarina, changed the way they made visors by heat sealing the edges of the vinyl material by the mid 60s.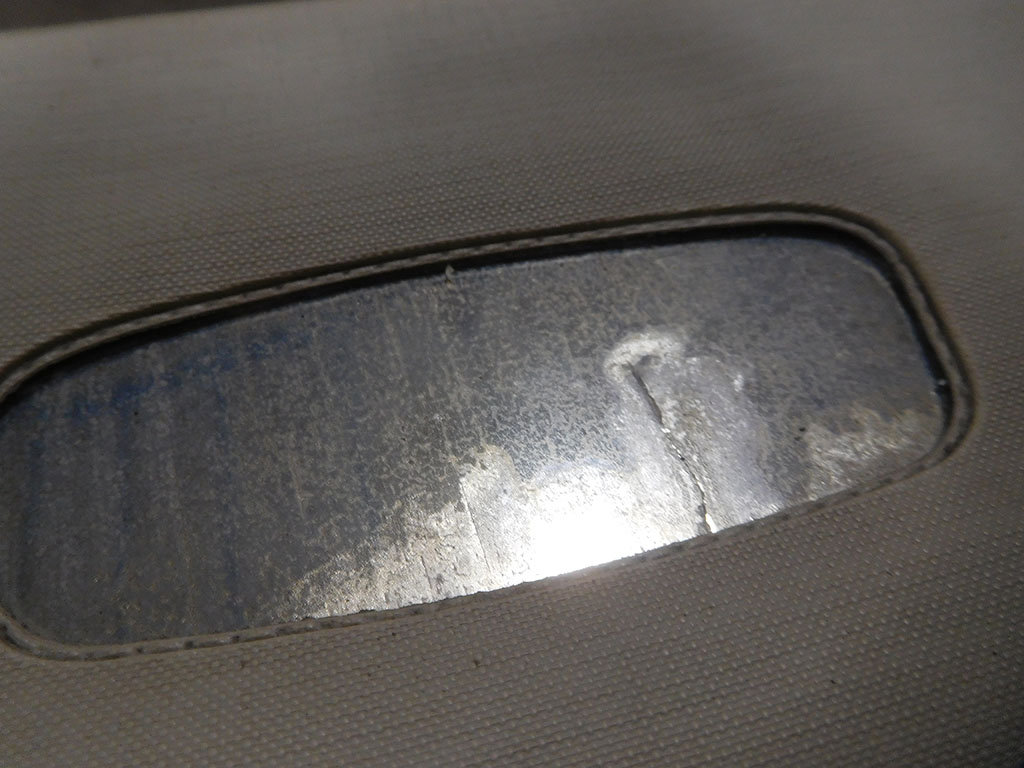 The edges of the passenger side visor also had the vanity mirror sealed in the same way.
On previous models like the 250s, the sun visors were made in the more conventional method of sewing an edge and can easily duplicated by an upholsterer.
The problem with the later 330s and newer cars, the heat sealed vinyl is hard to duplicate without the proper equipment. As far as I know, no one is doing this for Vintage Ferraris. I think I've seen reproduction visors for Dinos, and even Porsches that had similar visors, but I have not seen anything for Vintage Ferraris like the 365s, or 330s.
The problem with these sun visors is the foam inside deteriorates and crumbles to dust. Since there is only a wire frame inside the visor for structure, they become puffy bags of loose foam and dust. Later cars like the Dinos used a perforated vinyl, so when the foam deteriorates, it migrates out of the little holes and shakes out of the visors directly into the eyes of anyone inside the car!
Since recreating the heat sealed edges is not easy, many upholsters resort to sewing the edges of the visors.
As hard as they try, it never looks great, but there is often little choice.
I have a car that is missing a set of sun visors, and I have not been able to find a nice set to replace the missing ones. Any used ones will usually have crumbling foam and not worth the expense. I have a set to copy, so I went ahead a fabricated the inner structure for a new set.
I used the large hub socket to bend the rod into the shape of the visor.
Now that I have the under structure fabricated and welded together, I have to decide how to cover these with vinyl. I would love to make exact reproductions of the originals, but don't know anyone has solved this issue. I could always bring these down to my upholsterer and have him sew a couple of covers for these frames, but before I do so, I'm asking for your help. Does anyone know if someone can heat seal the edges of these visors? Any upholsterers out there or someone who knows someone who can do this? It would be great to solve this problem.
December is almost over and there's just a week left to this fund drive. I want to thank everyone who's donated so far. Your donations go a long way to pay for the server fees, maintenance time, and work that goes into this website to keep things moving smoothly. I've been blogging for so long that I don't ever see stopping this blog, but I have also been trying my best to keep up with the times by working on video content on my You Tube channel https://www.youtube.com/tomyangnet and I hope you have enjoyed seeing the content in a different medium. I often ask myself why I spend so much energy and time to put this content on the Internet, and it's obvious I enjoy sharing and helping people, but it's also nice to see and hear your appreciation. As a creator, it's hard to do what we do without affirmation and I want to thank you.
For those that want to send a traditional check, my snail mail address is:
Tomyang.net LLC
PO Box 36
Hollowville, NY 12530