308GT4 Fuel Sender and Coolant Pipes
While I was working on the suspension on we decided to replace the coolant hoses. Some of them looked original.
The first step was to tip the car a little forward so when the coolant pipes running down the spine of the car were disconnected, the coolant would drain out of the car instead of draining back inside the chassis tube.
246 Dinos use a full length rubber hose to run coolant forward from the engine to the radiator while this 308GT/4 used an aluminum pipe. I'm not sure which one is better, but I would imagine if moisture collected in this chassis tube, there could be corrosion on the coolant pipe due to electrolytic corrosion. Even though the hose connections were a little crusty, the pipes looked in good condition on this car.
All the pipes from this era of Ferrari were anodized aluminum and survived pretty well, but I found a minor problem on one in the engine bay.
There was a pretty significant gouge in one of the pipes from the clutch slave cylinder. Evidently at one time, when the clutch was adjusted to its furthest point, it contacted this water pipe. With a new clutch installed, the adjustment screw far away from the pipe, but it worried me that this damage was so close to a major leak.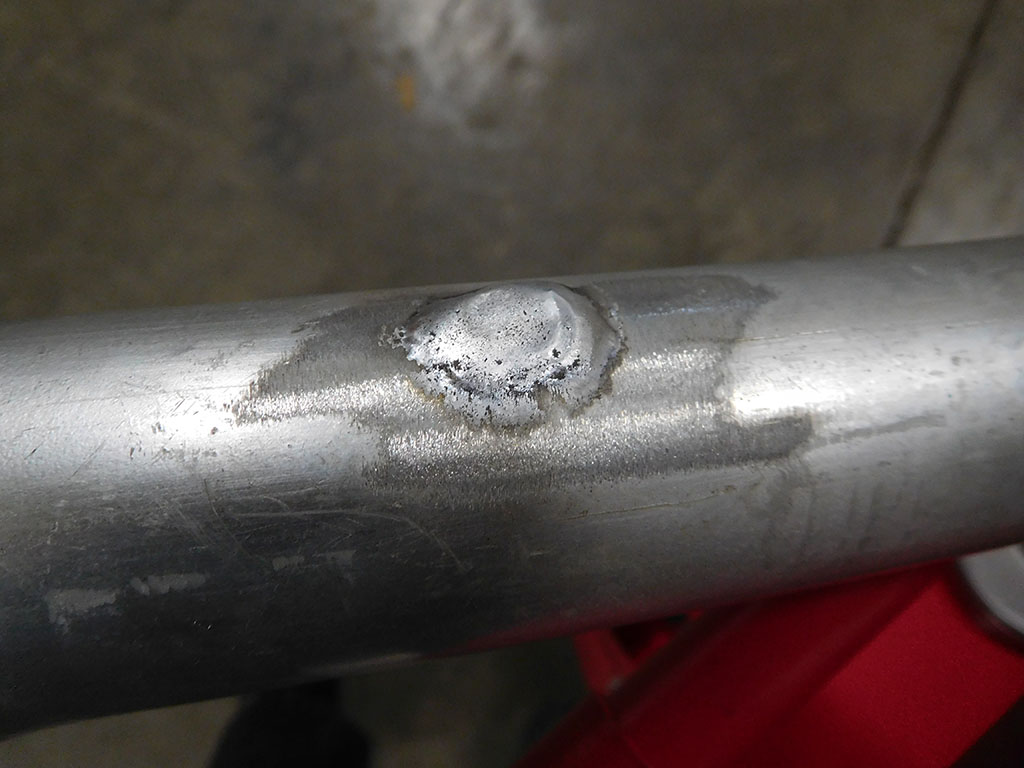 I found a local welding shop to TIG weld the damage, and I cleaned up the weld to reinstall the coolant pipe. Disaster averted!
I found the access panel for the coolant pipes and inner suspension mounts was missing. Although not completely weather sealed, this panel provides a nice flat floor under the car, so I made a new one from a sheet of aluminum. Some of the mounting tabs were bent and needed straightening, but once I was satisfied with the fit, I removed the plastic sheeting an painted the panel black. The big hole in the fiberglass under the front of the car will be fixed next winter!
Here's a look inside one of the coolant hoses. What looks good on the outside doesn't mean everything is good on the inside!