Amelia Island 2021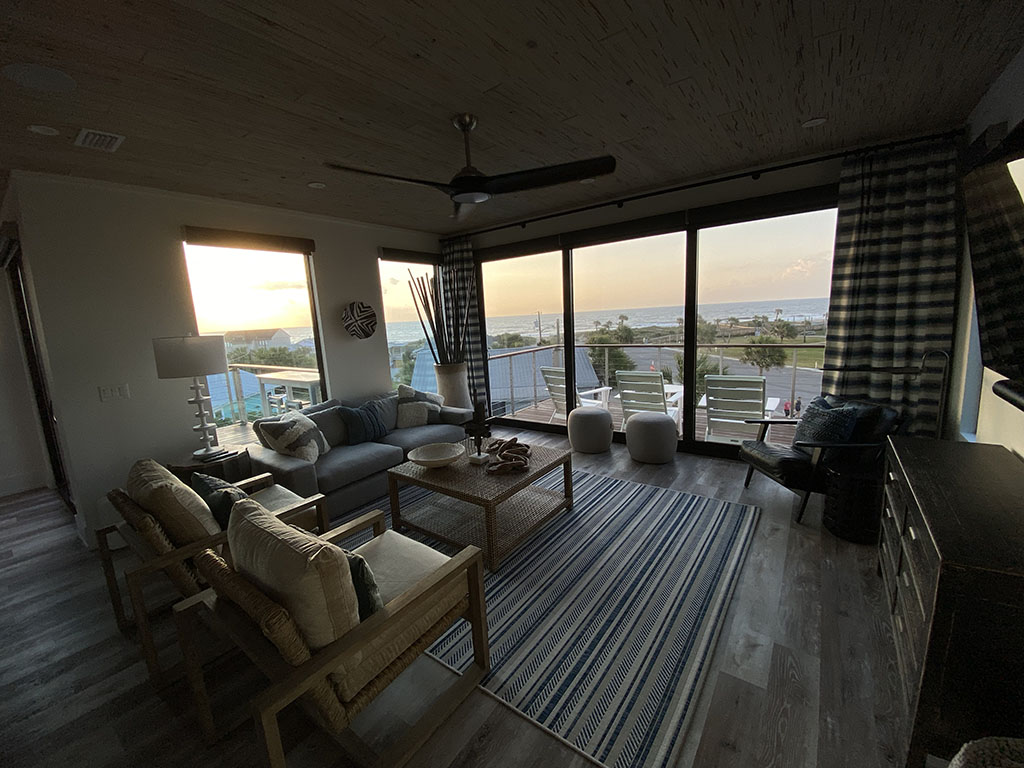 I woke up to a spectacular sunrise from the house my friends rented on Amelia Island. I met this crew from PA last year on AIOB, and we all became fast friends, so this year I was invited to stay with them at a house they rented. This was much better than anything we could get in a hotel room!
The house had a roof top deck, a pool, four bedrooms, and even a guest bunglow! With a large group like us, it was much nicer to hang out than to try and get reservations for 12 people at a restaurant for a few hours. I knew we were going to have a blow out weekend!
The first stop of the weekend was to go to the Werks Reunion, a Porsche show held on Friday.
The Porsche parking lot was full of dozens of 911s! I've been a Porsche fan since I was about 14, but after a few hours of looking at hundreds of 911s, I was ready for something else.
I actually had work to do, so I headed out to a warehouse to inspect a 1966 Ferrari 275GTB.
A friend of mine, Charley Hutton, restored this car a few years ago and contacted me for help on some of the details. Charley used to work for Boyd Coddington as a painter, and is one of the country's top painters, but he called me for some advice on restoring this Ferrari. I helped him get the details right, from the finishes, plating, and hardware. I had to hold him back from over restoring the car because preserving some of the original details, like the bad welds and imperfect body lines, was what a Concours Ferrari is about and not what a car Charlie is used to creating.
A few weeks before Amelia Island, I got a call from Charley asking me is I was going to Amelia Island for the Concours. The owner of this GTB was invited to show, and Charley had a scheduling conflict and needed someone to show the car. I was looking forward to kicking back after the Hagerty Rally, but duty called!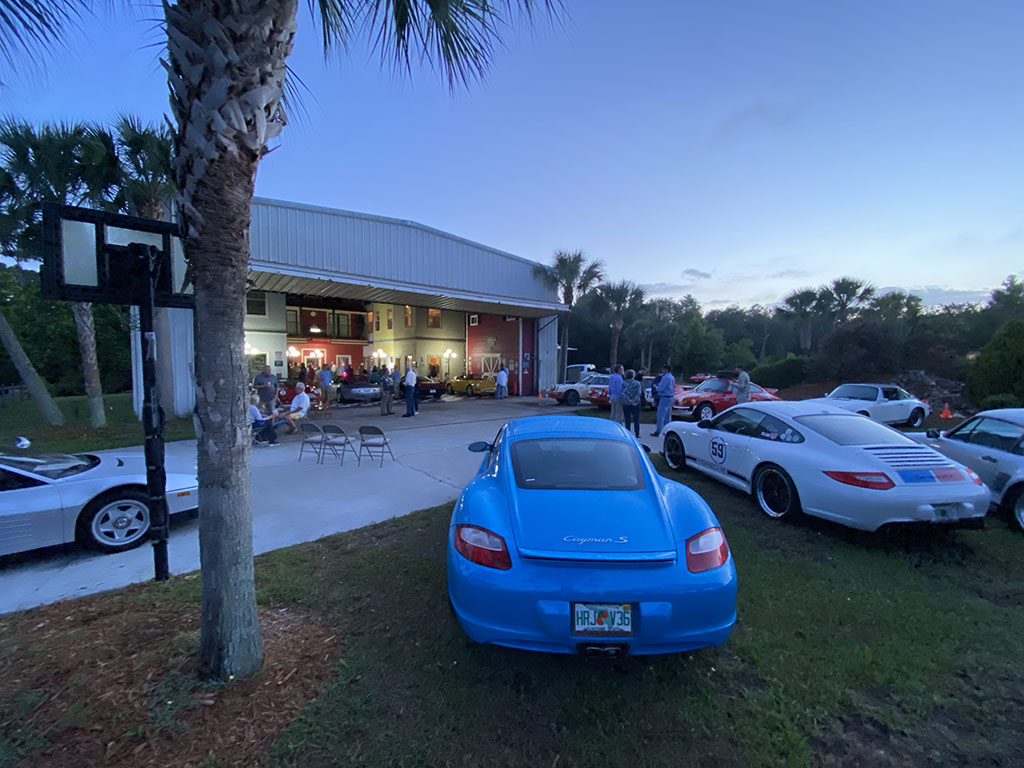 I joined my PA friends at Doctor Amos' collection at a private air strip on Amelia Island after looking over the GTB. The party was co-hosted by RM Auctions, so a lot of familiar faces were in the crowd. Thank you Dr. Amos, and Ramsey of RM for hosting.
Back at our house the next morning we found the switch to uncover the pool and the hot tub along with the control panel to operate the LED lights! This house was only getting better!
Saturday morning, we headed over to the Ritz to see what cars showed up for "Cars and Coffee." Attendance was down about 50%, but after a year in quarantine, any gathering of cars was much appreciated!
I tried my best to enjoy my day, but the job of showing the Ferrari was on my mind the whole weekend. I saw the car for the first time the day before along with the owner. Everyone seemed nice, but the responsibility of driving a 3 million dollar car on public roads, and then navigating a cart path to its final parking place on the lawn is always a challenge, even when I'm familiar with the car! This picture was taken after I arrived on the lawn safe and sound. Boy was I relieved!
I arrived at about 6:30 am Sunday morning to get an early start on wiping off the moisture on the car.
We had our own area on the lawn for 275GTBs, and I was in good company. Joe was presenting Aurriana's 275 NART Spyder. Francois and I have worked on this car before so it's always nice to see it again. If I were to own one of the 10 NART Spyder's I would have to say this would be THE ONE. Steve McQueen drove this car in the "Thomas Crown Affair" with Faye Dunaway, Denise McCluggage drove this same car at 12 Hours of Sebring, and won her class as a all woman team with Pinky Rollo. This is the touchstone of cool Vintage Ferraris!
The Ferrari showing was very light this year at Amelia Island. I'm sure the Pandemic had something to do with it, but having a 275GTB to show put us in the right crowd. There were only a handful of other Ferraris in other parts of the show field, but it was fun to be with all the GTBs.
I spent most of the day showing the 275GTB. The owner joined me for quite a bit of it, and I introduced him to all the people I thought he should meet. This was his first major Concours showing a Ferrari, and I felt it was my responsibility to show him a good time. The Concours show field is not for everyone, but I believe you can have a good time if you know what to expect. I tried my best, and let's hope he liked it so we can see his car again at another show!
The trip back to the truck was a little harder, but I managed to get her loaded. This car spent the last year on display with very little mileage after Charley restored it. She wasn't running well when I first started her, and things seemed to be getting worse as we were sending her home. With very little fuel of unknown age in the tank , I felt the carbs were picking up trash from the bottom of the tank and getting clogged, and then the brakes started to seize! Without getting into the details, let's just say I got the car to the truck without incident! Whew!
With the 275GTB loaded and the owner flying home, I could finally kick back and relax a little bit. We had a little party at the house and I invited some Ferrari friends to join us. Claude is a familiar to anyone in the Vinage Ferrari world and belongs to Greg Jones, a fellow Ferrari restorer. I treat my relationship with this Hawkhead Parrot has always been on his terms because I know he bites!
Spending some time watching the sun set on Fernandina Beach with some good friends on the roof deck was just the perfect end to a long week!
As all the guests went home, I settled in for an nice foot soak with my PA friends in the hot tub. I could get used to this!
After a first restful night's sleep in over a week, I still had one more job to do, and that was to drive Brad Phillips' Porsche back to MD. It wasn't going to be a circuitous route like the one we took going to Florida, but a straight shot up i95. I kept the speed just around 83mph hoping that was low enough not to attract the attention of the State Police!
Life these days seems to be changing daily, and we're faced with new challenges every day. When I last attended the Amelia Island Concours 14 months ago, we had a worldwide pandemic, a presidential election, a riot at the capitol, economic turmoil, and millions of people dead or affected by this virus. As I drove home, I had a lot of time to reflect on the last year and think about the people I've lost in the last year, and friends I got to see this past week. Life is tenuous. Make the most of it while we still can!
Thankfully my introspection and reflection ended when I pulled into Brad's garage! I think in 10 months, I'll be ready to do the Hagerty Rally again!