Ferrari 250GTE Door Panels
These scuff plates on the door panel for a Ferrari 250GTE often get scratched from getting in and out of the car. Taking the scratches out of the soft aluminum will ruin the pattern in the panel, so the only way to restore them is to replace the panel.
I have found the rear quarter trim panel on a 1957 Chevrolet Bel Air is a near identical match to this panel found on the GTE. Years ago, Tom Wilson stopped by Danchuk, and supplier of Chevy restoration parts in Southern California, to see if they would supply these panels in uncut form. The Bel Air panels are triangular and less panels could be cut from these piece, but today, these panels are available in rectangular sheets thanks to Mr. Wilson!
I still needed to take the door panels out so I could remove the old panels.
The plan was to use the old panel as templates and have the new sheets cut out by either a water jet, or a laser cutter. A CAD drawing would have to be made from the original so we could figure out how many we could get out of the new sheet of material. I could see these original panels were hand fitted to each trim frame as the gap was just too precise.
I could tell after I had the new panels made, I would have to do some filing to have the same fit as they did at the Pininfarina factory.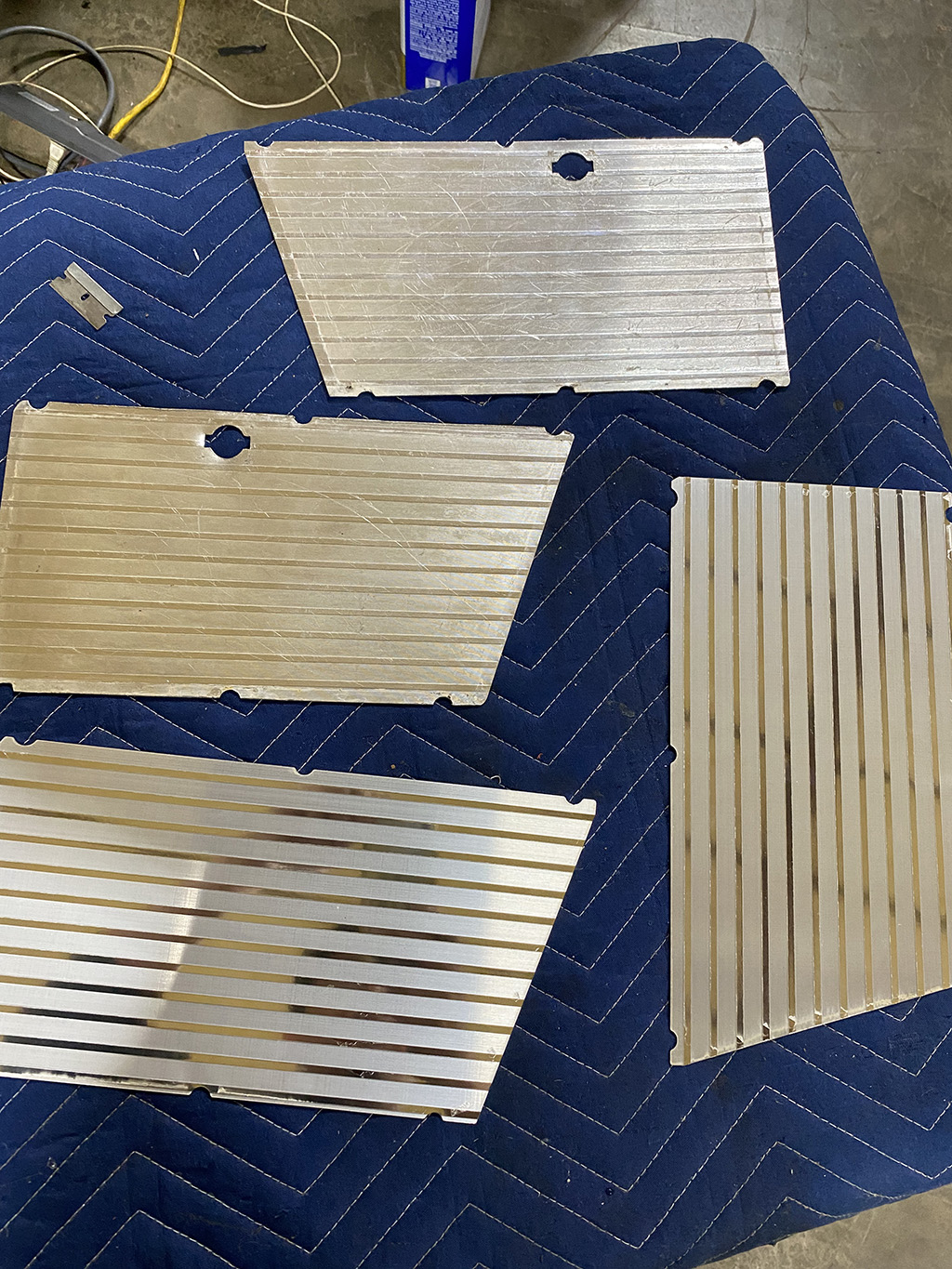 I ended up getting the panels laser cut and I had two versions made. One was to eliminate the hole in the panel that was originally a manual crank access hole for the few GTEs that came with electric windows, and even though this car has electric windows, the access hole doesn't line up with the motor! The owner decided to delete the access hole for his car to give the panel a cleaner look.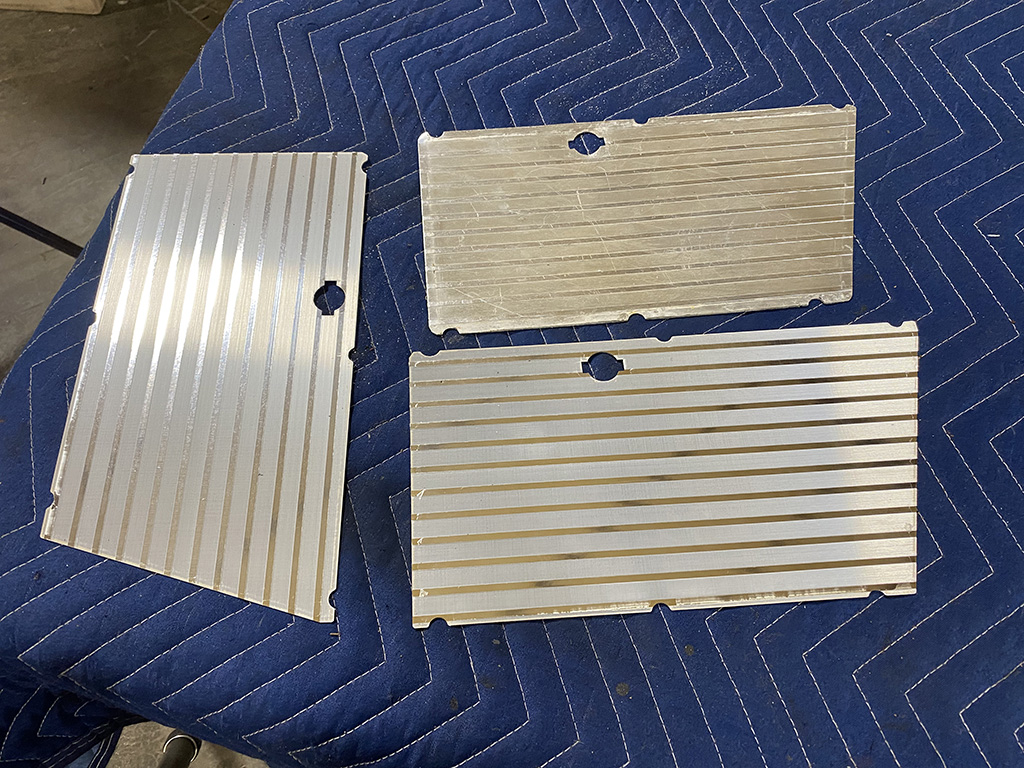 I also made a version with the cut out for the access hole for people who want it to look original. There is a round bushing and trim cover for this hole, and I may be making a reproduction of it in the near future.
Here's what it looks like on my car with reproduction panels I had made on the last run of panels.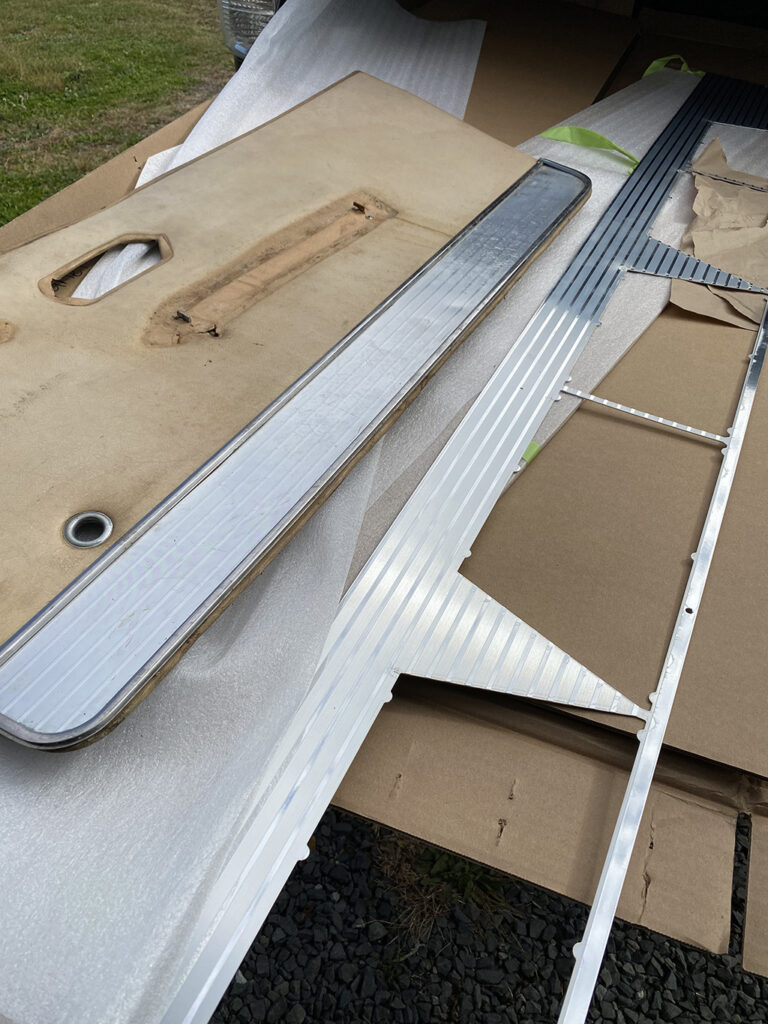 Another use for this trim pattern is the lower door panels for the 330GT 2+2s, but they're long and narrow. I was hoping I could get a set cut from the same panel supplied from Danchuk, but there wasn't enough material.
With the door panels off the car, it was time to install a new water barrier to protect the back sides of the door panel from moisture. Although I doubt this car will see much wet weather, it's good to know it's protected just in case!