Ferrari 330GT 2+2 Grille Fit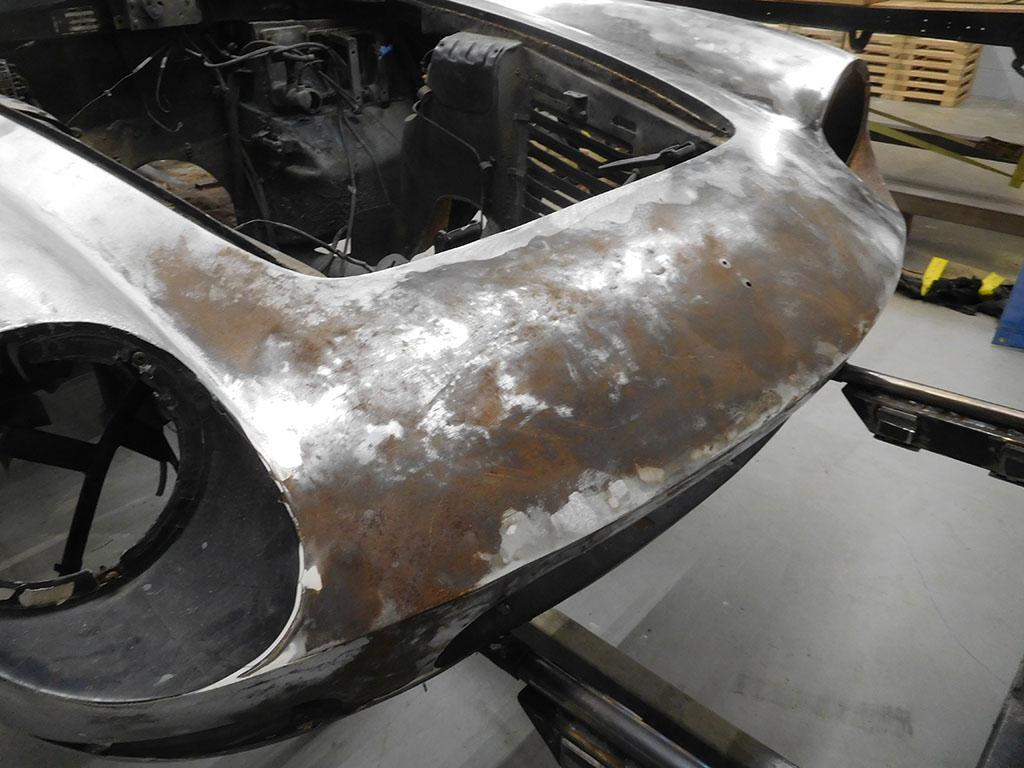 I have a couple SII 330s in the process of bodywork so it may be hard for you to keep track. The one I'm talking about today is SN 9153 and here's a link to a previous post, and video.
I sent 9153 to the Panel Shop address some grille fit issues we found after stripping the paint and filler off the car. This kind of repair may be beyond the scope of the paint shop, so it was time to bring in the specialist; Mark Barton at the Panel Shop
Sometime in the life of this car, there was some front end damage that deformed the nose. The grille that came with this car must have come from another car, because there is no way it could have survived from the way the nose was deformed. With the filler removed, you can see the gaps between the bodywork and the grille shell.
The right side of the nose was even worse and it was wavy and warped.
Mark assessed the damage and felt he could save the left side of the grille opening by heating and shrinking the metal to fit the grille.
The right side needed some more drastic measures. Sometimes, it's easier for Mark to fabricate new pieces rather than try to straighten bent and broken sheet metal.
You can see there are two grilles below the car as we had the good fortune to have a second SII 330 that is also getting some body work done. That car is SN 8499 and is a little younger than 9153, but the grilles were checked to make sure they were similar in shape. Ferraris were hand built, so one grille may not fit another one, but at least we checked if we were close!
Because of the damage, the metal work that was done previously had thinned out the edges so putting new pieces would not only make it easier to fit the grille, but also make the nose stronger.