Bodywork to fit a Grille
Work is progressing nicely on a SII 330 that is at The Panel Shop in Stratford CT getting its grill fitted to the nose. Last month, I showed how deformed the nose was from a previous accident and how filler was used the first time to cover up the damage and how Mark at the Panel Shop was going to repair the damage correctly. This month we can see a lot of progress has been made in reshaping the nose and getting it to fit the grille perfectly. The correct grille seal was installed to make sure the gap was perfect and even all the way around.
Mark saved what sheet metal he could, but made new panels where crisp body lines were necessary as you can see from the top leading edge of the nose above the grille.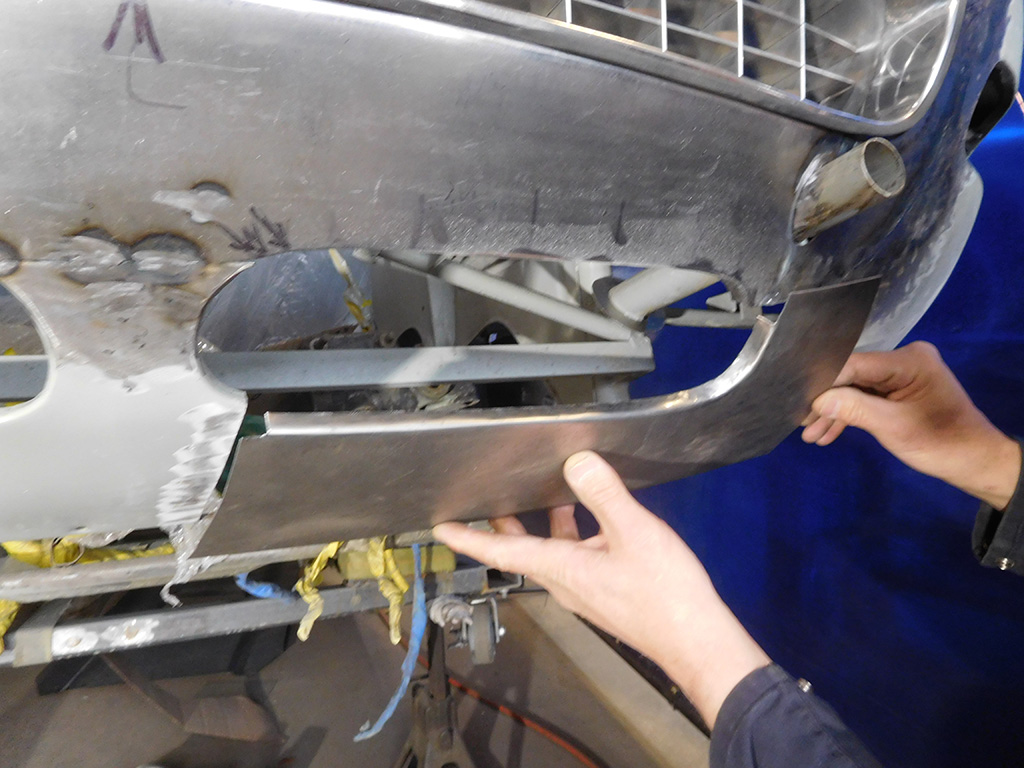 The lower valance was also damaged from the old crash and poor repair, and Mark found it easier to fabricate a new panel instead of wrestling with the old sheet metal.
In other areas, he chose to shrink and stretch the metal to bring the car's shape back into line. Careful hammer and dolly work will save this section.
With the reconstruction of the nose, I needed to bring the front and rear bumperettes back from the chrome plater to check for fit. These pieces tie the three parts of the front and rear bumper together and sit very close to the body work. With the damage we saw under the bodywork, the original bumperettes may not have survived the first accident and we suspect these were replacement parts.
My plater was in the process of restoring these pieces when I took them to check for fit. They showed signs of pitting that will have to filled and ground smooth before final plating, but that will have to wait until Mark is done checking them for fit on the car.
We're over halfway done with the December Pledge drive and I want to thank the generosity of the those that donated so far. It truly means a lot to me. There are just a couple of weeks left and I hope if you haven't yet contributed, you would consider a contribution to support what you see on this website. It's a great community and I am happy to keep this small corner of the Internet for us! Thanks.
For those that want to send a traditional check, my snail mail address is:
Tomyang.net LLC
PO Box 36
Hollowville, NY 12530