Cavallino 2022
I headed down to Palm Beach one day before the big Concours. In years past, I would arrive on Wednesday for the Saturday show to attend some of the pre-show events, but I've been so busy lately, I needed to keep this trip short. Bob Smith gave me a ride over early-o-clock so I could sus out the lineup.
Even at 6am, there were cars lining up already. It didn't take much longer for more cars to get in line.
By dawn there were dozens of cars in the queue, but there seemed to be some kind of confusion with the parking once on the fairway. If I had to guess, it had something to do with a line up of Ferraris representing 75 years of Ferrari, and parking them in order all the while getting Show Cars parked as well. What normally took an hour or so, took well over two hours with several vintage cars overheating. My customer's 330 was parked in the valet lot next to the hotel, and seeing this disaster unfolding, I decided to wait until nearly everyone was parked before heading into the fray.
I was literally the last car on line at well past 9am with no place to park! The volunteers looked at me with confusion and dismay when they realized they didn't have a place for our 330. I found one space in front of the first car they parked two hours ago and I asked to be put there. It was a little tricky to maneuver into the spot and they asked if I could do it, and I said "watch me!"
No sooner had the owner and I prepped the car for showing did the officials come over to judge the car. With barely any time to catch our breath, we were telling the story behind the car, opening everything up, and showing the judges the car. I actually wanted the judges to see the details we got right on this Ferrari and may have told them more than they had wanted to see! I was proud of the work and wasn't going to let it go unnoticed!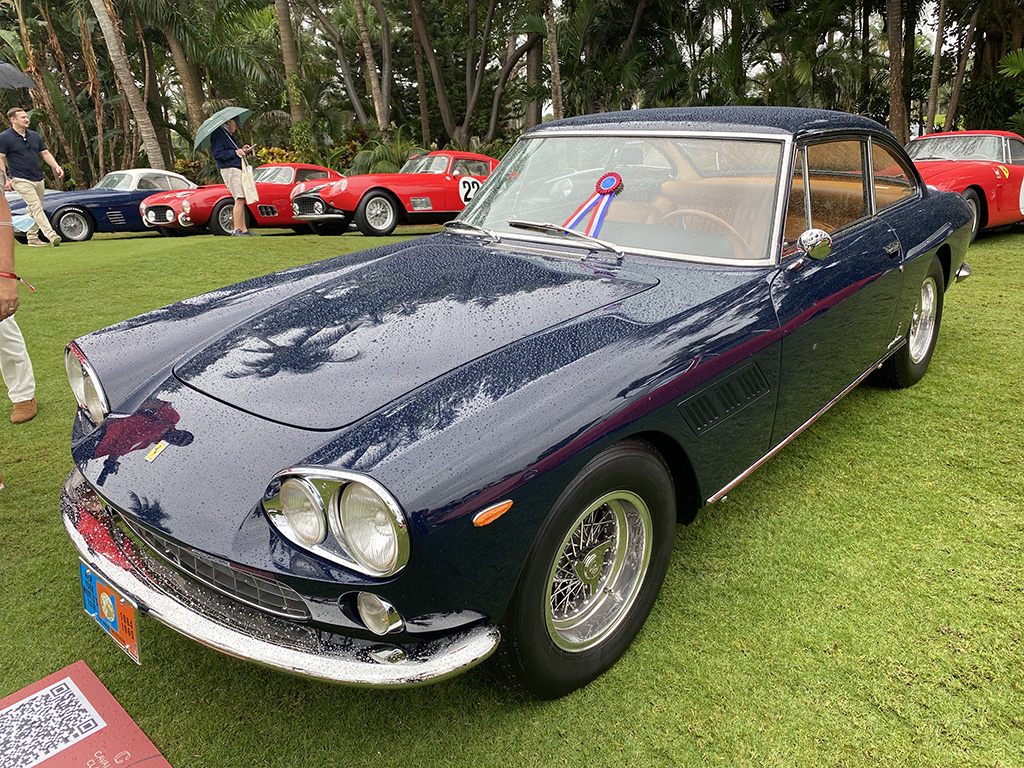 A light rain started to fall around midday, but the judging was over and we received a ribbon to denote we had won an award. At Cavallino, an award is a high achievement as there are no second and third place trophies. Any car that scores higher than 97 points out of the total of 100 points gets awarded a Platinum Award, so it was a good day for us!
I've been involved with this car for 10 years with two owners and it was very rewarding to have won a Platinum with this car. It also meant I wouldn't be chasing any more points to get that elusive Platinum!
I attended the dinner and could definitely feel the difference of Cavallino with the new owners. Canossa is an Italian Event Company that purchased Cavallino from long time owner and founder John Barnes. A new era of this show has begun and it's interesting to see the changes.
I was fortunate enough to sit with Leslie Blinn, and Brian Crall, during the Banquet. Conversations with these two have always been interesting, but are getting more so with Leslie's new appointment as FCA Chief Judge. Could they be the new Power Couple of the Show field? Here they are judging the Tortellini!
My flight back home was mid morning Sunday, so I was in Florida for about 40 hours, but I got the job done. I was proud of this Series I 330GT 2+2. It came a long way from a derelict car hidden in a garage in Staten Island to a show queen on the Lawn at the Breakers. Bravo!
Here's a Video of the Road to Cavallino!