The Road to The Amelia
2022 saw big changes in the show at Amelia Island, personally and publicly with the Concours. I'll get to the concours in a future post, but personally I had to make some decisions on how I was going to get to Amelia Island. The past few years, I participated with the Hagerty "Amelia Island or Bust" Rally by riding along as "technical support," and "Tour Ambassador." My role was to help in any way that I could, all the while enjoying the company of the participants. It has always been a lot of fun and I looked forward to going. This year, I had a conflict of schedules, and had to choose one over the other. My day job with Ferraris won out, but I hope we can work something out with Hagerty next year with the tour!
I had to be down in Florida one day earlier than the Hagerty rally, but my friends from a previous AIOB rally were heading down early, and driving a couple of vintage cars to boot! Their route was a little more leisurely, but direct, so I jumped at the chance to go.
When you're on a road with a car junkies, you're guaranteed to stop and see some neat shops, and the first one was RS Werks in Parkersburg, PA. I've never seen so many 911s in progress at the same time! They specialize in modifying, hot-rodding, and recreating famous 911s from racing history.
I was jealous of the jigs they made to check the body openings of project cars for several reasons. First, was German Engineering, allowed tolerances to match from one car to the next so making these jigs would make everything consistent. Second, they worked on enough of these to warrant making jigs like this to use from one car to the next, and third, the parts supply they have access to still matches the OEM specs! None of these items can translate to the work I do on Ferraris!
RS Werks had both water and air cooled cars, so they didn't seem to discriminate between the 911s. This seemed to keep them extremely busy. Good for them!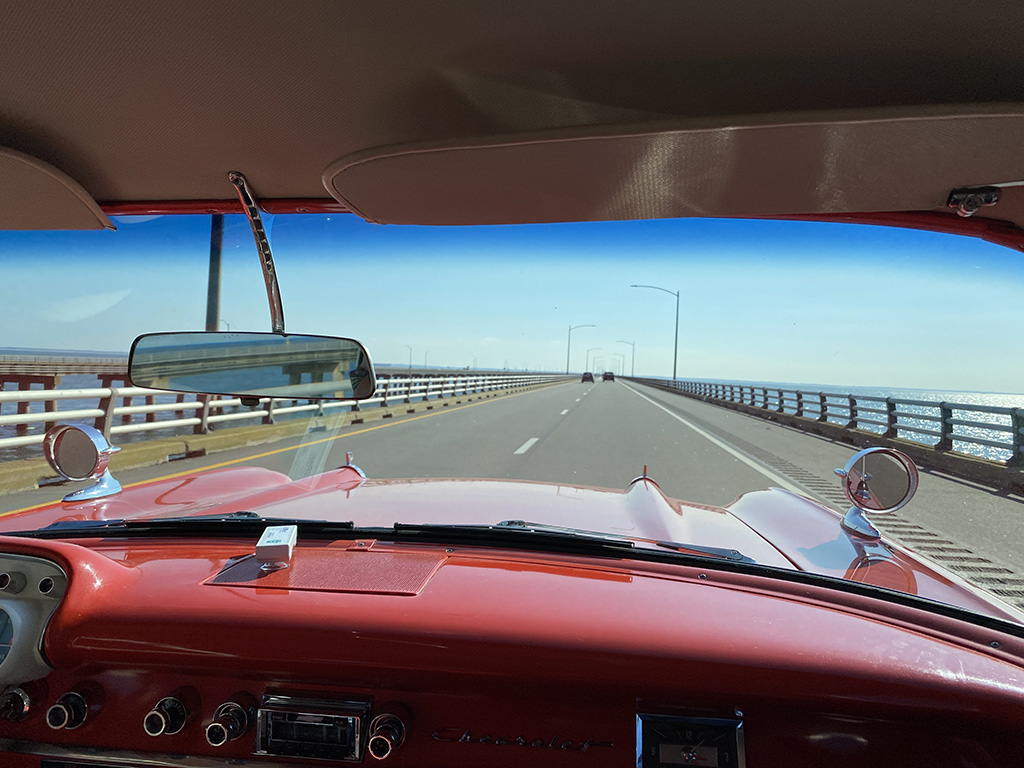 I left NY with 20 degree evenings and and an icy driveway, but the weather started warming up the further we headed south. Norfolk was still a little chilly, but Florida here we came!
Let me tell you a little bit about one of our rides. It was the brainchild of the owner Drew Garban, and the builder Tom Baughman. Drew bought this 1957 Chevrolet four door wagon out of Arizona. It was a very clean rust free car with a 283 small block and the original two speed power glide. It was perfect to putt around town, and had plenty of looks, but on the highway, it was a little anemic. Tom Baughman got a great deal on brand new 350 Chevy Motor from Summit Racing and offered to install it with a 3-speed turbo hydromatic. A few months later with a new power plant and transmission, they installed front disc brakes and white wall radials, the car was transformed into a great highway cruiser! The paint, trim and interior were left largely stock, but the mechanical tweaks made this car match its ability to draw attention! The stickers Drew added on the sides of the car was another tweak to make it a perfect tool for cruising Amelia Island (wink)!
We stopped in Myrtle Beach for lunch and started shedding out fleeces for short sleeves!
After a night in Charleston, I called my friend Andy Green in Savannah to see if he was at his shop. Andy was headed to Amelia Island as well, but met my crew at his shop to look at some of the projects he was working on. Here's a 330 engine he's working on installing fuel injection. I can't wait to see how this turns out!
We arrived in Fernandina Beach on Wednesday before the Amelia Island weekend. Drew rented a 7 bedroom house all with private baths, and I took a share in the house with the Pennsylvania crew. After staying with them last year in the house Drew found, I couldn't believe he found something that could top last year's party house! This one was right on the beach, with all the room and amenities we could want. This was going to be an epic weekend!