Friday at Amelia Island 2022
This morning I watched the sun rise with a nice hot cup of coffee. We decided to get rolling at about 8am, so it was a leisurely morning for me!
The first show we hit was Werks Reunion, a Porsche show sponsored by the Porsche Club of America. It was nice to see the first generation of water cooled 911s, the 996, finally getting some love! Prices of these cars are on the rise, and it's indicative of the the interest in these cars. I have to admit, I didn't care much for them when they first came out, but I changed my mind and bought one just before the prices started to rise!
There were a number of beautifully restored Porsches, but I felt the number of show cars was down. The Porsche only car park on the other hand was packed! I couldn't figure out if the lower number of show cars was due to the pandemic, but the attendance seemed strong.
I headed over to the Gooding tent to watch the kick off of their auction, and took a peek at their inventory. The short nose 275GTB caught my attention. It had all the signs of a restoration that had stalled. The steel body had been stripped to bare metal and some of the body work had begun, but the car was far from being done in any sense of the word. I really like short nose GTBs, and I looked forward to seeing where this one would go!
I saw this very nice short wheel base 911. A friend of mine had noticed it too, and we liked what we saw. The details were right, and the quality of the work looked top notch.
These are such nice driving cars and so simplistic in their design that my friend started considering bidding on the car, but after a couple of phone calls and discussions with experts in the field, we found a few details that dissuaded us from bidding. The car ended up selling well, but just not for us!
Watching the auctions is always more fun when you know the sellers or the buyers bidding on the cars. My friend Chris LaPort from Illinois was selling his SII 330 at Gooding, and told me privately what he would take for the car. I watched the bidding surpass his low number and knew who was buying drinks tonight! My job was to find Chris and congratulate him and celebrate!
I left the Gooding Auction to take a look at what RM/Sotheby's was offering and their inventory was pretty diverse. I don't think I've ever seen a '59 Cadillac parked next to a Davis Divan!
I found a really nice Porsche 914/6 up for sale, and if I were in the market for another car, I would have bought this one. It looked nicely restored, and I'll always have fond memories of this particular model. David Letterman let me drive his 914/6 when I worked on Late Show, and I remember sliding the back end out slightly going around a turn not far from the Santa Monica airport to see what the polar movement of the mid engined Porsche felt like! I decided quickly after that it was smart to bring the car back to the hanger before I broke something. Just don't tell Dave that!
The kiss of death on any 70s era Porsche is rust, but when you look at the battery tray placement on this car, it's just under the engine bay cover, above the rear suspension mounting points. You can imagine, as battery acid would weep, and rain water would wash away it away from the battery, the corrosive mix would seep down past the battery tray and down onto the unitized body where the suspension was mounted. This car looked like it didn't' suffer such corrosion, and hopefully will live a pampered life!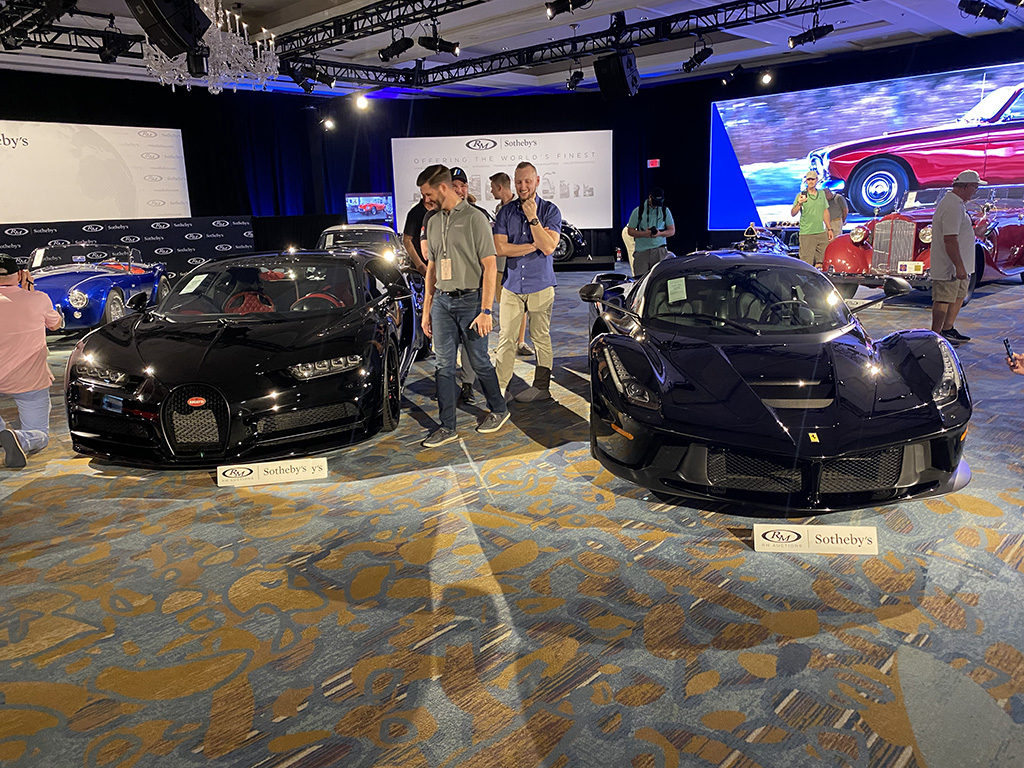 Porsches and Hyper cars like this Bugatti and La Ferrari brought big money. I felt the Vintage Ferraris, what few that were up for auction, were flat on price comparatively. I believe most people with Vintage Ferraris for sale were waiting for Monterey, but perhaps Amelia is the venue for 80s and 90s Porsches and hyper cars like these.