LA Trip 2022: Day One
After a couple years of COVID and missed trips to the West Coast, I decided it was long overdue for a trip to Southern California. While I was in Florida for the Amelia Island Concours, I spent some time with Tom McIntyre, and he invited me out for a visit to his shop in Burbank if I was in the neighborhood, so it was my first stop after landing in LAX.
Tom's personal and professional life was completely immersed in the Southern California Car Culture, and I don't think anyone would dispute he was at the birth of the Cobra! The story goes, that his father was a hardware salesman, selling nuts, bolts, and fasteners to his customers in California. After visiting an aircraft repair shop, he saw a race shop in a hanger at LAX building some interesting English race cars with Ford small block engines. McIntyre Sr. asked if they might need some hardware to help with their fabrication, and enthusiastically accepted his help, but what they really needed was someone who could help design and manufacture badges for their prototypes. McIntyre's son was currently getting an engineering degree at Cal Poly, so Dad called young Tom McIntyre to see if he could help. Tom had just taken a metal casting course and agreed to work on this project in his spare time between classes and semesters at Cal Poly. It's now obvious, the shop was Shelby American, and the shop owner was Carroll Shelby!
Tom McIntyre showed us original drawings of the Cobra artwork, many of which he remembers sketching out on his parent's kitchen table! Shelby liked and approved all of Tom's work, but the young McIntyre still had commitments to his college degree, so if you look closely at the completion dates of the blueprints, many of them followed weeks that he was off from school, like holidays, and Spring and Summer break!
From Shelby Cobras, Tom was enlisted to design and manufacture the specialty hardware for the Ford GT350s as well! Here's a drawing torn out of his sketch book of Tom's original design of the hood pin hold down for the 1968 GT350.
Today, Tom McIntyre owns and operates the same badge manufacturing company he started from his parents kitchen table, but he supplies badges to all the manufacturers from Ford to Toyota. Many of his badges and name plates can be found on cars all over the world, and to think it all started from a chance meeting in a hanger at LAX!
The chapter of Tom's life involving Automotive Badges is just one part of a fascinating story I had the honor of hearing, and it goes further back than his college encounter with Carroll Shelby. The first time I met Tom McIntyre, he told me the story about how he had saved up $50 dollars of his paper route money to buy his first car. A Ford Model A was just down the street in his Los Angeles neighborhood, and when he had enough money, Tom went to his neighbor to buy the car. After a deal was consummated, he politely asked if his neighbor wouldn't mind driving his newly purchased Model A to his house since he wasn't old enough to drive!
Tom spent about a year fixing up his first car, getting it ready to take it on the road as soon as he was of legal driving age. The first night out cruising the streets of Los Angeles, he saw a bunch of kids his own age parked in their cars, and hanging out. He checked out their cars, and they his, and soon became friendly. He discovered a regular routine with these new found friends, driving, cruising, and working on their cars trying to make them faster. Older, more experienced kids, with more mechanical skill would show them how to work on their cars and sell them parts that they were making. These older kids had names like Edlebrock, and Iskenderian!
Tom McIntyre was at the birth of California Hot Rodding and Car Culture, and he showed my daughter and I his old Model A that started it all. It's since been restored, but is a part of Tom's history and is a talisman of his love for cars!
Each car in his collection had a story, like this Ford Galaxy. In the 60s when he realized the girls liked cruising in cars a little faster than his Model A, so he jumped into big block power!
Tom may have been making the badges for Shelby American, but that wasn't going to afford him a new Cobra of his own, but in the late 60s, he saw this 427 Cobra in line to get into a race track. A chance inquiry proved this car was for sale and Tom managed to have just enough money to buy it! He's put 70,000 miles on this car in the last 50 years, and it's definitely one of his prized possessions!
Tom is still collecting and showed Ellie what's it like to sit inside a chopped "32 three window coupe!"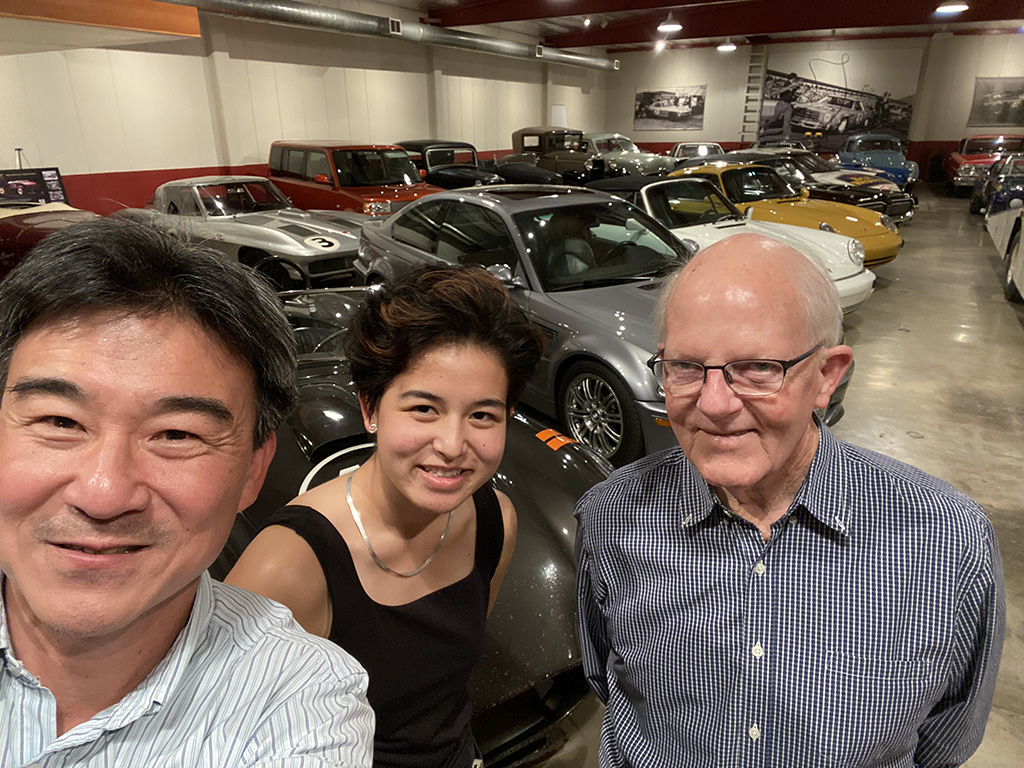 The stories Tom shared could take hours, and I'm always willing to spend as much as I can to hear and learn about Tom's history. Every car in his collection told a story about his life and love of cars, and it was not only fun for me to hear, but also good to have Ellie see how rich a life can be lived if you seize opportunities that other people may have let pass. Just accepting the invitation to see Tom's collection was my own way of seizing the opportunity and I can't thank Tom McIntyre enough for spending the afternoon with us!