One Crazy Month
I was feeling remiss about posting to this blog, and going over the reasons why. I've been blogging for over 20 years to this site, and it has become a normal routine in my life. I recognize the simple benefit of keeping track of all the automotive endeavors I've been involved with through the past two decades, not to mention the friends and community this blog has made, so it makes me sad when I don't, or can't post regularly. If you are subscribed to my YouTube Channel, then you'll know part of the reason is the extraordinary amount of time it takes to produce, shoot, edit, and post videos compared the time to blog. I feel the benefits of seeing the cars and the work I do on is far better described in video than in still pictures, so it's taken a lot of my time to continue to make these videos. Just like when I started my website, I felt there was content that I had to share that others just weren't doing on YouTube, so I'm pretty proud of the content I've been producing and hopefully you agree…but that's not the only reason I have not had time to blog! I looked back at my schedule this past month and was shocked at all the things I was up to, so here's another reason I haven't been blogging!
The month started with a flight to South Florida to inspect a Ferrari F40. A customer of mine asked for my help finding one, and one popped up at Curated in Miami. Curated made a splash in the fast pace Social Media/YouTube world selling super cars like F40s and Lamborghinis. If you're 35 or younger, you've heard of Curated. I heard they had a very nice low mileage F40 in their showroom, and after getting all the details, researching the history, confirming its provenance, we decided I needed to go down and see the car. I was in Florida for 18 hours, drove the car, gave my approval, and worked with Curated and the buyer to seal the deal.
Although I deal with older Ferraris, I love the F40. The production started in the late 80s, and lasted only a few years. It was one of the last cars built while Ferrari's founder Enzo Ferrari was still alive, and marks the end of the "Enzo Era" cars. It was a car that I'm sure made the Commendatore proud with twin turbos, composite bodywork, and a look like nothing else. I personally feel there is nothing on the road that can be mistaken for an F40, ever since or ever will. It's angled purposeful stance, crazy high rear wing, and bare bones interior says this car is meant for nothing more than going fast. This car didn't have any driver's aids like ABS, or traction control, so when the turbos spooled up, hold on!
You may be seeing more of this car in the future. Stay tuned!
I have a Lusso at my shop that is going through a Classiche Certification Process. This involves submitting detailed photos of the car with chassis numbers, internal numbers, body numbers, and parts numbers to the factory for them to confirm the car is "as it was built" when it left the Factory. The "Red Book" Ferrari presents shows some of the pictures, and "Certifies" the car. Normally this is done through a Ferrari Dealer or documented by an agent Ferrari accepts for the certification process. The certification of this car is going through a Dealership, but I am submitting the photos because the car is at my shop.
The hold up was taking under car photos of the chassis after I installed the correct exhaust system. Clear unobstructed views of the underside of the car was needed for the certification process, but I still work with jack stands at my shop. This job pushed me over the threshold to finally getting a lift installed at my shop, but with supply side issues, the lift I ordered was delayed. When I returned from Miami, I took the car over to the dealership next door to my shop and borrowed their lift for the pictures. The lighting was not ideal, and I couldn't spend the time I would have liked to take my pictures, but it was the best I could have done considering the circumstances.
I have been through the certification process with cars before, and it can be tedious. Ferrari SpA has a certain idea of what their photographs should look like and any deviation could cause them to reject the submissions. I've learned to not ask why they rejected certain photos, and to just copy their examples exactly. Hopefully with my degree in photography, I can live up to their expectations! The owner and I have our fingers crossed that our submissions will be accepted.
I needed to make a trip up to New Britain, CT to inspect a 330 GTC that is painted and ready to come back to my shop. It looked great, and I approved the work and headed back to my shop to make some room!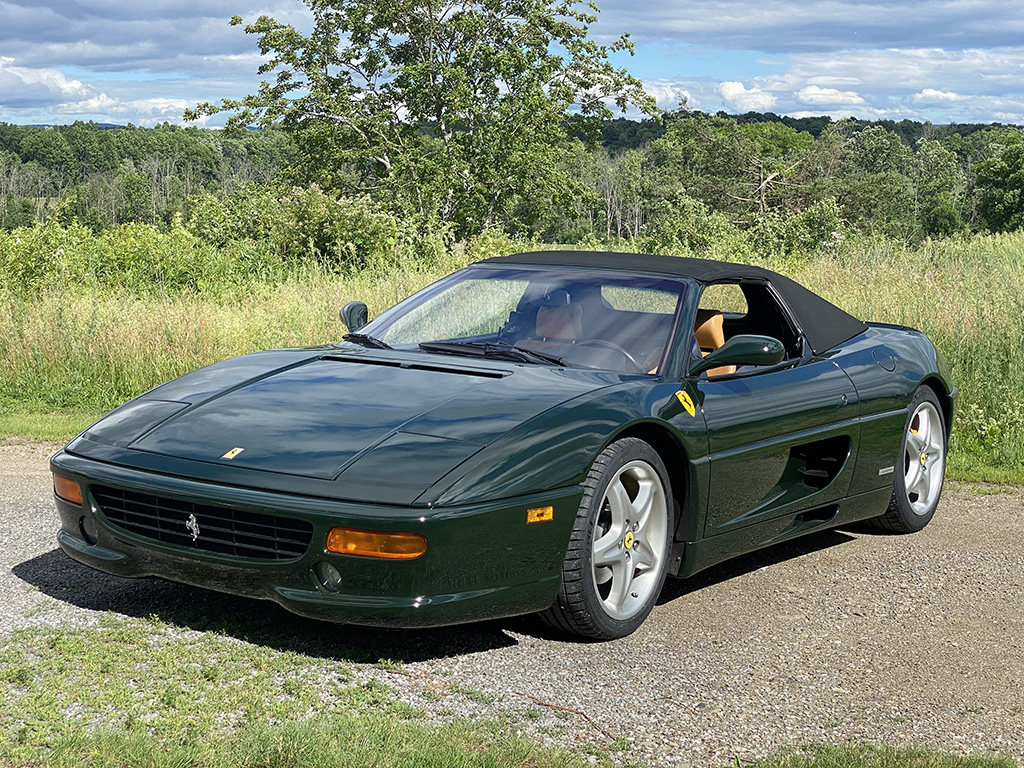 Another customer of mine asked me to help with selling his Ferrari 355 Spyder on Bring a Trailer. I'm not sure how happy I will be dipping my toe in the world of BAT, but I believe this is the right venue for a car like this. It's a three owner car with 15K miles with a 6 speed manual transmission. Not only is it a rare British Racing Green, but the first owner was Tommy Hilfiger. We just got it fully serviced by Pocono Sportscar with new tires and inspection. The headers are fine, and the top retracts without problems. I hope the car does well for the owner, as it seems manual transmission cars seem to be getting a premium. My hesitation will be fielding the questions on BAT that often have nothing to do with the sale of the car, or having someone "mansplaining" why his 355 Spyder is better!
The to-do list before submitting photos to BAT will be a full detail, replacing a broken seat lever, and shooting some videos of start up, top actuation, and driving videos. I just need to find time in my schedule to do it!
With the nice weather in Spring, I also have to take some cars that are stored in my shop out for drives. Some cars are just being stored for a few months while others are here for a year or so, but it's best to run these cars every couple of months, especially the carburetor cars. Fuel also goes bad when it sits in the tanks, so running these cars helps keep fresh gas in the tanks. Unfortunately, the time I take driving customer cars is time I don't spend driving my cars. I know, boo hoo, but I'll manage somehow!
That's what has been happening in my professional and "automotive life" in the past 4 weeks. (Oh, yeah, I also went to Greenwich Concours for a few hours a couple weeks ago too!) On my personal life, my wife and I have been working on putting a property we have on Airbnb. It has a nice view of the Catskill Mountains, and we feel a nice spot to get out of NYC for the weekend. We have a manager that lists it for us, but getting contractors to do work in a timely manner is problematic, so it's not just with getting Ferraris fixed!
We found ourselves installing a walkway for the rental house because who else was going to do it in 2 weeks?
We're working on getting the rest of the house listed, but still have some work to do, but its a start. I may even throw in a value add to the stay at my Airbnb with a free shop tour!
It doesn't slow down this summer either. Ellie has decided to attend University of Vermont to study Plant Biology. Ellie has been interested in green spaces, sustainable agriculture, and trying to make a difference in our environment. My wife and I are so proud, and excited to have Ellie start her new chapter in life. Staying on the East Coast gives Ellie a chance to still make some car events with me, but we'll see if there's time!
My plans this summer are to drive up to Mont Tremblant at the end of July for the FCA event. My friend Steve Hill is shipping a Ferrari to my shop to caravan up to Canada. If anyone else is driving up from New England, come join us!
In August, I'm planning on going to Monterey to do the usual events. The Silver Lusso I mentioned earlier is slated to attend Casa Ferrari at Pebble Beach, so I'll be shepherding that car onto the lawn. I hope I get to see some of you at one of these events this summer.