Ferrari Club of America Annual Meet 2022
I set off on a Saturday morning for the 7 hour drive up to Mont Trembant in Quebec Canada. The forecast was calling for a hot day, so I dressed lightly, and packed plenty of water. The nice thing about pre-air conditioning cars, is they have very good ventilation. The fresh air vents on my car have unobstructed intakes behind the grille that has a ram-air effect inside the passenger compartment. Later 330s installed heater cores and blower motors inline of the fresh air ducting, which doesn't help keep things cool on a hot day.
I specifically chose a border crossing 20 minutes west of the main NY/Quebec crossing into Montreal, because I dreaded overheating in the queue. Watching the temperature gauge creep up in an old car as a line of modern cars calmly idling with their passengers in air conditioned comfort was not my preferred entry into Canada! Luckily, there was only three cars in front of me, and the modern electric fan I installed on my car kept the cooling in check.
It was no cooler in Canada, and by the 4th hour on the road, all my cool drinks had turned warm since the cabin temperature was in the 90s! The car however, was moving along nicely. Even on a hot day, the coolant temps were fine. The driver would just have to suffer through!
The roads got worse and the traffic got more congested, but at least the temperatures started falling. I guess heading to the mountains was on everyone's mind in Montreal, so everyone was headed the same way as my Ferrari!
I checked into the Westin at Mont Tremblant and they reserved a section of the parking garage for Ferrari parking. I was happy to get out of the 330 America and get into my air conditioned room before heading out to dinner!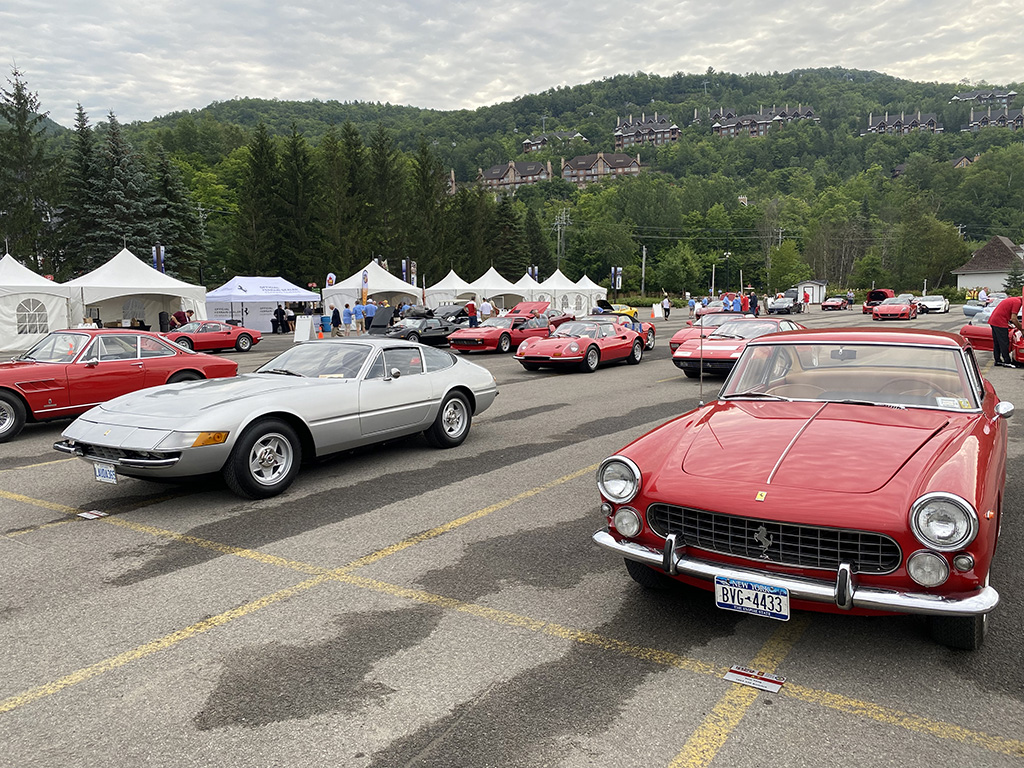 Sunday was the Concours, and even though I entered my car as display only, I was a little shocked that my 1963 330 America was the oldest car on the show field! I kind of knew attendance was going to be light from US because many owners didn't want to deal with the hassle of Canadian Customs, but I was expecting to see more Canadian Vintage Ferrari owners! Are there really no Vintage Ferrari owners in Canada?
Having the hills and ski slopes in the background was nice, but the Concours was basically held in a parking lot. It felt more like a "Cars and Coffee" event, but with less cars! I saw a lot of "no-show" spaces, and wondered where everyone was?
It was nice to see some familiar faces gathered from all over the States to judge these cars.
John flew in from Virginia, Chris from California, and Parker from Mississippi!
I think David always takes the prize for furthest traveled for a judge, since he's from Hawaii! He may also be the most limber!
Mark drove his Lusso from Ohio, so he and I were neck and neck in mileage. I still had him beat by one year for being the oldest Ferrari. Between the two of us, we probably drove more mileage than many of the modern Ferraris that were at this show!
I stuck around until Tuesday morning, but was itching to get back to New York. I had a ton of work to do, and I only had a couple of weeks before I would have to head out again for Monterey.
I had a nice dinner up on the mountain with the fellow FCAers, Monday night, packed up at dawn the next morning and headed south. The heat wave over the weekend had broken, so the drive home was comfortable and pleasant.
I made great time and my trip odometer showed a total of nearly 880 miles traveled by my 330 America. She never missed a beat, and as usual, ran better and better the more mileage I put on the car. I spent a lot of time in the car on that drive home thinking about this trip and if I would do it again? I was disappointed to see so few Vintage Ferraris in attendance, and it's been a problem for a while, only getting worse each year. When I used to hold events or shows, there would be a good turn out, but why can't the FCA do the same? It may simply because the interest in new cars is simply overpowering the attendance of the older cars. I need to think about this some more, but I'm still glad I had the time and the mileage behind the wheel of my Ferrari!