Monterey Day IV Friday
I started my day early on Friday of Monterey week because I had a suspicion that it was going to turn into a crazy day. My friend Larry Zinkin whom I've known for many years brought his freshly restored 250PF Coupe to Monterey to show at Concorso on Saturday. I ran into Larry a couple days earlier when he told me about his car and I was excited to see it. Unfortunately, the work I needed to do with my clients at Casa Ferrari was getting more involved, and it was looking like I might not make it to Concorso because it was conflicting with the Casa Ferrari activities on the same day. Determined to see Larry's car, I made plans to meet him at his friend's house in the hills above Laguna Seca early Friday morning.
I couldn't think of a nicer setting to view Larry's Ferrari, and I shot a video which I'll edit and post in the near future.
While I was shooting the video, my phone started to explode. Calls and texts from the shipper, the Casa Ferrari People, and the owners of the cars I was taking care of were all trying to reach me. The trucks didn't have anywhere to park, the race cars needed to be loaded at different times, and one of them had to be towed in on site. I managed to put each fire out by text and phone calls, assuring them things would be fine, but I knew I would eventually have to make my way over to Pebble Beach to sort things out.
The first order of business was to get the Lusso off loaded and cleaned before covering it for the evening. Monterey is usually shrouded in fog and dew overnight so everything gets wet when left outside, so I have found light plastic is the best thing to use on cars after they are wiped clean.
I tied down the plastic so it wouldn't blow away. Ferrari planned on staging all the Casa Ferrari cars in this parking lot to drive in at the same time the next day, so we would have to cover and wipe down the cars twice over two days.
Once the Lusso was offloaded and secured, I found I had some time to head over to Laguna Seca to see some of the track activities. It was past midday, but I knew I could still catch some of the racing and see how the event was held with the big corporate sponsors like Weather Tech and Hagerty.
There are always some very rare and expensive cars just parked in the Paddock, and I love that if you didn't know, it was fine.
There was a nice display of LeMans race cars.
There was definitely more corporate presence at the track, but it wasn't intrusive. I think it's the way things have to go to keep expensive events like this funded.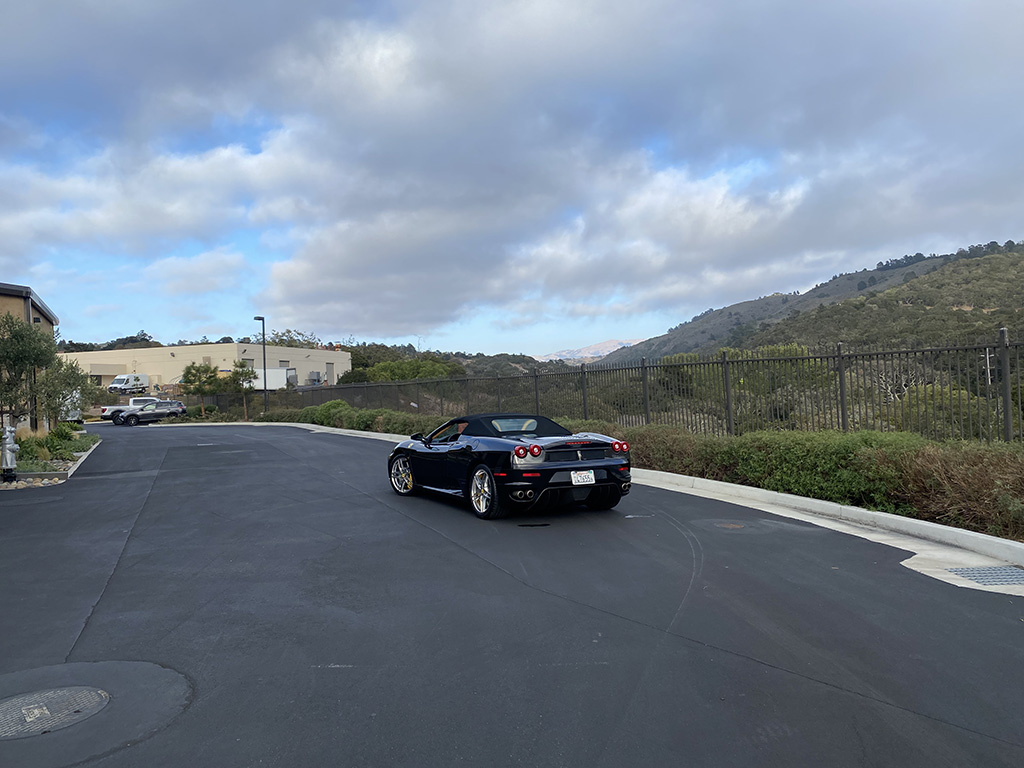 I left the track early to help Steve move some cars for his client. Steve was doing a lot of the same logistics with his client's cars as I was mine, so we often help each other get things done. This F430 Spyder needed to get to the Casa Ferrari parking lot where I left the Lusso earlier in the day.
We also needed to get this 1958 Ferrari TR down to Pebble Beach as well. Steve could have driven it down there himself, with me following him in a chase vehicle, but why let him have all the fun? We worked it out by strategically positioning our cars at both ends so we could ride down into Pebble Beach in the TR together.
In an open racecar, goggles are a necessity no matter how goofy you look, but then again, we were in a 50+million dollar car. It's hard to look goofy in one of these!
I shot video of our ride into Pebble Beach, so look for it in the near future on my YouTube Channel. It's rides like these that make all the headaches, panics, and logistical nightmares worth it!