Monterey Day V, Saturday
I was back at Pebble Beach at 6:30am to load in a Ferrari 333SP race car. This was a non-runner, so we had to strap it onto the show field. Since the turning circle on this car was very wide, and the car was very low, it had to be carefully unloaded, pushed down the street in front of the Pebble Beach Lodge, then pulled down a service lane, and towed onto the lawn behind a golf cart. We decided it was best to place this car first on the lawn before all the other cars, hence the 6:30 call time!
Casa Ferrari had a special plan and layout for the 75 Ferraris that represented every year Ferraris were made, and the 333SP was placed. It was about 8:30am when we were done, and I wasn't expected back until about 1pm, so I jumped in my car and headed over to Concorso!
I had already purchased tickets to Concorso, but my clients and Casa Ferrari's schedule was infringing on my personal car schedule! I was committed to my clients and their cars, so if I missed Concorso, it would be OK, but if I had time, I was going to try and see the whole show in a couple hours!
There was a good collection of Dinos.
But the Vintage Ferrari attendance was really disappointing. Just a handful of Vintage Ferraris were in attendance and it made me really wonder if this really is the end? Admittedly, the Casa Ferrari event may have taken a lot of potential attendees away from this event, but how could so few Vintage Ferraris show up?
I still knew most of the VIntage Ferrari owners that did show up and chatted briefly with with all of them, but soon had to head back over the Pebble Beach for the Casa Ferrari parade onto the show field.
The staging parking lot had become significantly more filled from when I first parked the Lusso!
Casa Ferrari had parked the cars so we could all follow single file onto the show field on Saturday in age order, but getting the cars parked, owners to their cars, starting them up, and following each other out was like herding cats, or should I say horses?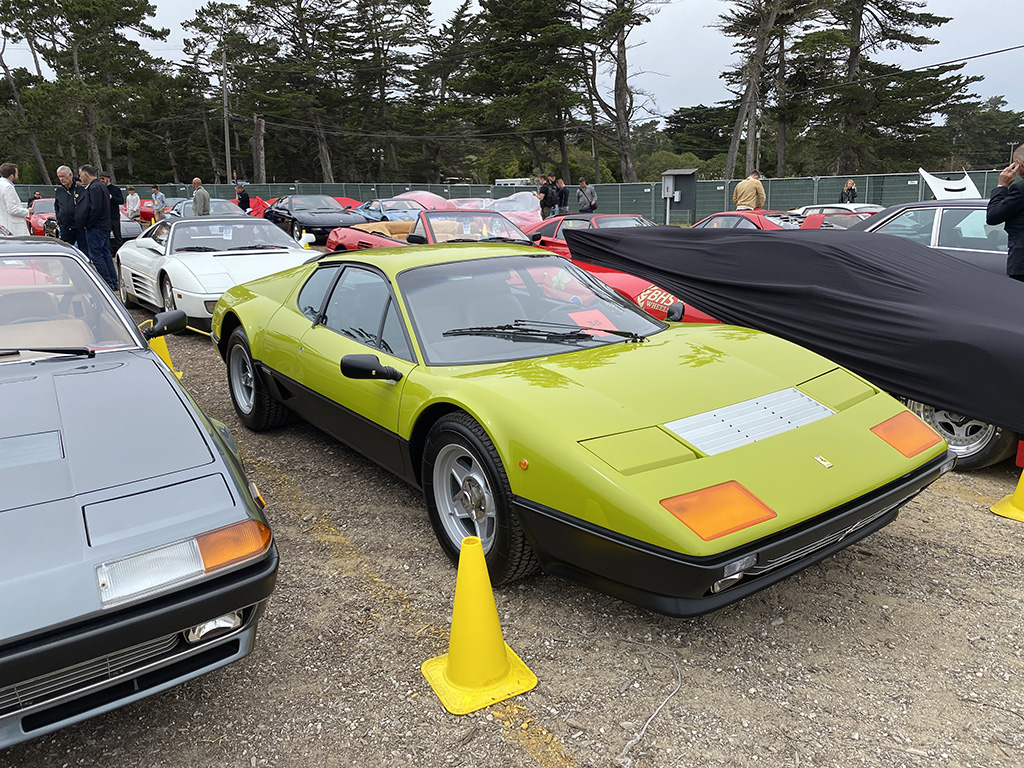 All of the cars in attendance were Classiche Certified, so it was a big commitment in time and money to be invited to this event, but it was nice to see a variety of cars from a 250GTO to a Mondial Cabriolet with the same commitment to the Factory!
In the mad scramble to make sure there were drivers for all the cars at the same time, there were some owners that had prior engagements and couldn't make it for the parade, so some of the Transporter guys that deliver the hundreds of cars to Monterey were were put into duty. A buddy of mine, Kevin who works for Passport, was given the keys to this Ferrari 212 to drive in the parade, and although he moves these cars all the time, we went over the car to make sure we knew how to start her up and more importantly, know where the auxiliary electric fan switch was!
After making sure my customer was comfortable driving his Lusso onto the field, I jumped in Steve's F430 Spyder because he had TR driving duties further up the field.
Once we made it onto the show field, we slowly inched our way to the lawn so Casa Ferrari could place our cars in their specific spot. It was a bit of wait for the newer cars, but getting the older cars parked first was fortuitous to avoid overheating them. The newer cars were designed to idle all day long!
The wait paid off when we could see the result from the air. All the cars were arranged to spell out "75" for the anniversary of Ferrari. Job well done!
After buttoning up the Ferraris on one fairway, Steve and I headed over to the next fairway where the actual Pebble Beach Concours D'elegance was being held to cover a C-type Jaguar. I thought I was busy handling three cars for Monterey, but Steve had to jockey 6 cars during the week!
With our work done for the day, I could finally do some socializing and take some selfies. Donald Osborne is always happy and willing, but I can only imagine how many of these pictures he poses for in the course of a day. Thanks Donald for humoring me!
Getting Francois to stand for a two shot could be just as difficult, but I couldn't pass up the opportunity. We had actually worked on the Lusso I brought to Casa Ferrari years ago with Francois when it was owned by Roger Werner when he owned a cable channel called Speedvision!
I did a quick change in my car and headed over to Hagerty House for a media party I was invited to in one of the houses in Pebble Beach. Larry Webster can be seen here making the welcome speech. Hi Larry!
I've done a bunch of stuff for Hagerty through the years, and have made some good friends. It's always great to see these same friends grow with the company and expand their jobs along with the exponential growth of Hagerty. Good on you guys!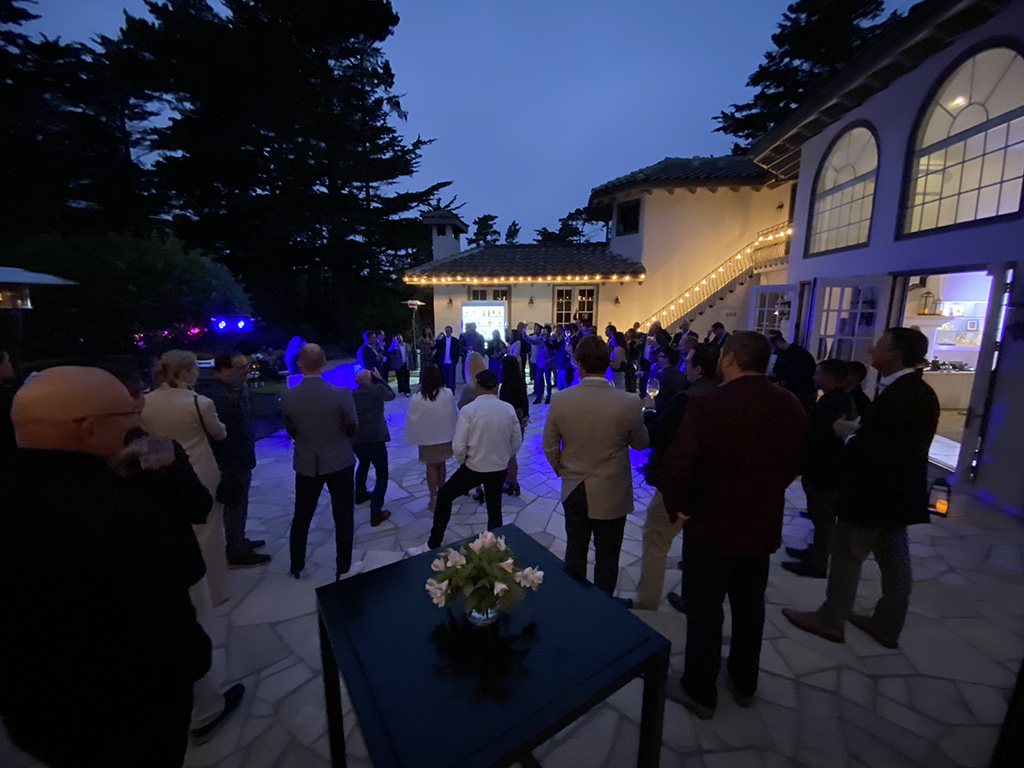 I stuck around for a little while, but headed out early so I could be back on the lawn at Pebble Beach Sunday morning!