Monterey Day VI, Pebble Beach Sunday
I was up before the dawn to prep the cars I was looking after at Casa Ferrari. I wanted to make sure I was there to uncover the cars when the fog lifted. If the sun actually came up with these plastic covers on, it could really damage the paint, so I wanted to be there early to monitor the weather.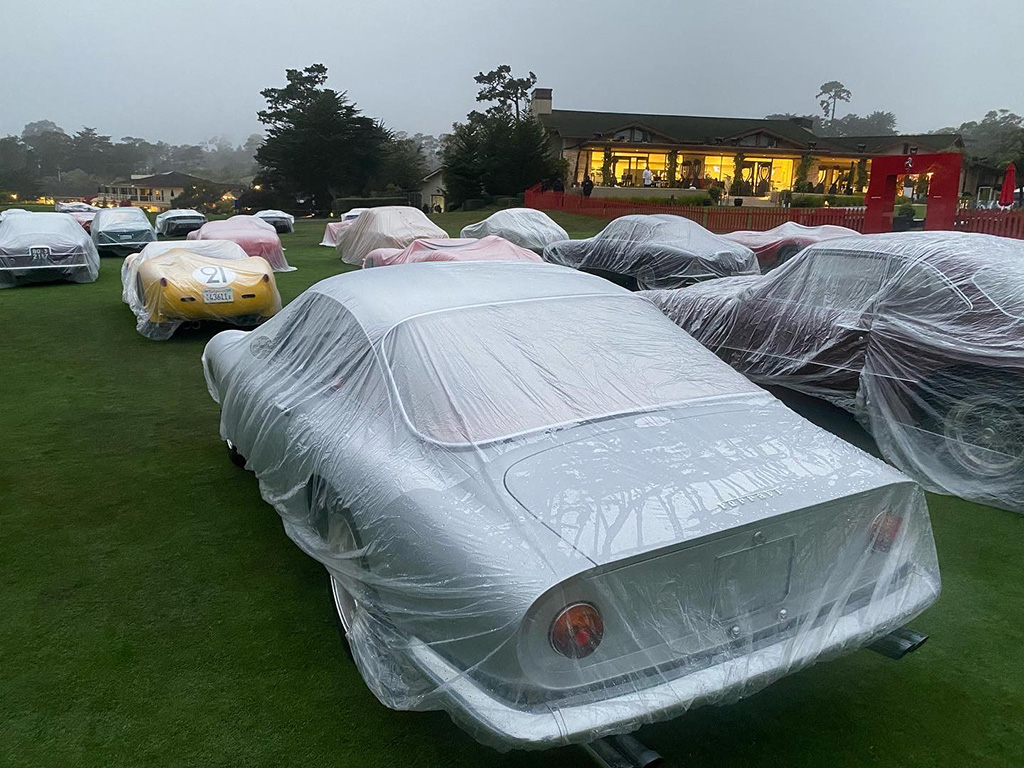 Luckily it was cold and damp that morning, so we could keep the cars covered for a little longer. There was no sign of the sun coming out, so I could go find a coffee!
The Pebble Beach Concours cars were just loading onto the lawn, so I watched some of the cars roll in.
I took the obligatory photo with my friends Gary and Suzie showing off their Hagerty Dawn Patrol hats that I'm sure they fought for with the other early risers. Even though I'm on the grounds at dawn, I'm too cool to get in line for a hat!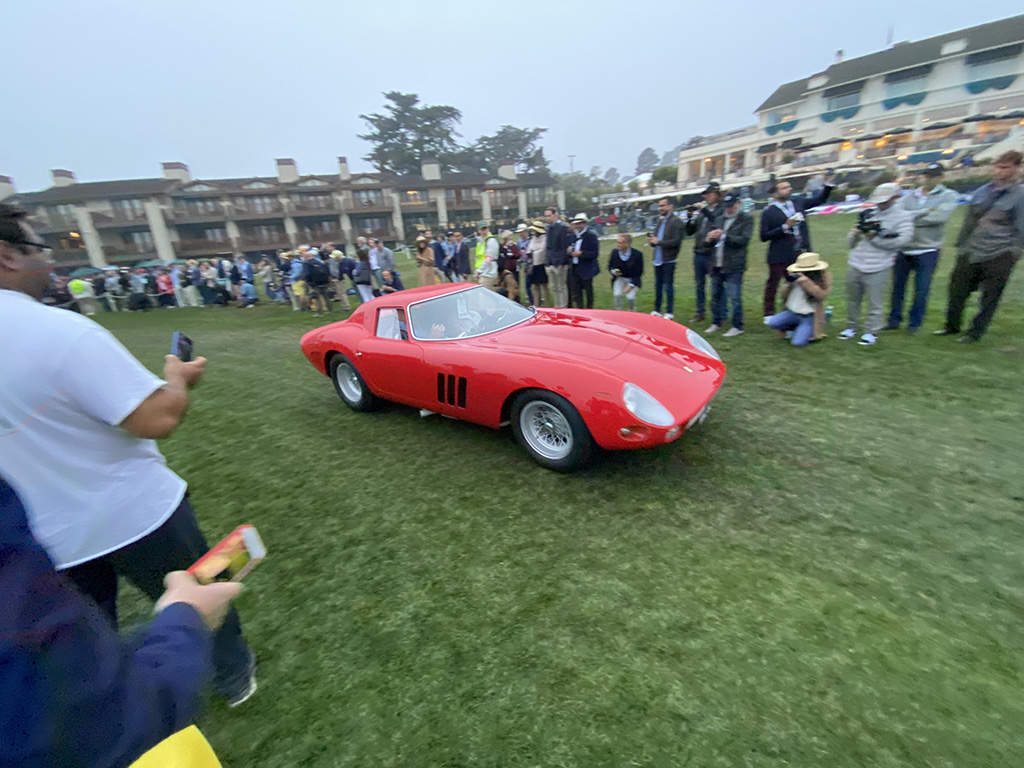 Getting in early also has the added benefit of seeing these cars in motion.
I had just enough time to walk the row of Ferraris entered for Concours Judging before heading back to the Casa Ferrari field.
I usually can't walk five feet without stopping and chatting with someone. Here's Dustin with Motion Products getting ready to present a car for a client.
The Massinis were missed the last couple of years at Pebble Beach due to COVID restrictions coming in from Switzerland, but it was nice to see them again. It was a little chilly and Marcel came under-dressed, but managed to buy some winter wear at the Pebble Beach Gift Shop!
Here's Enrique and Dick Fritz having a tête-à-tête.
Having Casa Ferrari credentials from the generosity of my clients has its perks. One of them is a place to sit, and have nice breakfast and cup of coffee while everyone eventually arrived to see their cars on display!
Ferrari truly did an excellent job with their Casa Ferrari display, and this section was open to the public. The display of cars was varied and stunning. I don't think any other show could have pulled off a collection of Ferraris as well as what the Factory could do. Bravo!
Every so often I would sneak back down to the Pebble Beach lawn to mingle with some friends and take some selfies! Here's Greg Jones with Claude snuggling under his shirt. Like I said, it was chilly that day, and Hawk Headed Parrots don't like the cold!
Here's Jamie Kitman, contributing editor to the big car magazines and fellow New Yorker. You may not recognize him in person, but I'm sure you've read his work!
I spent a lot of time with this couple. Steve, Gundy, and I, had our clients to look after throughout the weekend, but we managed to catch some great meals after the work was done. We're lucky to have good clients that trust us with their cars, and to have good company while we're working!
In contrast, I used to say, "I've made more friends by being enemies with Tom Shaughnessy, than if we were actually friends!" Today, that relationship would be called "Frienemies," but is it possible to have a "Best Frienemy?" Tolerance is also a virtue for the both of us.
The most interesting car I found at Pebble Beach this year was this Citroen Traction Avant that was converted to run on coal! During WWII, gasoline was in short supply so this car burned coal to generate methane gas which then fed the combustion engine!
It was horribly inefficient and had to be topped up with coal about every 30 miles, but that was life during war times!
The Parting Gifts from Ferrari to all the entrants was this miniature valve cover.
I was getting a little punchy modeling the gift. I think I needed to get some more sleep after a week of running around.
We decided to pop out for dinner as the show field emptied out so I could get the 333SP back on the truck. I arranged for the truck, golf cart, tow strap, and available hands to get the car back out the way we came in 36 hours ago.
It was well after dark as I steered the Ferrari race car onto the back of the trailer.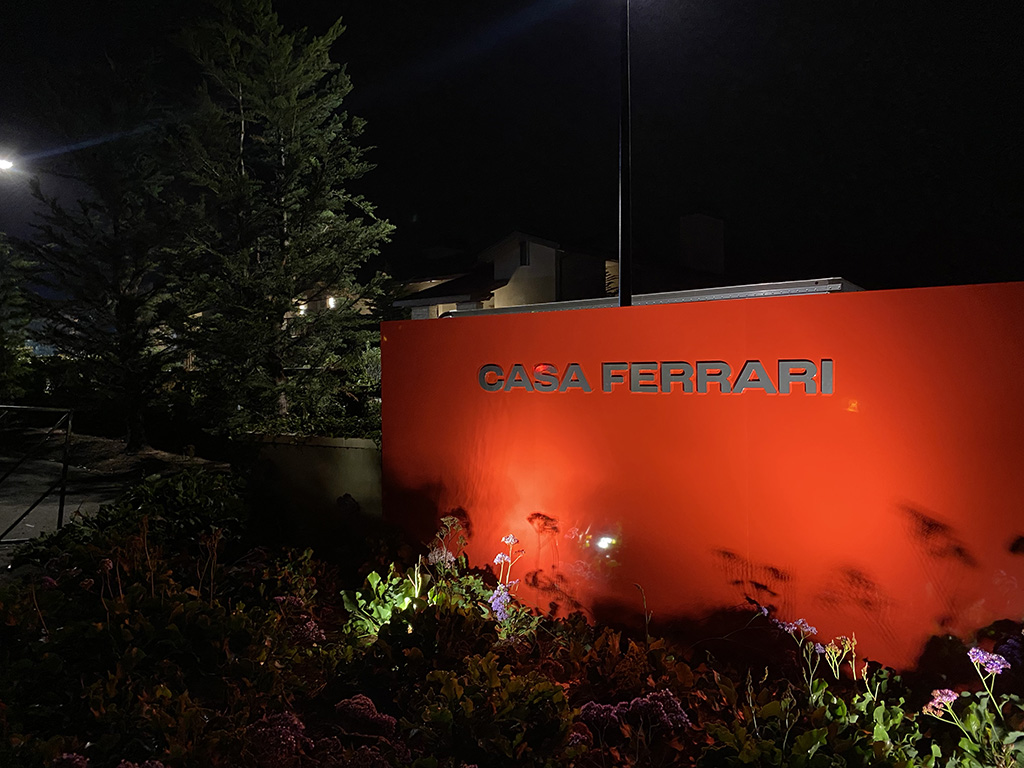 First ones in, last ones to leave. That's the glamour of it all!