330GTC Struggles
Assembling a car after paint involves a huge amount of details. I'm working on a 330GTC that I've had at my shop, and since it is not a full restoration, not everything gets refinished, but occasionally, plans change. An example is with the prancing horse on the gas cap. Originally, the plan was to mask this emblem and paint the cap without removing the piece, but the original one looked a lot worse next the the new paint, so I decided after the cap was painted to send it out for plating. While I was out in Monterey in August, I discovered the piece for the cap is available in reproduction, and seeing it in person, I decided my plater couldn't do it any better and certainly not any cheaper, so I bought a new emblem and brought it back with me from California.
When I got back from NY, I took the gas cap back to the painter for stripping and painting. I wasn't happy with some of the masking, so with a new center emblem, I wanted them to get this piece a little better.
Other chrome pieces were done, and I picked them up to reinstall on the car.
The biggest struggle was with the glass on this car. I have installed a dozen or so windshields and back glass on Ferraris, and no two are ever the same. Once or twice I've actually had an easy time installing glass, but more times than not, it's a struggle. Certain cars like GTCs, Lussos, and GTEs have one piece chrome window surrounds that have to be installed on the rubber before the glass can be installed in the car, but getting the chrome piece into a groove in the rubber can feel impossible. Everyone has their tricks of the trade, from soapy water to glass cleaner, but whatever the secret sauce, there is still a lot of brute strength required of one's hands. Tools can't really be used because they can put concentrated pressure points on the glass and crack it. Often times, after 30 minutes of pushing, prying, and squeezing, my hands get too tired and need a break. Stopping in the middle of the job often causes the chrome trim to pop back out of the groove requiring to start all over. It can take hours of work with very little show of progress. I struggled of two days trying to get the chrome trim to fit, and finally had to walk away. Monterey week was coming up, so I decided to attack the windshield when I got back. Even though I had successfully installed glass by myself several times, I also decided it was time to get help.
I asked a friend to come over one weekend to help with the rear glass. After an hour, we had the chrome strip installed, and the glass was ready to go into the car. With the rear glass ready to go, we decided to fit the chrome onto the front windshield. As we had the last 6 inches of glass to fit the chrome strip, a crack formed on the edge of the windshield!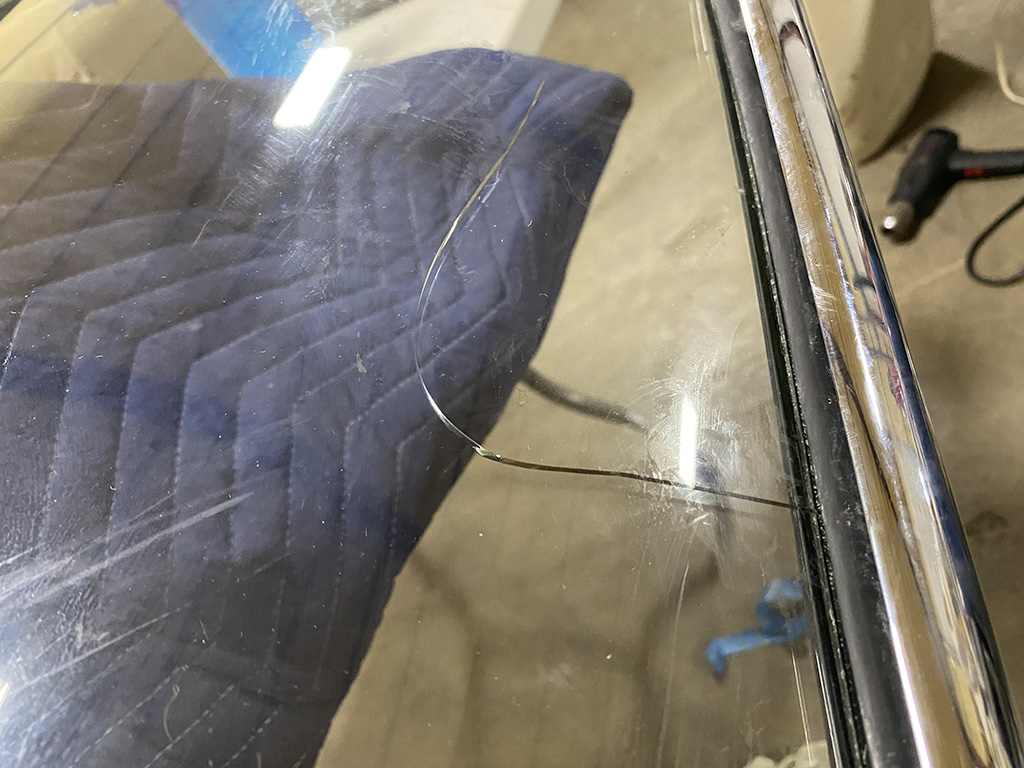 Not a lot of force was used, but glass is a funny material. It can develop stresses in the material that you can't see, but with just the right amount of pressure and it will crack. This particular crack started as a small 1/2 split from the edge, but soon spread and turned 90 degrees in a matter of hours. I knew it was no one's fault, and this kind of thing happens, but ultimately, my customer has to buy a new front windshield. I guess if there is any bright side to this, the original windshield was delaminating in some parts, and new windshield will be clear and without blemishes. This is definitely a case of two steps forward and one step back!