Prepping a PF Coupe for Cavallino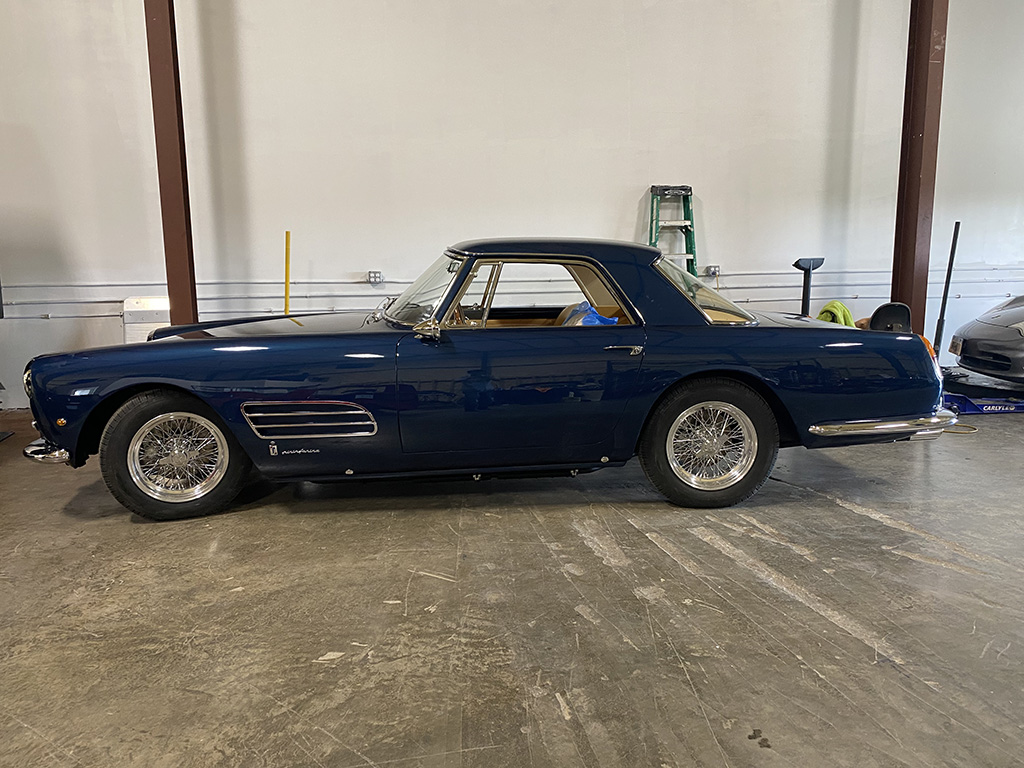 I had a discussion with my customer who owns this 1959 250GT Pininfarina Coupe SN 1557 about showing the car at the upcoming Cavallino Ferrari show in January in Palm Beach Florida. The car was restored by a shop in Latvia where I consulted on some of the restoration. Autoclassic.LV did a really nice job and it would be nice to show off some of the hard work. The car arrived in the States back in August, and I have the task of correcting a few details to get the car to compete in a Concours. The first thing you may notice is the 410 Superamerica side grilles that isn't normally found on PF Coupe. Some cars came with this option, but it was rare. This particular car may have been one of those cars.
Before the purchase of this car it was owned my Peter Glucklick in Michigan. When Peter bought the car it was painted red.
The car had Californa plates from the 80s.
Once Peter stripped the car, he found remnants of the side grilles.
It looks like the car sustained some accident damage to the left fender possibly damaging the original grille beyond repair. A flat steel patch was made and welded over the original opening.
The right side grille opening was also filled with a patch, but the under-structure remained.
An insert patch was made to make the fender flat and match the repairs done to the left fender, the rolled lip to accept the 410 type grille was still there.
With the patch removed, you can really see the shape of the old 410 type grille in the fender of this PF Coupe.
Peter managed to buy a pair of side grilles from Hillary Raab that he brought back from a swap meet in Europe. Hill said these may have come from another PF Coupe!
The theory on this car SN 1557 is it may have been one of the handful of PF Coupes that came with side grilles, but sometime in its past it was involved in an accident that damaged the left fender. The damage was bad enough that the left grille was not salvageable. These grilles are not common, and at the time of the accident, the easier repair was to eliminate the grilles, patch the openings, and have the car look like all the other PF Coupes without side grilles. When Peter stripped the car for a restoration he discovered the mismatched body work and patches that showed this previous detail. Peter sold the car as a project having never restored the car, but we decided to restore the car with the side grilles due to the evidence found in the body work. I also think they look great!