Ferrari 250PF Coupe Trunk Details
The work continues on the Concours Prep for the PF Coupe that's headed for Cavallino in January. This car was restored in Latvia by Autoclassic.LV, and they did a very nice job. I tried my best to consult on this restoration, but with COVID, and restricted travel, we had to make do on Zoom calls, and a lot of emails. Whenever I wasn't available, they found help from their European Specialists.
The first thing I noticed that didn't seem correct with this car was the diamond quilting in the trunk. I have personally worked on two original unrestored Series II PF Coupes in the past, and both of them had original trunk upholstery, and none of them had this diamond quilting. When I asked the Latvians, how this detail was made, they told me the supplier that sent pictures of the brochure of a Ferrari with diamond quilting in the trunk. The picture was from a Pininfarina brochure, and it didn't take long for me to figure out the pictures were of a SI car.
Brochure pictures, although taken from the period when these cars were new, can be misleading. The photographs are often taken of pre-production, or early cars, well before the rest of the cars were produced. These photographs can be used as a guide, along with using the evidence produced from actual original cars, can these details be accepted as standard. This particular example was not only a special pre-production car, but built a year or so before the SII 250 PF Couple (SN 1557) I was working on.
I went back in my photographic archives and found this picture of the trunk area of another PF Coupe (SN 1747) and found proof that this unrestored Ferrari had no diamond quilting. I then reached out to a group of judges and owners of Vintage Ferraris to confer. They all seemed to agree with my conclusions.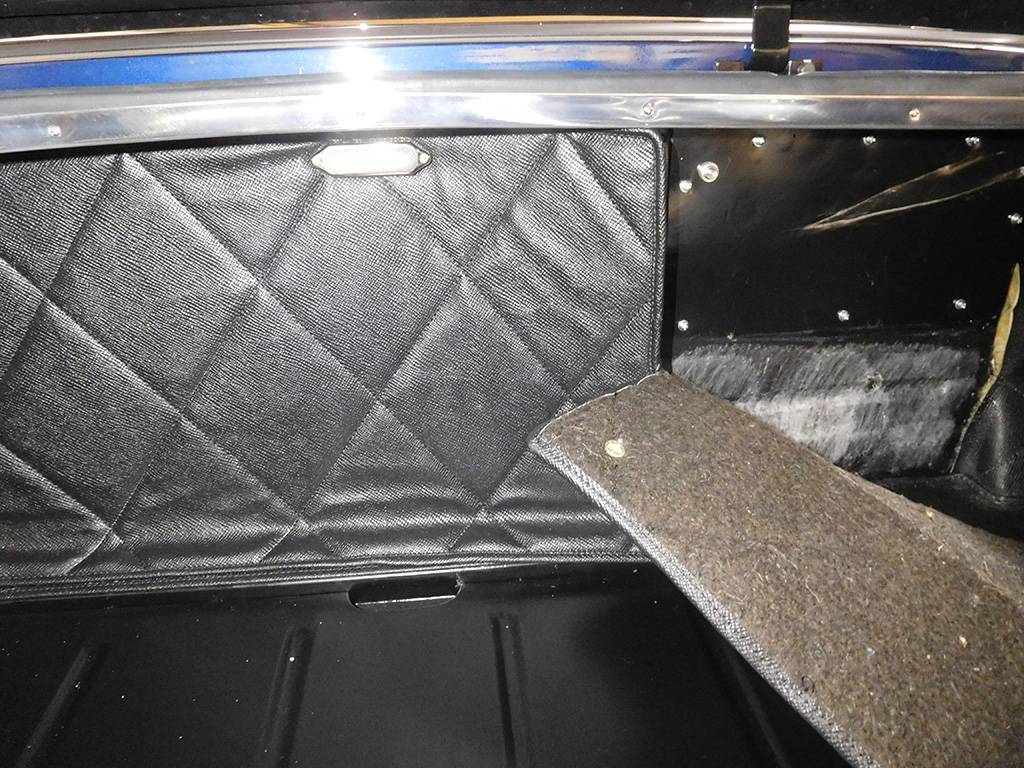 My next task was to convince the supplier to demure and sell me more material to make the correction! After several emails, providing evidence, and even international phone calls with mutual friends, we had an agreement to buy new material to make this correction! I don't think if it will be harder to gain back the points deduction on this panel than what I went through convincing the supplier of this mistake!
Removing the panels for re-upholstery revealed the source of a gasoline smell I had from the last road trip coming out of the trunk area. One panel was showing solvent damage from exposure to fuel, and it was coming from the fuel filler door. Any spilled fuel from the neck would dribble down into the trunk and soak the upholstered panels. There wasn't a drain out of the filler area, so I will have to remind the owner and myself to be more careful when filling the car with fuel.