SEMA 2022
I was invited to join a friend of mine at SEMA this year, and since I've never been before I was looking forward to seeing this massive trade show in Las Vegas. The Specialty Equipment Market Association, as its name states, is a collection of Automotive industry people who put on a show in Las Vegas every year. It began as a trade show, but has morphed into a show where more and more consumers attend. I wanted to explore the future of my industry and see where it may be going, and having an invitation from my customer as an employee of his company to the show was easier than applying for the proper credentials to attend!
The irony was I was more interested in the trade show part of the show than the show cars and what was going on in the parking lots! Seeing all this innovation was inspiring and I could see where some of it could help me in my restorations. I collected several business cards, and stayed away from all the free crap that many of the other show goers seemed to collect like spoils of war!
There were plenty of Youtubers in attendance, and it was fun to see their project cars in person. Here's a Honda powered Ferrari 308 built by Mike Burroughs from his channel Stanceworks. His "resto-modding" may have sent the Ferrari purists into a frenzy, but it may be no different than what hot rodders did to under powered 1932 Fords back in the day.
…and then there were the burnouts in the parking lots. I get the exhibition of speed and the thrill of putting too much horsepower to the ground, but I found a few minutes of watching was all I needed, and yet it continued all day. Without a good wind, the crowd was breathing in this noxious mix of tire smoke, and the only people smiling were the tire manufacturers!
With about 4 million square feet of convention center space, the SEMA show definitely exceeded the human scale. My phone was counting my steps and I was averaging 12 miles a day! Getting from one building to another was easily 1/2 mile and there were 4 buildings, not including the AAPEX show which was accessible by shuttle bus. Leave it to Vegas because anything worth doing is worth overdoing!
There were buildings for show cars, paint and body supplies, hand tools, lifting equipment, electronics and radios, even protective films and tires.
I even attended a couple of educational seminars, one showcasing perspectives from restoration shop owners, and I was pleasantly surprised to actually know a couple of these guys! Bob Smith from Coachworks in Texas, a long time Ferrari Restorer and good friend was on a panel!
Bob Smith has been a member of SEMA for several years, and can be seen here next to Dan Short, the owner of Fantomworks, a shop in VA that used to have a TV show.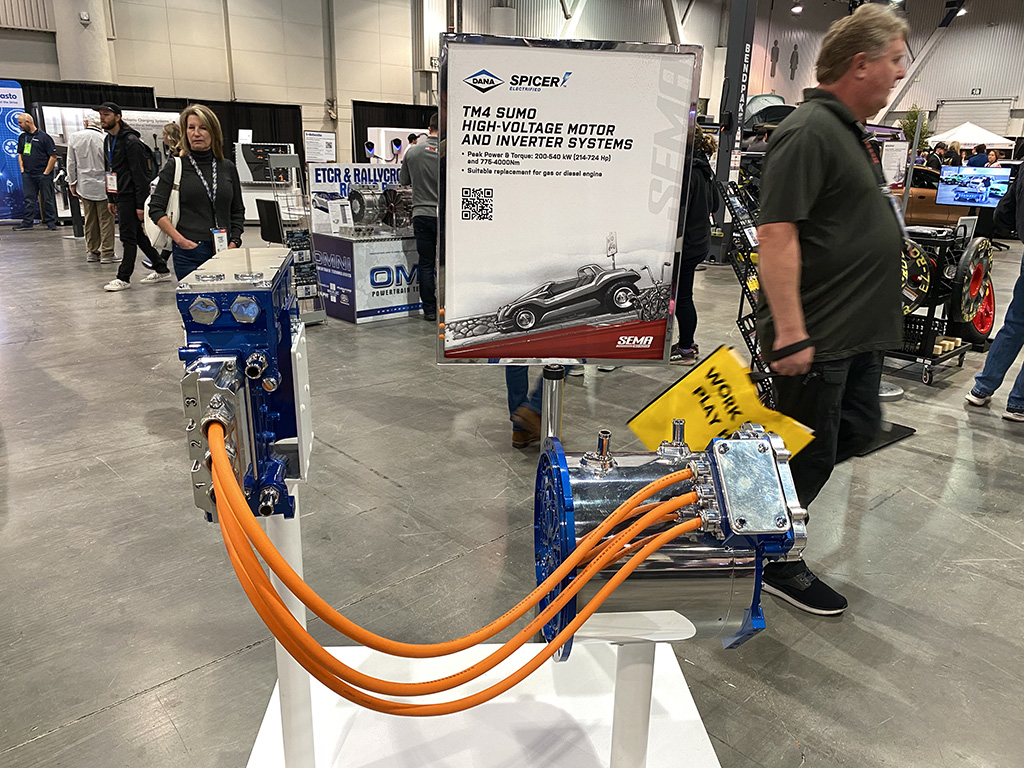 The most interesting thing I found at SEMA was the advent of electric car technology. There were several manufacturers offering kits to retrofit in older internal combustion engine (ICE) automobiles.
They had several examples like this '65 Mustang Coupe that was converted to full electric.
Gone are the engine, transmission, and fuel tank, replaced with two large battery packs, an electric motor, and a controller.
Vintage Mustang Coupes have very little room in the trunk, and it looks like it was made worse with the need for battery space, but for a weekend cruiser, the trunk might not be needed. All this equipment however pushed this car to over 3500 pounds, probably 5-700 pounds more than a ICE Mustang. I'd be curious what it drives like.
Seeing these cars really made me think about where the hobby is going. Most owners of old cars don't drive more than a hundred miles at a time during a weekend cruise or car show. Not having to worry about oil changes, or carburetor issues due to stale gasoline could be a thing of the past if they bought one of these electric resotmods, but would it be the same thing? Would the cadence of V-8 be lost from the soul of an electric Mustang? What attracts us (and I mean older people) to vintage cars? The sound? The history? The mechanics? Will removing the engine simply make the car into a Mustang shaped golf cart? Will the younger generation care?
What was interesting was when asked about electric vehicles to one of the educational panels I attended, the response was almost universal, THEY REALLY DIDN'T LIKE THEM! Understandably, all these owners had their success from ICE powered cars, modifying, restoring, and celebrating what they loved, and they were being asked to embrace the future of something they didn't grow up and love, but I believe it's not up to them, or me, to decide if electric vehicles will succeed, but up to the new generation of car enthusiasts that are starting shops, and nipping at the heels of the last generation of hot rodders. I look forward to seeing what they do for the future!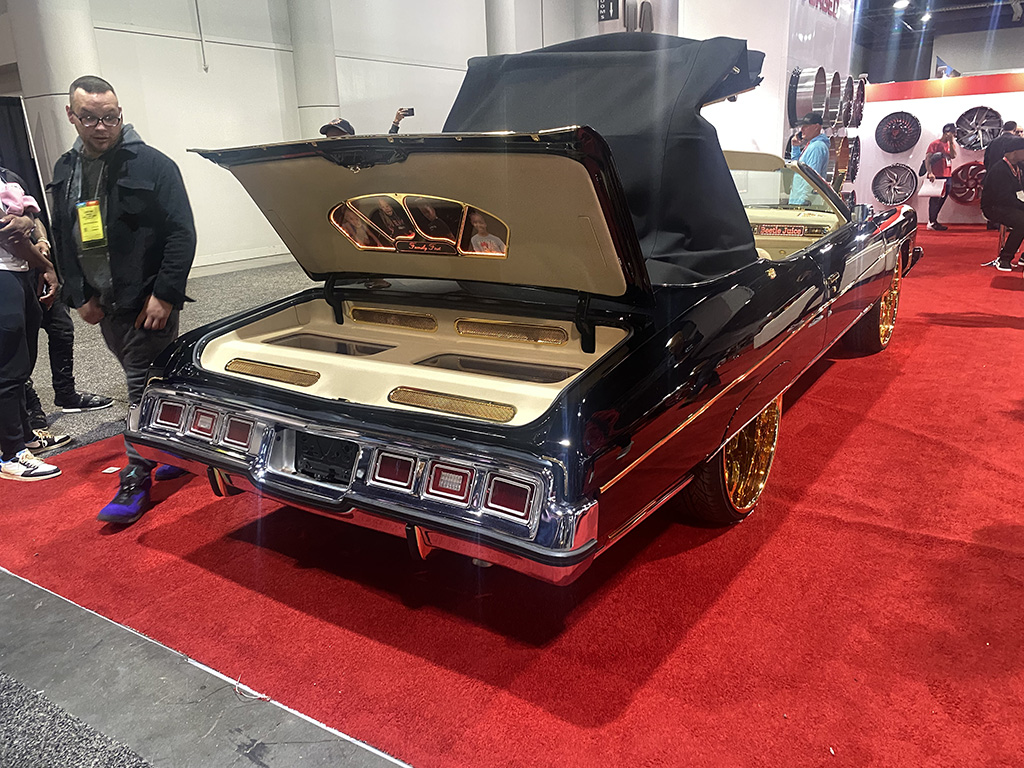 There was still a diversity of automobiles for everyone, and that is why I'm not worried about ICE in my lifetime. We had a 2 door '73 Chevy Impala as the family car when my Dad bought it brand new. Who knew these would become collectible!
…and let's not forget the trucks! There were probably more custom trucks than cars at SEMA. Crazy.